HAMMOND: Win Just The Beginning For Junior?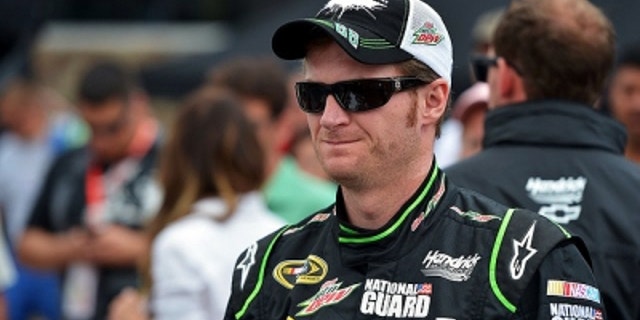 So the drought is over for Dale Earnhardt Jr. and the No. 88 team. That really is awesome for them, Hendrick Motorsports and, quite honestly, our sport in general. What we can't lose sight of is that he is an experienced driver, one who has been in championship battles before and won two Nationwide championships.
Dale Jr. has been around long enough that he understands what momentum is all about. Let's face it: These guys have pretty much had momentum all year long. The No. 88 squad has been as efficient this season as any championship-producing team I've see in a long time. The team has been knocking on the door to win a race pretty much all season, so I see the victory Sunday doing more to keep momentum going than being a huge sigh of relief for the No. 88.
I think Earnhardt and his team have proved to everyone this season that they have gotten better, more consistent and more focused than ever before. This team has been criticized for quite awhile. Dale Jr. was criticized for lack of effort and, especially, a lack of focus. Dale Jr. and the team members have weathered the storm and shown everyone they can handle it. Now, I think, you will see them come out here on the other side and make a lot of noise the rest of this season.
Internally, they know they have been doing a great job. On Sunday afternoon in Michigan, they were rewarded. They knew they were doing a lot of things right since the start of the season. The statistics are very clear on that. They just hadn't been able to get to the peak of the mountain and see the awesome view from Victory Lane. Well, now they have done that.
I am really thrilled for crew chief Steve Letarte. Like Dale Jr., Steve has had to face his fair share of criticism. When car owner Rick Hendrick moved him over to the No. 88 team, he knew what he was in for. When your guy is the sport's most popular driver and he hasn't won in years, well, the expectations on the crew chief are intense.
The thing I love is that Letarte never lost that smile on his face. He just went about his business. He stayed focused. More important, he got his driver and team to believe in one another, and that's when the magic happens. I say this from a lot of experience.
Now, more than ever, Letarte has to make sure that history doesn't repeat itself. Four years ago, following a win at Michigan, the team basically fell off the end of the world. It was a non-factor the rest of the season.
I guarantee you Letarte's message was clear this week to the team and his driver: "The win was great, but it's over and now let's focus on Sonoma."
Dale Jr. and his team simply need to keep doing what they have been doing since the Daytona 500, and that's putting points up on the board. We've seen how close to winning they have been all year. If they keep putting themselves in a position to win week after week, it will be no surprise to me if the No. 88 ends the season with multiple trips to Victory Lane. All the pieces are there to make that a reality.
If you have had a chance to tune in and listen to the radio chatter between Dale Jr. and the team, yes, there has been a sense of frustration. He knows how good they are and how great they can be. He can see it, feel it, touch it — but, most important, he wants it.
The problem, up until last Sunday, was they couldn't finish the deal. Now they have, and now they have the confidence they can do it. For all the criticism he has faced, Dale Jr.'s numbers really aren't that bad. He has 450 career starts and 19 NASCAR Sprint Cup wins. That's one win every 23.7 starts. I promise you there are a lot of drivers who would like to have that average, especially as difficult as the competition is today.
This season has been like no other for Dale Jr. and the No. 88. They've been leading laps, racking up top-10 finishes and getting bonus points. They are doing everything a championship-caliber team does. Anyone who thinks they aren't a serious player for the 2012 championship better think again.
Dale Jr. has a pretty good little swagger going right now. That is something that he and our sport have been missing for quite some time. The only negative on the horizon that I see is this weekend. Dale Jr. is not shy in telling folks he hates road-course racing.
So, this weekend will be another challenge for them. If they could go to Sonoma and somehow pull off a top-10 finish, well, that will be a pretty good statement for what the rest of the season holds for the No. 88 and what the rest of the competitors better be ready for.