HAMMOND: Which Drivers Should Rule Loudon?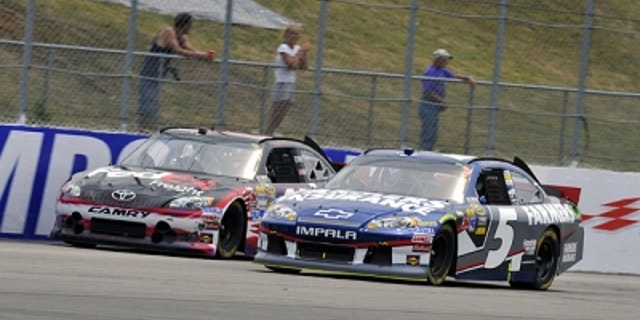 This weekend at New Hampshire Motor Speedway, we've got to see if Denny Hamlin can back up what he tweeted after the Chicagoland Speedway race after that basic boo-boo that his Joe Gibbs Racing team pulled by running that car out of fuel at the end, not getting it completely full.
After finishing 16th in that race, he took to Twitter to state: "This is 1 week of 10. We will win next week."
It's sad that you work so hard all year long and come in there with bonus points in the NASCAR Chase for the Sprint Cup and you used them up all in one race.
The big thing is he and his team didn't fall totally out of sight — they are 15 points back — but at the same time they gave up a lot of valuable positions that may come back to haunt them later on.
He's one driver to watch this weekend, though, because he said he was going to win, he ran well at New Hampshire and dominated there earlier in the season, but he still got beaten by Kasey Kahne.
Kasey Kahne's another one, he's going to have to beat Hamlin's No. 11 team. As for sleepers in the field right now, you've got to look at Tony Stewart, as well as Brad Keselowski.
Brad finished in the top five the first race at New Hampshire this year and those two guys have got to keep the touch.
Obviously last but not least, Five-Time himself. Jimmie Johnson is would like to get to Victory Lane and reestablish the fact that he is on top, but I think it's going to be a tough weekend for him.
Jimmie will run well, but I think these other guys are going to slide him back to a top-10, top-five finish. He's going to be hard-pressed to be able to beat them.
New Hampshire is a drivers' racetrack. You want to attack the corner and make things happen and you've got to make drivers understand that you make up all your time from center out.
You float it in, don't overdrive it getting in, then the crew chief and team can make the car work. If you've got a car that turns good through the center, then you can take advantage of a lot of guys because they don't have the same finesse.
That's the key — you've got to have enough discipline to slow down to go fast.