Haas on a major leaderboard, even if he's not in contention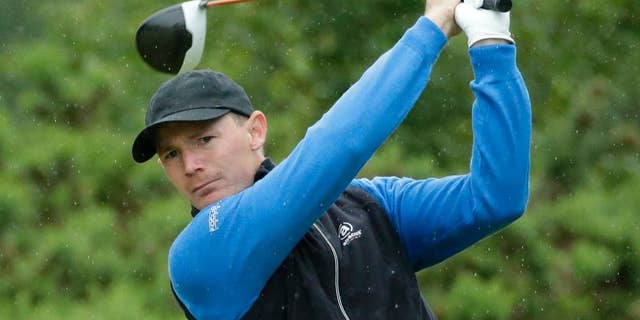 NEWYou can now listen to Fox News articles!
TROON, Scotland – Even with six PGA Tour victories, Bill Haas knew his record in the majors was lacking.
He had never contended. He never even had a top 10.
Hass finally put together three solid rounds at Royal Troon, including a 2-under 69 on Saturday, and was in third place going into the final round of the British Open.
Just his luck, he picked a major where Henrik Stenson and Phil Mickelson have turned it into a two-man race.
Stenson had a one-shot lead over Mickelson, with a five-shot gap until Haas. His consolation going into the final round was that he only had one player between him and the lead, even if that one player already has five majors.
"Maybe not," Haas said. "You see your name on the board close to the leaders and there's only a few guys that could fall backward, and you certainly can't expect Henrik Stenson and Phil Mickelson to fall backward."
That was out of his hands. He thought more about the golf he has played over three rounds — at least four birdies a day, no big numbers that have derailed the likes of U.S. Open champion Dustin Johnson, Rickie Fowler and so many others.
Haas certainly has the game for majors. His six victories include East Lake (where he won the FedEx Cup in 2011), Congressional and Riviera. For whatever reason, he hasn't been able to put it together during the four weeks of the year when careers are measured.
"I certainly haven't competed as much as I'd like in majors," he said. "I've played in my fair share of them, but certainly not 20 years' worth. I've played it enough where I think I could have done better than I have in these tournaments. I typically don't feel like I put more pressure on myself. It's just it's the toughest test of golf that we play, and it's beaten me more than I've beat it."
His best approach to Sunday is to play the course as he finds it and see where how it shakes out.
That's the way he goes about any tournament. Haas is the son of Jay Haas, who played the Open at Royal Troon three times and passed on what advice he could, such as making birdies with the wind behind him on the outward nine. Haas made four of them Saturday to move up the leaderboard, the mistakes didn't hurt him too badly.
He is decisive on the golf course, one of the fastest players on the PGA Tour without ever looking as though he is rushing. His self-talk can be overly harsh, and Haas knows this. He is honest to a fault, such as being asked about playing the final round with Andrew "Beef" Johnston in the penultimate group."
"I certain don't think Phil and Henrik Stenson are feeling the pressure tonight sleeping, knowing that Beef and Bill Haas are behind them," he said with a smile. "So we've got to use that to our advantage and just try to surprise some people."
There's still plenty at stake even if Haas doesn't catch up to the leaders. He is No. 14 in the Ryder Cup standings, and with the money counting double in a major, that could go a long way toward getting to Hazeltine with the rest of the Americans.
For now, the plan is simple.
"I want to go forward," he said. "With them being a few strokes ahead, I don't think about one or two birdies, I've got to think about shooting a golf score. If I go shoot something in the 60s tomorrow and they fall back, you never know what could happen."