Going beyond numbers reveals Neal's contributions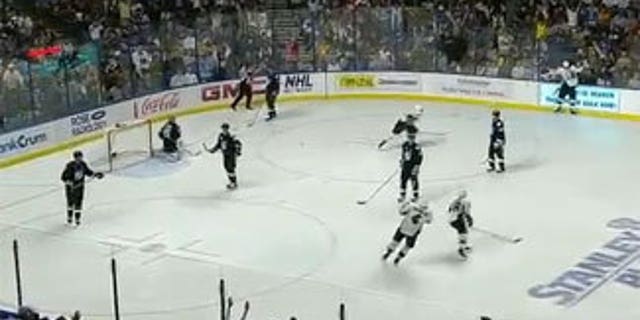 PITTSBURGH -- A glance at forward James Neal's statistics since he was dealt to the Pittsburgh Penguins two months ago suggests he's been a major disappointment.
Talk to Penguins coach Dan Bylsma, who cites all of Neal's contributions to a team that continues to not only survive but to thrive without stars Sidney Crosby and Evgeni Malkin, and it's almost as if he is discussing an MVP candidate.
Neal, coming up big again for the Penguins past the 60-minute mark of an important game, whistled a shot from along the right-wing boards past goalie Dwayne Roloson in the second overtime Wednesday to decide Pittsburgh's 3-2 victory over Tampa Bay in Game 4 of the Eastern Conference Quarterfinals.
Neal's goal, as important as any that has been scored by a Pittsburgh player this season, gave the Penguins a sweep of Games 3 and 4 in Tampa. They can close out the series Saturday in Game 5 at Consol Energy Center.
Bylsma knows Neal will be there for all 60 minutes. And, if necessary, beyond.
"We've seen how he's going to get 34, 35, 40 goals for our team next season," Bylsma said Thursday, a day off for his team. "He hasn't been able to really put those in the net for us. But he's had some opportunities in this series. … All I saw was the puck hitting the back of the net, the laser that it was.
"To see James get his reward, get the game-winner for us … the smile on his face was one of relief, but also one of getting a big goal for his team."
Penguins general manager Ray Shero picked up Neal near the trading deadline with the intent of adding some size and another scoring presence to Crosby's line. Neal has scored at least 20 goals in each of his first three NHL seasons, and he had a combined 22 with Dallas and Pittsburgh this season.
But Crosby has been out with a concussion since Neal joined the team, and the absence of the NHL's leading scorer before he was hurt is reflected in Neal's statistics -- one goal in his last 20 regular-season games. Before that, he had one goal in his final 11 games with Dallas.
However, the Penguins don't view Neal as a disappointment at all, even if his numbers are similar to those posted by forward Alexei Ponikarovsky after he joined them in a late-season trade last year that didn't work out.
Neal's goals certainly are timely. Even if they're requiring extra time.
He scored the only goal, during the third round of a shootout, as Pittsburgh beat New Jersey 1-0 on March 25, a key victory as the Penguins were attempting to lock up home-ice advantage for at least one round of the playoffs. Two days later, Neal and Alex Kovalev scored in the shootout as the Penguins beat Florida 2-1 for their record fourth consecutive shootout victory.
Neal also scored the only goal in the shootout as the Penguins beat Detroit 5-4 on March 21.
Neal, currently playing with center Jordan Staal and Tyler Kennedy on the Penguins' makeshift first line, also is strong on the backcheck and, at 6-foot-2 and 210 pounds, gives the Penguins a net-front presence they lacked before they acquired him.
Still, for all he does, the 23-year-old Neal understands the Penguins need him to score goals exactly like this one.
"It was a big one," he said. "If they score, then it (the series) is 2-2 going back to our barn, and then it's a totally different series."
Especially considering that Tampa Bay won 5-1 in Game 2 in Pittsburgh, its only win in the series. Bylsma expects that game to his on his players' minds as they return home for Game 5.
"We certainly have some experience in our room in this situation," Bylsma said. "We know how important it is with every opportunity. In Game 2, we lost a little bit of focus and lost an opportunity to go up 2-0, and we learned from that situation. We understand what we didn't do.
"One of the things we keep talking about is this is a seven-game series, and we want to keep playing a certain way. Keep trying to put pressure on Tampa Bay so there is there no doubt how those seven games are going to finish. … But there is not a person in our room who believes this is over or is going to be easy. We understand how dangerous that team is over there."
Forward Chris Kunitz will return Saturday after serving a one-game suspension for elbowing Lightning forward Simon Gagne in Game 3. Bylsma said it will be a game-time decision as to which forward won't dress; Eric Tangradi replaced Kunitz in Game 4.