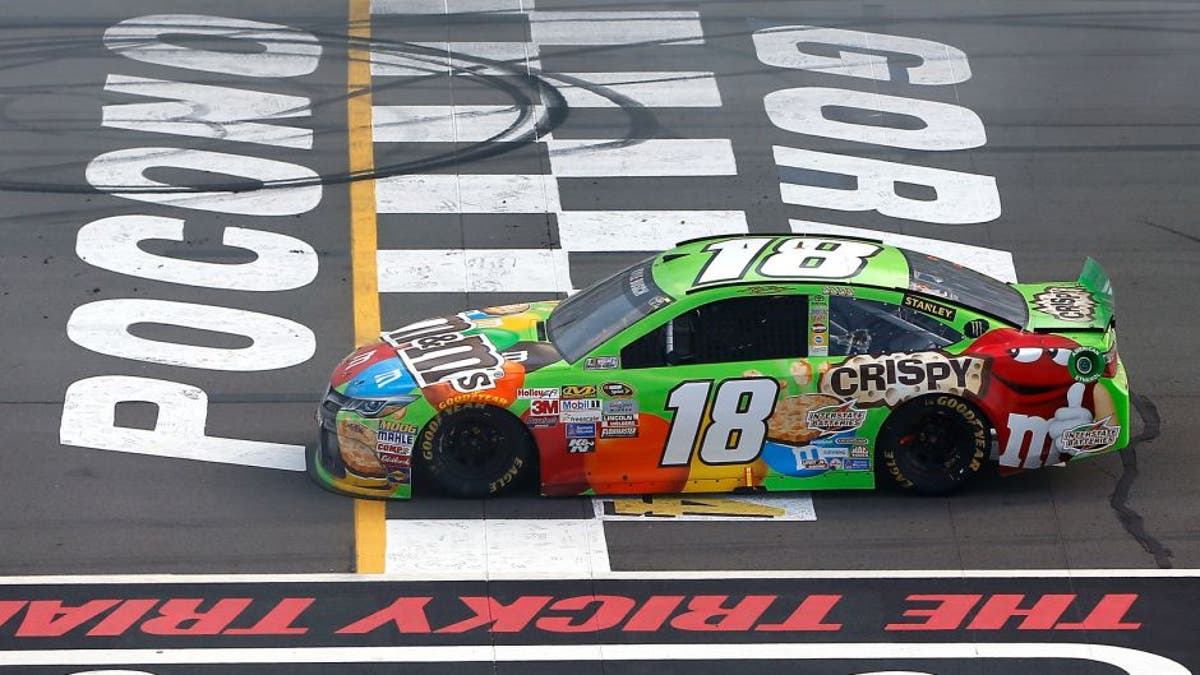 As much as Kyle Busch wanted to score his fourth consecutive Sprint Cup Series win and add his name to the NASCAR history books, the Joe Gibbs Racing driver knew the bigger picture was more important Sunday at Pocono Raceway.
With leader Joey Logano growing larger in his windshield each lap, Busch was forced to back off the gas as fuel-mileage concerns began to creep in during the closing laps of the Windows 10 400.
Looking to make the most of his day and secure his spot inside the top 30 in the driver standings, Busch appeared to possibly be on his way to his fifth win of the season after Logano's car sputtered and ran out of fuel with three laps to go.
While Busch took the lead and maintained a five-second lead over Martin Truex Jr. in second, the No. 18 Toyota ran out of fuel after taking the white flag. With a victory in sight, Busch slowed dramatically as JGR teammate Matt Kenseth drove past to take the lead and the win.

With no fuel left in the car, Busch was forced to creep along the bottom of the track and coast woefully slow toward the start-finish line, where Kenseth was already performing celebratory burnouts.
"I didn't know we were that close," Busch said of his fuel situation. "Normally when I'm that close, I get harped on pretty hard to save fuel. ... Man, that's a bummer. I wish I would have saved a little more there that last run. I wish I would have known that the 22 (Logano) was that far away from making it -- he was way far away from making it. That's a shame we weren't able to get it done there."

Prior to running out of fuel, Busch was in position to leave Pocono inside the top 30 in driver standings, but when he crossed the finish line in 21st, one lap down, he was back on the outside looking in.
As the series heads to Watkins Glen next weekend, Busch is 13 points out of the top 30, in the 32nd spot.
"We would be celebrating a win and a Chase berth (had the fuel not run out)," he said. "We got greedy. I don't know how greedy, but that's the position we're in. If it came down to other things that we haven't had the success that we've had lately, we would have had to have pitted and make the most of it and get the best finish we could. We went for broke today and came up a little bit short. You can't fault the team."
With just five races left before the 16-driver Chase field is set, Busch appears to be on his way to making the top 30, but can afford few, if anymore, hiccoughs. He has at least one victory at each of the next five tracks.