Girardi has many offseason options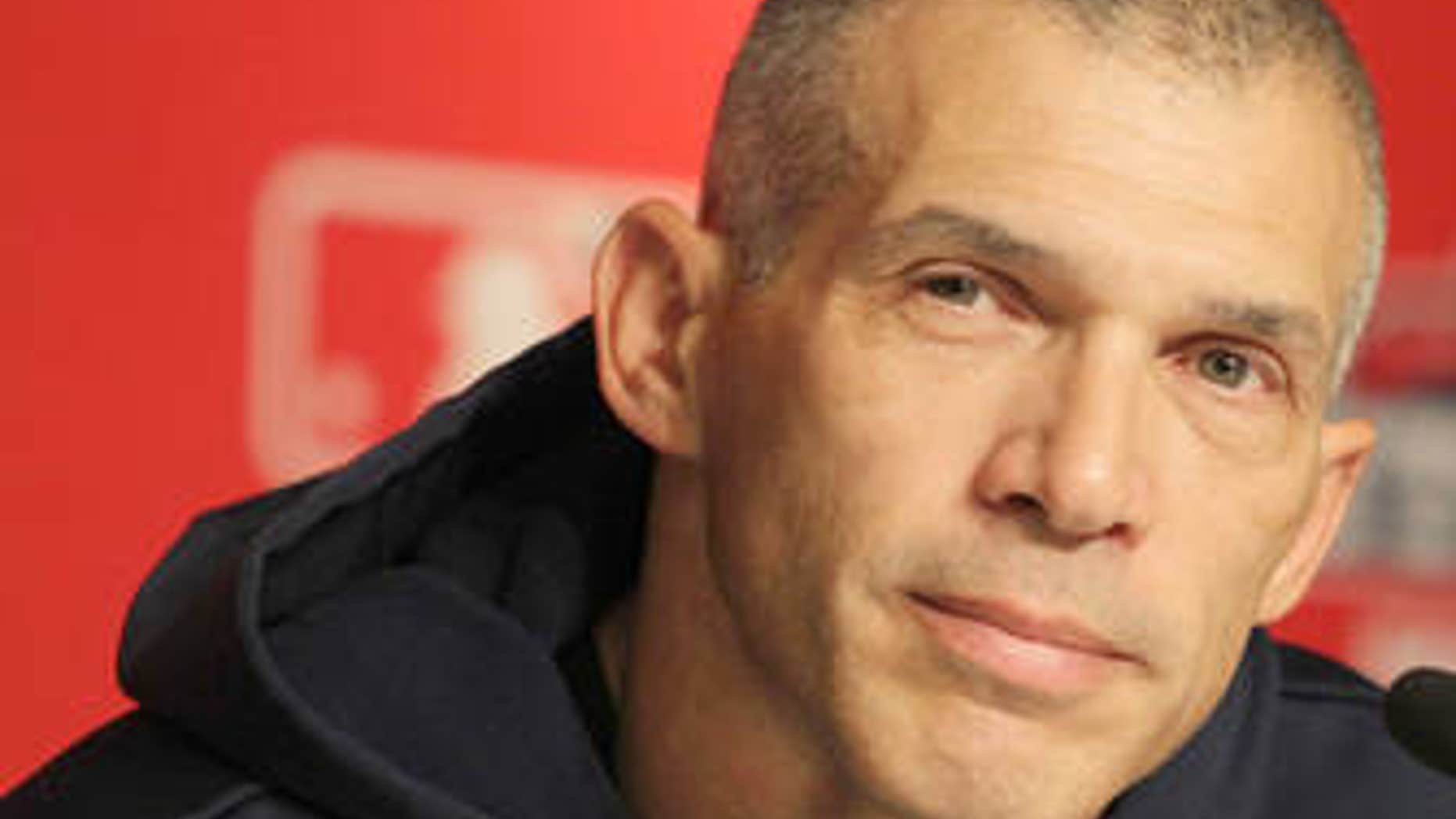 You're Joe Girardi, and you're having one heck of a free-agent year.
You've managed a franchise-record 55 players. You've handled the A-Rod circus with aplomb. And with 16 games left, you've got your injury-depleted Yankees one game back in the race for the second wild card.
You're Joe Girardi, and you can leverage this to the hilt.
You want to stay with the Yankees, you can stay with the Yankees. You want to go home to Chicago, snap your fingers and the Cubs will jump. You want to manage a team with more immediate World Series aspirations, well, Davey Johnson is retiring, and the Nationals' job soon will be open.
Other, less desirable possibilities also might arise -- maybe the Angels if they part with Mike Scioscia (beware, meddling owner), maybe the Phillies if they back off Ryne Sandberg (beware, another older roster). You're Joe Girardi, and all you would need to do is make yourself available. Then the fun would begin.
The Yankees have yet to sign you to an extension; the Yankees hardly ever talk contract until after a season is over. You're fine with that; you went through it in 2010 and wound up with a new three-year deal, one worth $9 million, according to a major league source.
General manager Brian Cashman already is on record as saying the Yankees want you back. Yet, as powerful as the Yankees are, this decision is not theirs alone, is it? No, you're Joe Girardi, and the real question is this:
How badly do you want to stay?
Oh, the Yankees treat you great. They are almost certain to offer you a hefty raise. You're settled with your wife, Kim, and three children -- Serena, 14; Dante, 11; and Lena, 6 -- in Purchase, N.Y. You probably do not want to uproot the kids, make them switch schools.
Still, this is a professional decision. You're a baseball man, and baseball men move around.
You met Kim when you both were at Northwestern. You were the Cubs' fifth round-pick in 1986 and then made your major league debut in '89. You made five stops during your 15-year playing career, including the Cubs twice, and you've managed the Marlins and the Yankees.
And now you have to wonder:
Are the Yankees your best long-term option?
Yes, they're the Yankees. Yes, the Yankees are almost always competitive, as they again have demonstrated this season. But closer Mariano Rivera is retiring. Left-hander CC Sabathia is declining. Third baseman Alex Rodriguez is appealing a 211-game suspension. And shortstop Derek Jeter's future is uncertain.
Even if the Yankees re-sign second baseman Robinson Cano, they could lose left-hander Andy Pettitte, right-hander Hiroki Kuroda and outfielder Curtis Granderson as free agents. You're fully aware of the team's master plan -- to get under the $189 million luxury-tax threshold next season, reap a series of financial benefits and then start spending more freely.
But there is a problem.
The game is awash in revenue. Teams are retaining their stars. The free-agent classes are getting weaker and weaker. And, at the other end of the baseball life cycle, the Yankees' farm system is failing to spit out low-cost alternatives, particularly in comparison to their principal rival, the Red Sox.
You're Joe Girardi, and maybe you're thinking: No way this team is as competitive next season, or even beyond. Jeter eventually will retire, creating a leadership vacuum. Get out now and leave on a high note, before things start to crumble.
Options, you've got options.
You talked to the Nationals after the 2006 season, and then-GM Jim Bowden preferred you to Manny Acta, according to a major league source. But ownership took a hard line in negotiations, and you instead took a job with the Yankees' YES Network before becoming the team's manager in '08.
Think the Nats might want another shot?
Think managing right-hander Stephen Strasburg, outfielder Bryce Harper and shortstop Ian Desmond in their primes might be a little fun?
Then there are the Cubs, your hometown team, and your wife's hometown team, too. The Cubs, who last won the World Series in 1908. The Cubs, who play in the National League Central, a division nearly as strong as the American League East.
You're Joe Girardi, and you know the Cubs' history. Heck, you were part of their history, playing for the Cubs from 1989-92 and 2000-02. To build a contender almost from scratch, become the manager who ends the Curse of the Billy Goat -- it would be the ultimate, wouldn't it? And let's face it, managing in Chicago would be less draining than managing in New York.
True, Cubs manager Dale Sveum is under contract through next season, and you would not want to take another man's job. But let the Cubs worry about that. It's doubtful they see Sveum as a long-term solution. Quality managerial candidates are difficult to find. You're Joe Girardi, and the Cubs might not get another chance to hire a manager of your caliber anytime soon.
Now, the grass isn't always greener -- you know that. The Cubs' farm system is good and getting better, and you probably can trust team president Theo Epstein and GM Jed Hoyer to revive the franchise. But the Cubs will never spend like the Yankees, not even after they start drawing revenue from the renovations of Wrigley Field.
Decisions, decisions. Maybe your first choice is to remain in New York. Maybe the Yankees will make a pre-emptive strike before the Cubs ever enter the picture. But in the end, the choice is yours, and yours alone.
You're Joe Girardi, and you're one hot free agent.
You get to call the shots.