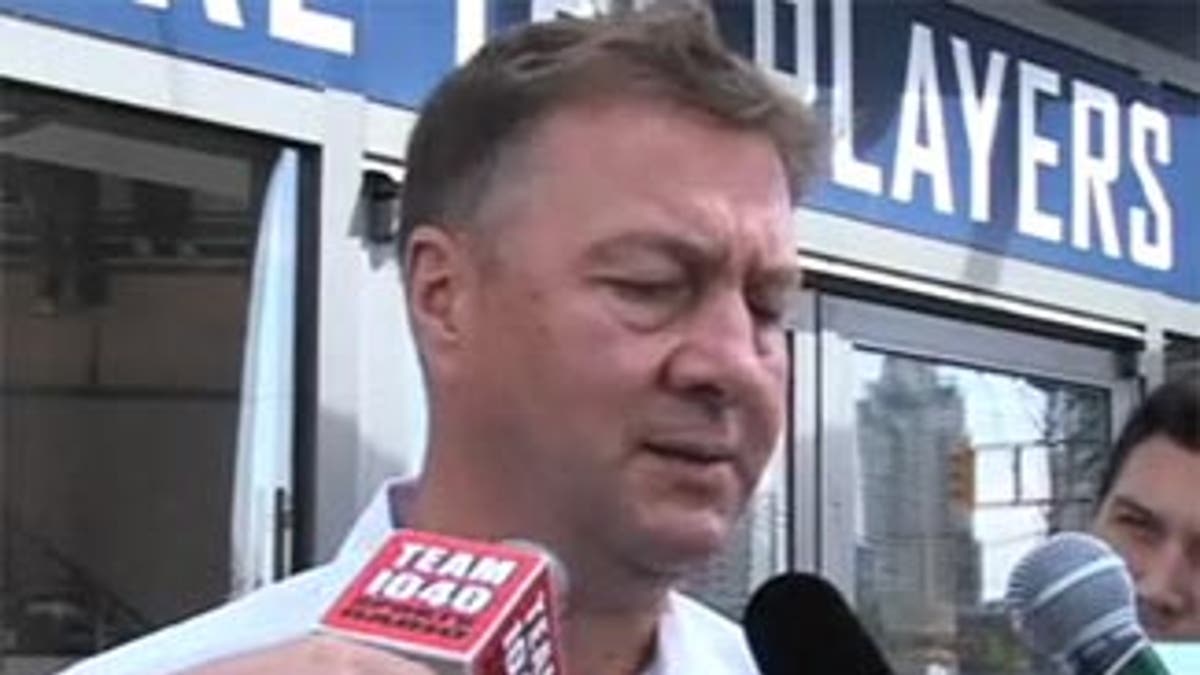 CHICAGO -- Mike Gillis is as poised and composed as his team. He's ready to take on all challenges, but only if he gets to do them one at a time and never loses focus of the process that goes along with it.
As general manager, Gillis sets the tone for the Vancouver Canucks' organization and it bleeds into his coaching staff and players. For three seasons the former player agent has been sitting on the hot seat in Vancouver and this spring he might finally be in line to reap some rewards, both the individual kind and the organizational variety.
Gillis on Wednesday was announced as one of three finalists for the NHL's GM of the Year Award. He joins a group that includes Nashville's David Poile and Tampa Bay's Steve Yzerman.
On Tuesday, prior to Game 4 of the Western Conference quarterfinal-round series against Chicago, Gillis took time to speak with NHL.com and the NHL Network about being a finalist for the prestigious award and how he got to this point in his short managerial career.
NHL.com: Mike, what is it like to be selected as one of three finalists among 29 of your peers, to have that satisfaction knowing you are one of just three?
Gillis: It feels really good, but it's really a testament to the organization. We have great people that have helped me out for the last three years. I don't look at this as an individual award, but it is a very nice feeling to be included with two other candidates in this category.
NHL.com: Your team hasn't won anything yet other than the Presidents' Trophy, but this team does look like it could be built for a special spring. What is that personal satisfaction like for you, knowing you've seen this through?
Gillis: It's what we've all worked so hard for. There is a long way to go still, we all know that, but we're really confident in this group of people. We don't have anybody on this team that we don't want on this team, and we're really confident in their demeanor and how they work every day. I think that forms the foundation that allows you to win and allows you to continue to get better. So I'm really proud of our group, I'm very proud of our coaching staff -- they've made a lot of adjustments and done an excellent job. There's a lot to be happy about.
NHL.com: Since you took over in 2008, the key players are still here, the coach is the same -- the stability within the organization, describe what it means for the success of this team.
Gillis: In our plan we did everything based on merit. If it was meritorious, then you were able to stay here and be a part of what we were trying to do. There weren't any preconceived ideas. Even though a lot of people not involved with the team had ideas of what would happen, what we would do, who would go and who would stay, I went into this with no preconceived ideas whatsoever. We evaluated everybody both on and off the ice and we were very fortunate that we had really good people here to build with and they were committed to winning and committed to being part of this organization. It really made things a lot easier. When you have guys like Daniel and Henrik (Sedin) who are prepared to make Vancouver their second home and be totally committed to the community and the team, it makes it a lot easier to get other guys to buy into that. I think they were key elements -- keeping them, paying them correctly and having them get better.
NHL.com: There has been a consistent message about a process within this team. Alain (Vigneault) sticks to it, the players stick to it and they play that way. How much of that message comes from up top and seeps through the rest of the organization?
Gillis: Well, we try and stay as balanced as we possibly can. We've created a number of initiatives to help guys get better. We've tried to leave no stone unturned in allowing players to get better individually and as a team. I think that has allowed everyone to believe that we're heading in the right direction and we were going to be a competitive organization. It allowed other free agents that might be considering us to want to come. It has opened up the doors for a lot of things. In my role I just try to maintain balance, try and stay consistent all the time and keep everyone else consistent. I feel strongly if we do that we have a good chance for success.
NHL.com: The two guys that are also finalists -- Nashville's David Poile and Tampa Bay's Steve Yzerman -- what are your thoughts on them and being in this category with them?
Gillis: David Poile is a longstanding general manager who has done an excellent job everywhere he's been. He's a testament to determination, for sure, and consistency. He has a longstanding partnership with their coach and they've had great success even though they've gone through some challenges away from the rink. I think Steve Yzerman stepping in has done a remarkable job in Tampa. He made some bold decisions early on and stuck with them. I think he's done a really excellent job.
Follow Dan Rosen on Twitter at: @drosennhl