Gilbert Melendez: 'Everybody knows I busted up Eddie Alvarez'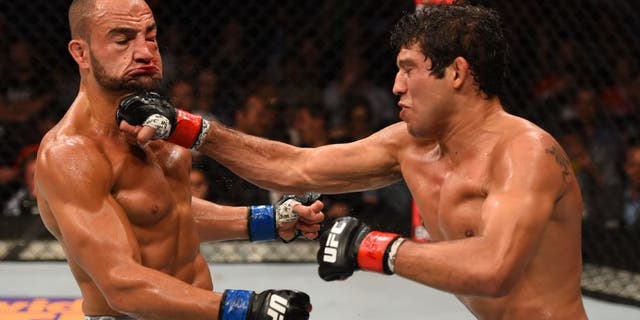 NEWYou can now listen to Fox News articles!
Following two losses in championship bouts in the UFC, Gilbert Melendez wasn't sure that he'd ever get another crack at the belt until he saw what unfolded in the most recent lightweight title fight.
Eddie Alvarez made short work of Rafael dos Anjos when they met just a couple of weeks ago, as he finished the Brazilian in impressive fashion to become the new champion at 155 pounds.
Alvarez's win not only shook up the status quo in the lightweight division, but it immediately put Melendez back into the title fight conversation considering he took the new champion to a very close, controversial decision last June.
To this day, Melendez believes he deserved the nod over Alvarez, but now that his last opponent is champion, he's starting to see a third shot at the belt in the not too distant future.
"This is not an unfamiliar situation for me. I've been in this sport since 2003, top 10 in the world, fighting to fight the champion. I'm always one fight away from being in the No. 1 spot again or fighting for the title. What's pretty crazy is that I am in this spot again. This is another chance for me to take advantage of an opportunity," Melendez told FOX Sports recently.
"Everybody knows I busted up Eddie Alvarez so it makes things interesting."
Melendez admits after the loss to Alvarez and the year away from the sport dealing with a suspension stemming from a positive drug test that was revealed following his last fight, the veteran lightweight started to feel like his championship days were behind him.
He had been at the top of the division for the past decade and held titles in other organizations, so Melendez started to believe that maybe it was time to just focus on making money and no longer worry about pursuing the title at 155 pounds.
Watching Alvarez dismantle dos Anjos inside of one round was the perfect catalyst that Melendez needed to shift gears back to the mindset where winning UFC gold once again seemed attainable.
"I really feel like that's the fight gods talking to me," Melendez said. "Sometimes you think it's been a long road in this sport and maybe it's time to cash in on some big paydays so we take a different road. But I feel like these are the fight gods talking to me 'Gilbert, you beat Eddie, he's the champ, beat this guy, you still have it, you can still do it'.
"These are the things I tell myself. These are the voices I hear and the feelings I get."
So when the opportunity came up to face Edson Barboza on the FOX UFC Fight Night card in Chicago this Saturday night, Melendez jumped at the chance.
Barboza is one fight removed from a dominant performance over former champion Anthony Pettis, and he's widely considered the most lethal striker in the lightweight division.
Melendez knows beating him not only washes out the bad taste from two straight losses, but it also points him directly back in Alvarez's direction with a chance to once again fight for UFC gold.
Melendez knows Barboza isn't a pushover, but he also sees a lot of flaws in the Brazilian's overall MMA game and he hopes to expose those on Saturday night.
"It's one of those things like Nate (Diaz) is always saying -- it's one of those kill or be killed kind of fights," Melendez said. "I am going to put the pressure on, and you roll the dice. You might eat a kick on the way in or you can break him.
"I'm looking to do that. That's definitely obvious that my game plan is to try and break him."
Melendez doesn't discount how dangerous Barboza can be when he's sitting back in the pocket and picking his opponents apart with a wide variety of striking combinations. So Melendez's job is to disrupt that comfort zone and drag Barboza into a dog fight -- and that's a battle he knows he wins every time.
"I take a deep breath, bite down on my mouthpiece and go out there and do my thing. When I'm in that moment, it's almost like an out of body experience. I excel in those moments," Melendez said. "When I do get hit, I get pumped up. When a guy has a moment, it makes me want to go forward and not back down. I want to get to that moment so I can feel it and flip that switch.
"I want it to be like 'wow'. I want the wow factor. I want them to say 'that's a new Gilbert Melendez, a better Gilbert Melendez, a Gilbert Melendez with perfect execution'. That's what I want at the end of this fight."