Giants' Beckham leads all receivers in 2016 Pro Bowl voting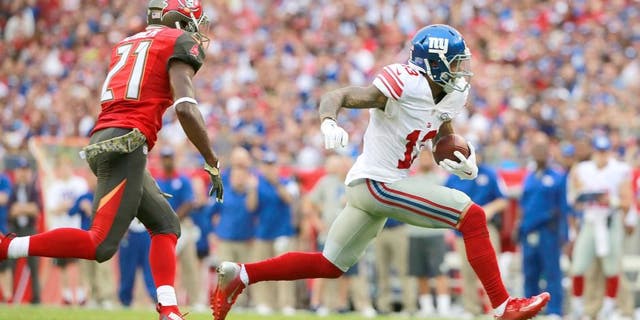 New York Giants wide receiver Odell Beckham Jr. is currently leading the 2016 Pro Bowl fan voting with just under a week to go before the ballot closes. According to the NFL's most recent release, Beckham has received 328,097 votes to date -- about 9,000 votes ahead of Pittsburgh Steelers wide receiver Antonio Brown, who has accrued the second most votes at the position.
Beckham has amassed the seventh-most votes of any player overall so far. New England Patriots quarterback Tom Brady has gotten the most total votes of any eligible player at any position.
After winning the NFL's Offensive Rookie of the Year award in 2014, Beckham has once again been one of the league's most dominant wide receivers this season. Through 12 games, Beckham has racked up 78 receptions 1,154 receiving yards and 10 touchdowns. Those numbers place him sixth, fourth and second, respectively, in each individual receiving category.