Ghanaian player in Serie A booked after trying to speak with fan who racially abused him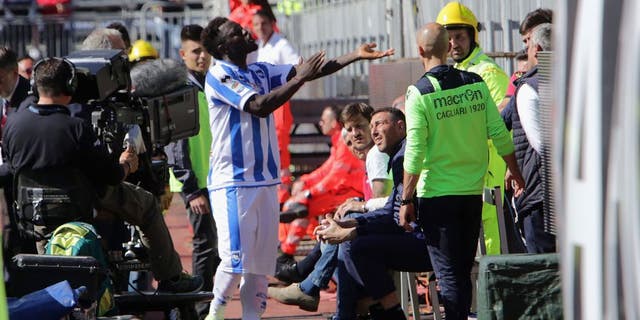 Sulley Muntari, a Ghanaian midfielder for Pescara, is protesting racial abuse being hurled at him in Serie A and trying to curb the problem, one incidentat a time.
Over the weekend, during Pescaras 1-0 loss at Cagliari, Muntari noticed a child throwing racial insults at him so he stopped and offered the child his shirt. When a referee showed him a yellow card for pausing to address the racial abuse, Muntari walked off the field in protest.
There was a little kid doing it with his parents standing nearby, Muntari later told the Guardian about the incident. So I went over to him and told him not to do it. I gave him my shirt, to teach him that youre not supposed to do things like that. I needed to set an example so he grows up to be nice."
(The referee) told me I should not talk to the crowd. I asked him if had heard the insults. I insisted that he must have the courage to stop the game, Muntari added. The referee should not just stay on the field and blow the whistle, he must do everything. He should be aware of these things and set an example. I am not a victim. But if you stop the matches I am convinced that these things wont happen any more.
The incident is a shocking reminder of how racist abuse remains an issue in Serie A and in world soccer. Per guidelines Italy has set due to issues with racial abuse in the past, the referee was supposed to flag the abuse to the fourth official, who should then report the incident to stadium security. That apparently did not happen.
Credit to Muntari for standing up and being the bigger person in the face of some ugly treatment.
MORE FROM FOX SOCCER