Getzlaf, Ducks top Flames 3-2 in series opener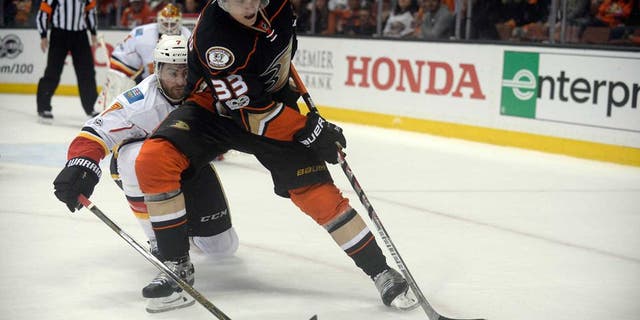 NEWYou can now listen to Fox News articles!
ANAHEIM, Calif. (AP) -- Ryan Getzlaf scored a power-play goal in the opening seconds, and he leveled Calgary's Mark Giordano with a statement-making check in the third period.
There will be no slow start for the Anaheim Ducks in these Stanley Cup playoffs. Their captain simply wouldn't allow it.
Jakob Silfverberg scored the tiebreaking power-play goal late in the second period, and Getzlaf had a goal and an assist in the Ducks' 3-2 victory over the Flames in their first-round playoff series opener Thursday night.
Rickard Rakell scored the tying goal on a rebound of Getzlaf's shot after Calgary made a horrendous line change in the second period, and John Gibson made 30 saves as the Ducks avoided the tepid beginning that ultimately doomed them in the first round last season against Nashville.
"We talk about home ice and battling for it, but we say it's only home ice if you use it," Getzlaf said.
It's something even more than that: The Ducks kept Calgary winless in Anaheim in 28 games since April 25, 2006, the longest such streak in NHL history.
Game 2 is Saturday night at Honda Center.
After dropping the first two games of last season's first round at home against Nashville, these Ducks were locked in from the opening minutes. They survived a hair-raising third period by looking to Getzlaf, who played extensively on both special-teams units.
"He's been doing it all year, and tonight was no different," center Ryan Kesler said. "He's our captain out there, and he leads by example. He leads, and we follow. Today he was the difference-maker, not just scoring goals."
Getzlaf was dominant while he became the first Ducks player to score 100 playoff points. He capped his night by flattening Giordano, who is reviled in Anaheim after injuring All-Star defenseman Cam Fowler with a knee-on-knee hit last week.
"It's got nothing against him," Getzlaf said. "He was just the guy that had the puck, and (it was) something where he kind of turned and I don't think he saw me coming."
Sean Monahan and Sam Bennett scored and Brian Elliott stopped 38 shots for the wild-card Flames.
With the Anaheim fans' chants of "You can't win here!" echoing down from the rafters, the Ducks kept up their improbable home mastery of the Flames despite falling behind in the second period.
"You give them that many opportunities, they'll make you pay," Calgary forward Kris Versteeg said. "But all in all, we were still there in the end. We had our opportunity to tie it up and we didn't. Let's move on to the next one."
Anaheim capped the win by killing two Flames power plays, including a 5-on-3 disadvantage for 1:13 in the waning minutes. Gibson was shaky at times, but he denied Johnny Gaudreau in the crease with 18 seconds to play.
"Two power-play goals and a bad change -- it's not like they really earned it that much," Elliott said. "We kind of gave it to them. We clean things up. We'll take care of business."
With Calgary's loss, the NHL's Canadian teams fell to 0-5 in their playoff openers this season.
The raucous Orange County crowd hadn't even settled in its seats before Getzlaf wired a one-timer through traffic for his 30th career playoff goal.
Calgary evened it on a power-play redirect by Monahan, the top-line forward who scored 58 points and didn't miss a game during the regular season.
Bennett put the Flames ahead with a slick shot off Versteeg's slick backhand pass in front. Before Honda Center or the Ducks could get too tense, Rakell evened it on a rebound of Getzlaf's shot after Calgary gave up a 3-on-0 rush with its confused line change.
Silfverberg then put a beautiful wrist shot through traffic to reclaim the lead.
The Ducks expect to be without Fowler for at least the next few games after the hit by Giordano, who wasn't penalized or further disciplined by the NHL. Giordano was booed every time he touched the puck.
NOTES: Ducks D Shea Theodore got the first two playoff points of his career with power-play assists. … Calgary's Glen Gulutzan coached his first NHL playoff game, and rookie F Matthew Tkachuk made his playoff debut. … Anaheim D Brandon Montour and F Ondrej Kase made their Stanley Cup playoff debuts. … Ducks F Nick Ritchie completed his two-game suspension for punching Chicago's Michael Rozsival last week. The power forward will be eligible to make his NHL playoff debut in Game 2.
-- --
More AP NHL: www.apnews.com/tag/NHLhockey