Get to know FOX NASCAR personality Adam Alexander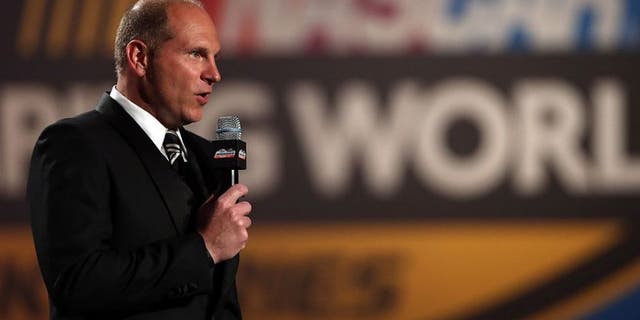 This extended Q&A marks the next in a series with FOX Sports motorsports personalities to be highlighted over the next several months. NASCAR Race Hub co-host Adam Alexander, who also serves as the play-by-play announcer for FOX NASCAR's coverage of the NASCAR XFINITY Series, made his FOX Sports debut 10 years ago at New Hampshire Motor Speedway, site of this weekend's NASCAR events (NASCAR Camping World Truck Series Chase opener live on FS1 on Saturday, Sept. 24 at 1:00 p.m. ET with pre-race coverage beginning at 12:30 p.m. ET on NCWTS Setup). For more information on Alexander, please click here.
FOX SPORTS: You made your FOX Sports debut at New Hampshire and are celebrating your 10th year with FOX. How did you first get the opportunity?
ALEXANDER: "I worked pit road for a couple of Truck Series races on SPEED in the fall of 2006. One was an audition and one was filling in for someone who was out that weekend. I'd worked for MRN and thought that was really cool. After working in local TV and radio, when I got to MRN, I absolutely knew I had it made. But you get hungry for a little more. Then the opportunity came about with SPEED, and I wanted to play on the TV side a bit. Once I got the Truck Series pit reporting job, I thought I had hit the jackpot. I loved what I was doing. Part of that was how much fun that team was and still is. I had the privilege to call Truck Series races in 2015 and enjoyed it just as much as I did back in the day."
FOX SPORTS: Is there any sport you'd like to cover that you haven't had the opportunity to yet?
ALEXANDER: "I am pretty content with my resume. I've never covered the NFL, but I got to call college football and basketball games for a couple of seasons. Growing up, college basketball was my favorite sport and the one I followed the closest. If I had to choose something, I'd say the NFL because it would be cool to say I've done it. But nothing is eating at me and leaving me feeling incomplete in my career. I've been extremely fortunate."
FOX SPORTS: One of your more infamous on-air moments with FOX was the Truck Series race on Halloween at Texas a few years ago. You and the SPEED on-air crew dressed up in the Wizard of Oz theme. You were unfortunate enough to be Glenda the Good Witch, probably the most memorable of the crew that day. How difficult was it for the bosses to persuade you to do that and were you as embarrassed as you looked?
ALEXANDER: "It absolutely was as humiliating as it looked. It was my first year on pit road covering the Truck Series with SPEED, and I was still having a hard time finding the right balance between entertaining TV and journalistic TV. The idea had been floated that we'd dress up for Halloween on-air because the race fell on the day. No one had a problem with it except for me. I was concerned it would compromise viewers' perception of us. I called our producer and left him a message that I was worried about the way it would portray us. Well, all that meant was that I got last choice for costume selection. Everyone made their selections, and when they were done, I was left with Glenda the Good Witch. But I sort of climbed the costumer ladder after that. I started with a prom dress and a wig, and the next year, I upgraded to tights to be Robin from Batman and eventually Skipper from Gilligan's Island."
FOX SPORTS: There is one Adam Alexander bobblehead out there, and you have it. Does that make you "big time" or very "small time?"
ALEXANDER: "That would be very small time. My idiot friend, Russell Wenrich, is really good to me on the work side of our relationship but is questionable on the friend side. But he's a great gift-giver. He secretly got a photo of me and had a bobblehead made. When I'm in charge of gifts, you'll probably get a gift card or a hooded sweatshirt -- the first one on the rack in your size. Russell thinks outside the box and likes to maintain humility in my life to remind me where I fit in. The face isn't round enough to be mine, but overall it's a pretty good caricature. It may have more hair than I do – the hair might be generous."
FOX SPORTS: Speaking of hair, who has more – you or Larry McReynolds?
ALEXANDER: "Larry still has hairspray, for crying out loud. I graduated from hair products a long time ago. That equates to more time in the day for me. He and I were riding on a golf cart one time, and I was sitting on the dash backwards with Larry in the passenger side. We were face-to-face and going pretty fast. He held his notebook up between his face and mine. I initially wondered if he was playing peek-a-boo with me, but I laughed when I realized he was shielding his hair from the wind. I don't care about my hair. I just want to make sure I don't have hair in my nose and ears."
FOX SPORTS: You and Larry McReynolds never miss an opportunity to poke fun at the vibrant colors or flowers on (co-host) Danielle Trotta's dresses. Do you guys just count the minutes until she comes out of the dressing room each day?
ALEXANDER: "When we rehearse, I never tip my hand as to where I'm going to go with the show open. The open is a complete ad lib, and I usually take the lead on it. The easiest target is Danielle's wardrobe because it's usually a wild color or wild print. Many days when we're on the set, I can find a smart aleck comment about the color of her dress or a way to tie it into the show material. But if I ever miss my chance, I don't have to worry because Larry McReynolds will pick up my slack. If we both do it, it's just a double-double."
FOX SPORTS: NASCAR RACE HUB has a regular rotation of drivers and crew chiefs in-studio as analysts. Which driver/crew chief analyst most keeps you on your toes?
ALEXANDER; "Brad Keselowski because he's ready and willing to go wherever we want to go. He's very into preparation, and given his knowledge, I have to be on my game to set him up for the next question. He keeps me on my toes the most. Joey Logano, at times, can be a bit unpredictable because he has good stories and isn't afraid to tell them."
FOX SPORTS: You've conducted countless sit-down interviews and cut endless features the past few NASCAR seasons. Which feature or interview has been the most memorable for you?
ALEXANDER: "One that I really enjoyed was with Brad Keselowski this year at his Truck shop. We sat down to talk about his family having to sell off its team assets, and that he then bought that building once he became a Cup champion. He got a new beginning with his Truck team there and took them to the next level. A year ago, we did a piece with Ricky Rudd when Jeff Gordon was about to break his 'Ironman' streak. It was interesting to hear his perspective on NASCAR after being out of the scene for a while. And there was the time we went up to Barney Hall's house a few years ago. He was spending less time at the track, and I knew we needed to sit down to hear his stories before his health declined. Although we'd worked together at MRN, I'd never been to his house. Barney was my mentor for so many years and was so humble as the voice of NASCAR. So, to hear all his stories was incredibly special and something I'll never forget."
FOX SPORTS: FOX Sports has had a regular rotation of NASCAR SPRINT CUP SERIES drivers as analysts in the NASCAR XFINITY SERIES booth the past two seasons. Of the Cup drivers with whom you've called a race, who do you think is the most natural in this role?
ALEXANDER: "The two guys that really embrace it, enjoy it and do their homework are Kevin Harvick and Brad Keselowski. When BK comes in to do the Hub, he takes pride in knowing and having opinions on the subject matter. He nearly takes over the segment because he has thoughts on where it should go. In Daytona, Kevin was with us in the booth and was texting me the night before regarding storylines, pointing out things about practice and what he was expecting. He's very studious in his approach. The one that surprised me the most, though, was Denny Hamlin. He'd never helped call a race before, but he was very prepared at Talladega. Clint Bowyer is the biggest personality - no doubt - the wild card. He and Michael Waltrip have so many stories on each other. I'd never before worked with anyone where I felt like I was in the dark on where they were going with something until we put the two of them together in the booth."
FOX SPORTS: You launched HubCast a few weeks ago. How did it materialize and how would you characterize it?
ALEXANDER: "We spend so much time in the office hanging out and talking, having conversations that don't get on the Hub. If they do, they get three minutes when they should have 15. I thought there was room for a NASCAR podcast. Originally, we wanted the Hub guests to be on it, but we began to view our philosophy more as our FOX NASCAR hosts and analysts giving their opinions. So, we moved in the direction of me with the producers - much like talk radio formats now. We want to use it as a platform to discuss a sport we all have a lot of passion for, and we're thoroughly enjoying it."
FOX SPORTS: What are your kids up to these days?
ALEXANDER: Kyla is 12, in seventh grade and doing dance full-time. Fortunately for her, she gets her dancing skills from my wife. Kade is nine years old and in fourth grade and interested in everything remotely related to sports. Recently, he wanted to buy a volleyball net for the driveway, then we shot basketball and threw the baseball. Then he was throwing the football when I left for work. He's sports crazy and lives for RadioActive on Hub on Tuesdays."