Gerrard criticizes Rodgers for approach to fateful Chelsea game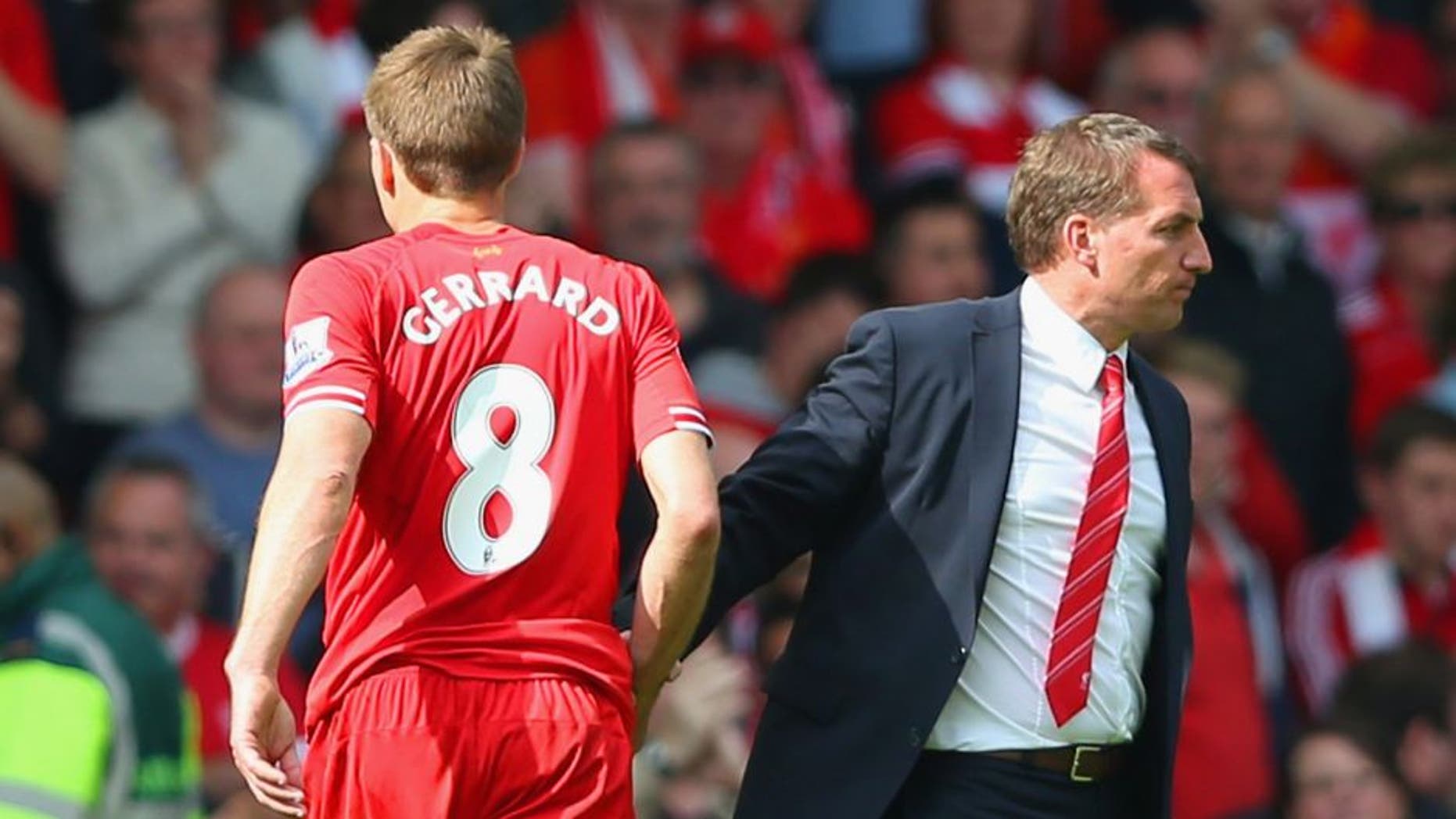 Former Liverpool captain Steven Gerrard has criticised manager Brendan Rodgers' "over-confident" approach to the fateful game against Chelsea that derailed the Reds' 2013-14 Premier League title bid.
Rodgers woke up on Friday to uncomfortable headlines linking former Borussia Dortmund coach Jurgen Klopp with his job, with scrutiny building after Liverpool needed penalties to scrape past Carlisle in the Capital One Cup on Wednesday.
And quotes from Gerrard's new autobiography published in the Independent will do little to improve matters.
Liverpool led the table by five points with three games to go until they were beaten 2-0 by Jose Mourinho's side in April 2014, and would go on to finish two points behind champions Manchester City.
The match was decided in part by Gerrard's slip which presented the ball to Demba Ba for a breakaway goal in first-half injury time.
But in 'Steven Gerrard: My Story', the influential midfielder - now with the Los Angeles Galaxy - points the finger at Rodgers as well.
Gerrard said: "I've never been able to say this in public before but I was seriously concerned that we thought we could blow Chelsea away.
"I sensed an over-confidence in Brendan's team talks. We played into Chelsea's hands. I feared it then and I know it now."
Gerrard also recalls the moment he was told he would not be in the starting line-up against Manchester United last season.
Gerrard was used as a half-time substitute in the game but was sent off just 38 seconds after his introduction for stamping on United midfielder Ander Herrera - and he reveals in the book that he came close to venting his displeasure at Rodgers himself.
"A sudden lump formed in my throat," he said of the conversation in the manager's office earlier in the week. "I had a split-second decision to make. Do I have a go at him?"
Elsewhere in the book, Gerrard discusses his role in keeping Luis Suarez at the club in the summer of 2013.
The Uruguay striker appeared set to join Arsenal, only for Liverpool to turn down the London club's bid and keep Suarez at Anfield to spearhead that title near-miss.
Gerrard recalls texting Suarez to ask: "Luis, what's going on here? We need to straighten this out."
The pair talked at training the next day and then met with Rodgers, with Suarez eventually persuaded to stay on Merseyside. He scored 31 league goals that season before leaving for Barcelona last summer.
Gerrard also describes being deployed to attract transfer targets to Anfield and claims he was asked by the club to "take a crack" by text at both Chile forward Alexis Sanchez, before his move from Barcelona to Arsenal, and Germany midfielder Toni Kroos who ultimately left Bayern Munich for Real Madrid.