Georges St-Pierre hints at possibly challenging for two titles during UFC return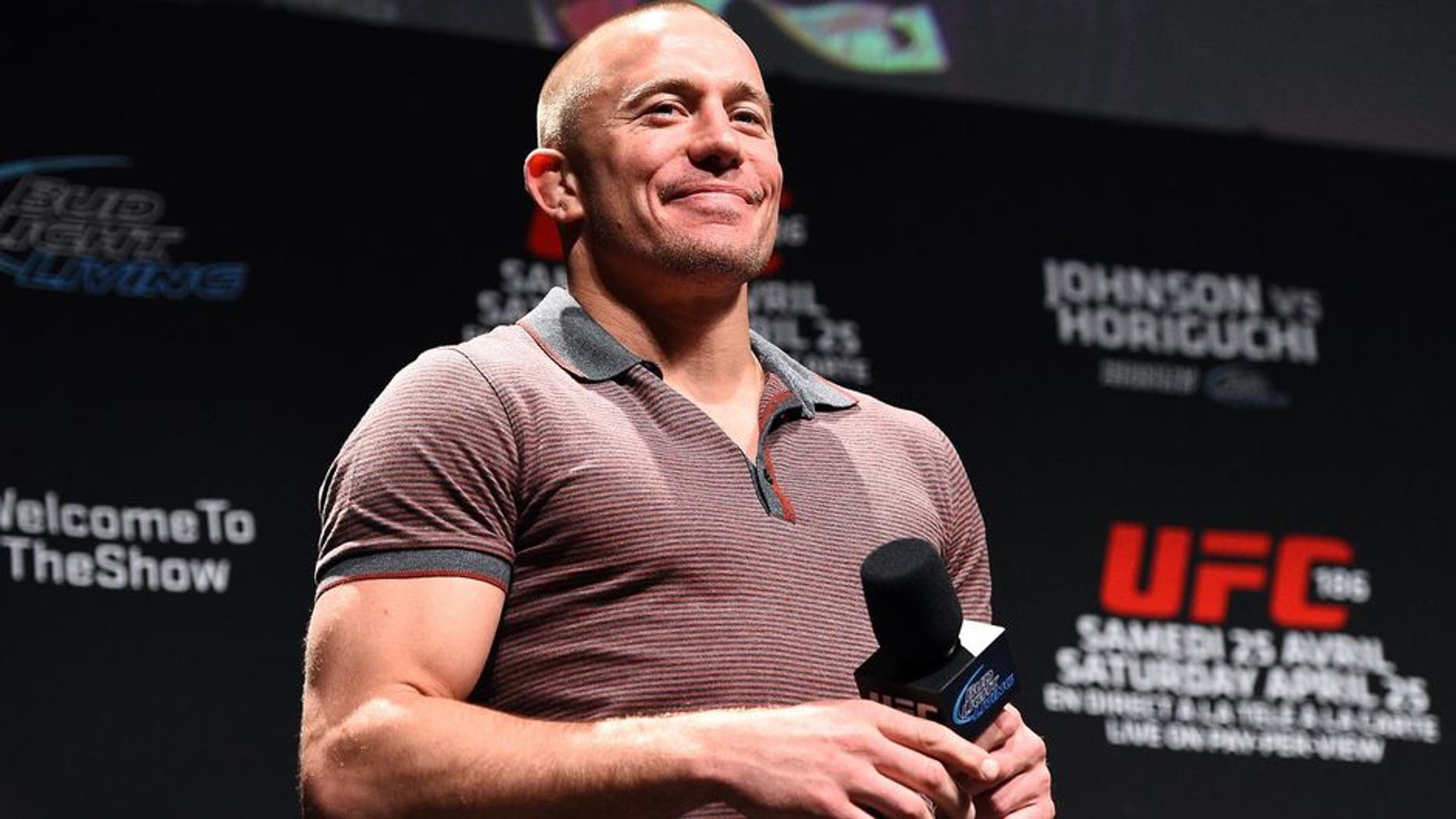 Former UFC welterweight champion Georges St-Pierre hasnt officially started his second run in the UFC, but that hasnt stopped him from thinking of potentially hoisting two title belts at some point.
St-Pierre and UFC brass were hoping for a July return against current middleweight champion Michael Bisping before that was pushed back to fall and then scrapped altogether by a seemingly fed-up Dana White.
While White says GSP will fight at welterweight whenever he does fight in the UFC again -- potentially against Tyron Woodley -- GSP says he believes the fight with Bisping can still be made and hed prefer to take that special opportunity right now, before possibly moving back to 170-pounds.
Yeah, I do [have an interest in fighting Woodley], but like I said, I was focused on Bisping. St-Pierre said on The MMA Hour. Listen, Im not afraid of nobody. There are things that I can gain from people and things that I can lose. People that are fighting to be successful in this business, its not about who got the biggest balls. This is not what its about.
We need to always think about what is it this person can make you gain and what can you lose? So you need to analyze what you can gain from that, and what you can lose. I have much more to gain by fighting Michael Bisping than fighting Tyron Woodley. Im not saying that I dont want to fight him, Im saying that right now, my next move, I have much more to gain fighting Michael Bisping.
A win over Bisping would not only signal St-Pierres triumphant return to the Octagon, but would make him one of four fighters to win belts in two different divisions, joining BJ Penn, Randy Couture and Conor McGregor.
Bisping, at the moment, is also a considerably bigger star than Woodley, who is three years younger than The Count and still in his fighting prime. However, GSP admits that could all change in a heartbeat if Woodley comes out and puts on a special performance in his next fight.
Tyron Woodley is a champion, now I dont know who hes going to fight next -- he said he has another fight coming up, like a surprise fight, maybe his stock will go high and maybe after Im [done] fighting Bisping, maybe Ill be like, Ya know, maybe its time I go back to welterweight and fight Tyron Woodley. And I go back and fight Tyron Woodley while hes still champion. If hes still champion and beats another guy, his stock will go high.
Thats how it works. You never know whats going to happen in this business. If you look at the biggest draw, Conor McGregor, he didnt become Conor McGregor in one day. He came and after a few wins -- I think he really exploded after his win with Jose Aldo. You never know. Maybe his next fight Woodley will be an amazing fight, then boom, his stuff will explode and he will be the man to beat and everybody wants his place. Thats how it goes in this business. What can I gain from this and what can I lose? Im aware of what I can lose but I want to see what can I gain?