George Gervin, Clyde Drexler believe they would have had double the numbers without hand-checking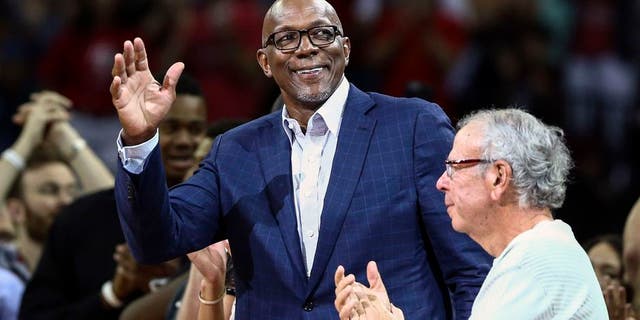 NBA legends George Gervin and Clyde Drexler believe they would have been even more potent playing in todays NBA with the often-debated hand-checking rule.
Hand-checking, today, is defined as illegally defending a player by using one or both of your hands or arms to impede the movement of an offensive player.
However, before 1994, hand-checking was a fully acceptable form of defense, and according to Drexler and The Iceman," the rules prohibiting hand-checking has made todays players soft.
The difference is, hand-checking is a mans game, Drexler said during Sundays BIG3 player draft. No hand-checking soft!
Hand-checking was incredible. Guys like Ice, Julius [Erving], Rick Barry, Oscar [Robertson], they played when dinosaurs roamed the earth. They were real men, they had two hands on em and they still had incredible numbers. Could you imagine those guys without hand-checking? Just double the numbers.
Robertson, who nearly averaged a triple-double for his career, Erving, Gervin and Barry are some of the most skilled offensive players to ever grace the court. And Drexler says they found success in the league despite hand-checking.
Gervin, a four-time NBA scoring leader, who averaged over 30 points per game twice in his career, believes his average would have jumped about 20 points without the aggressive style of defense.
When I played, you could hand-check, and I averaged 33, Gervin said So without hand-checking, Id probably average 53. The guys today [in the BIG3] can hand-check and I think itll bring the game back the way it should be played.
Drexler, who has never lacked confidence, says he might have never taken a jump shot if it wasnt for hand-checking.
Personally, in my game, I probably drove to the hoop more than anybody to ever play the game. And if they werent hand-checking me I dont think I would have ever taken a jump shot. Id go to the basket every single time.
The NBA, like most American sports, has shifted to a more offense-friendly game in an effort to make it more exciting for fans. But older players, like Drexler, believe its made the game and players softer in the process.