Gegard Mousasi mauls Vitor Belfort, calls for Anderson Silva next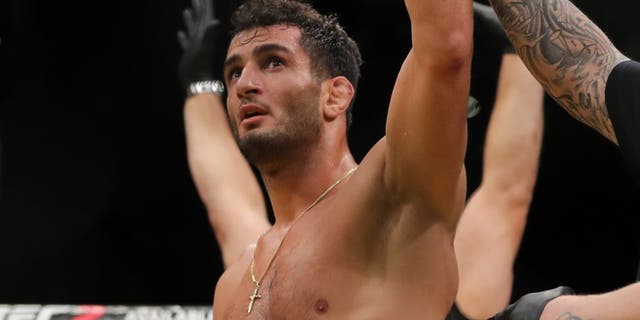 Gegard Mousasi had been gunning for a fight with Vitor Belfort for years.
He finally got his chance on Saturday night and Mousasi didn't waste his opportunity as he hammered Belfort on the feet and on the ground to earn a second-round TKO.
It was clear from the very start of the fight that Mousasi was going to play the aggressor as he took the center of the Octagon and constantly pushed Belfort towards the cage with his punches and kicks.
The only real offense Belfort mounted was an early flurry that Mousasi waived off like he was Dikembe Mutumbo denying a basket during his days in the NBA.
Mousasi kept up a methodical pace throughout the first round, but it was the second round where he finally his opening to unleash a furious combination on the former UFC champion.
Mousasi blasted Belfort with a right high kick before stepping in with a combination of punches that landed in rapid fire succession. Belfort somehow survived, but Mousasi quickly took the fight to the ground, advanced to the mount and began raining down shots from the top.
Belfort tried to roll out of the way but the punishment didn't stop until the referee saw more than enough and he finally dragged Mousasi off the 39-year old Brazilian.
Following the win, Mousasi asked the UFC for another legend in his next fight as he called for a matchup with former middleweight king Anderson Silva, who is currently without an opponent following his last bout at UFC 200 in July.
"I'd rather fight soon and Anderson Silva is a great fight for me," Mousasi said.
Much like his request to face Belfort at UFC 204, Mousasi has long hoped to fight Silva at some point during his career and this might just be the perfect opportunity to make it happen.