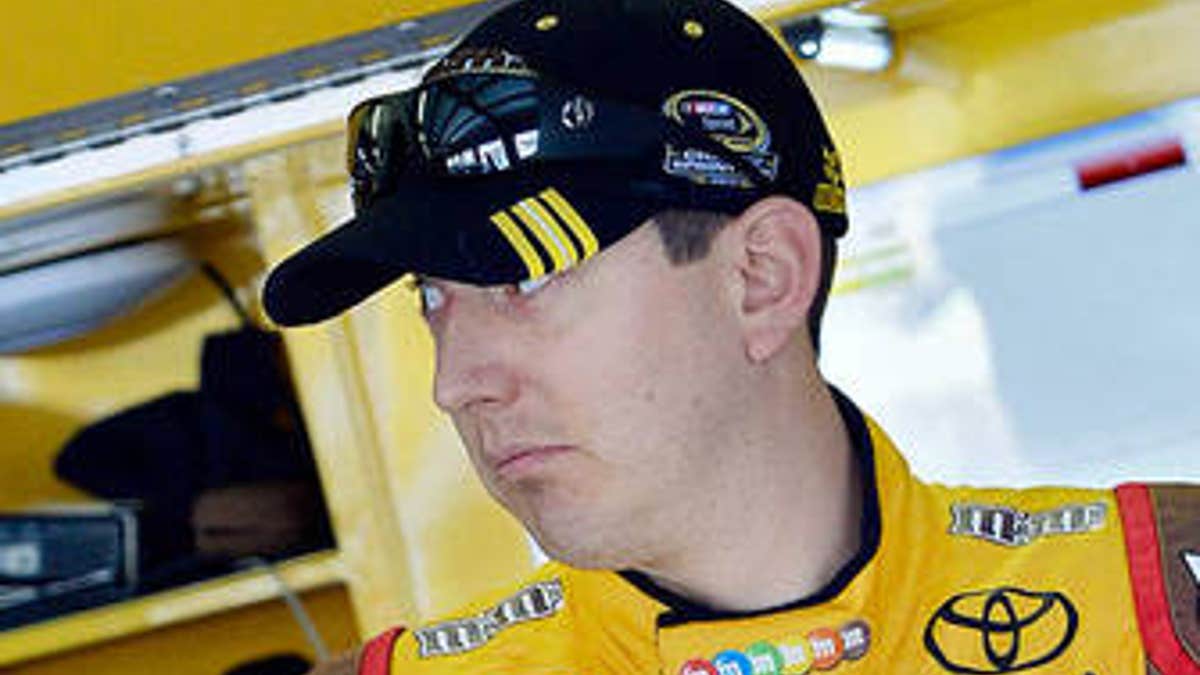 TALLADEGA, ALA. – What does the future hold for Kyle Busch Motorsports?
At 28, Busch is doing his best to give back to the sport. He currently fields trucks in the Camping World Series for 23-year-old up-and-comer Joey Coulter, and for Drive for Diversity standout Darrell Wallace Jr., 20. Parker Kligerman, 23, drives the No. 77 Toyota on the Nationwide tour.
Without KBM to provide opportunities in the truck and Nationwide series, where will aspiring Toyota racers hone their skills to prepare for Sprint Cup?
But with just four months to prepare before 2014 Speedweeks at Daytona International Speedway, a lack of sponsorship could force Kyle Busch Motorsports to downsize again. In the last week, KBM was forced to release an additional 10 employees.
And it pains Busch to have to make those calls.
"Certainly it's a hassle and it's a headache and it's a burden and everything else, but if you were one of the 55 people at KBM, would you want me to close the doors? There you have it," Busch said.
"We try to take care of the families as best as we can and do what we can to do that. But ultimately there comes a time when the inevitable has to happen.
"You never want to see that happen. Certainly, it's tough. We hate having to go through what we did. This was our most prosperous year of being in the business. We had four teams. We had 82 employees -- or something like that. It was great to have that feeling to be able to take care of that many families, but you have to make sure you don't go broke doing it."
On Saturday at Talladega Superspeedway, KBM had three of his trucks end up on the wrecker again. Although Kligerman finished fourth in a one-off effort, Coulter crashed 80 laps into the Fred's 250, and Busch and Wallace were collected in a multi-truck wreck on the last lap.
Despite the generous income Busch earns from his day job at Joe Gibbs Racing, even he can't afford to run KBM out of his pocket.
Wallace and Kligerman are ninth and 10th, respectively in their series' point standings. Coulter is 13th. While all three are immensely talented and have tremendous potential, it still baffles Busch that he's the only driver who can win in his own equipment. Busch has won four of the nine truck races in which he's competed in the No. 51 Toyota.
In the two years that KBM has fielded a Nationwide Series effort, only his brother Kurt has raced to a victory.
While Busch would love to keep going, particularly with the promise of his young stable, he's still "waiting on the 'yes' '' from sponsors before he can settle on a lineup for 2014.
"A lot of that comes from the unknown with what's going on in the world of sponsorship," Busch said. "For the truck series, it's very tough. For Kyle Busch Motorsports, it's been very tough. You know obviously without the support of Toyota that we get, we probably wouldn't be here, so we appreciate them as much as they do for us, as much as they do for JGR, MWR (Michael Waltrip Racing) and all the Toyota teams.
"It's a little frustrating to not have a better plan organized right now, and I'd certainly like to keep it the same if not better than what we've got, but it doesn't look like much is materializing and it's really late in the game. [For] ... trucks especially, it's year to year, whether it is even year to year if you can keep yourself afloat."
The original article can be found at FOXSports.com: Future iffy for Kyle Busch Motorsports.