Fugitive's 'manifesto' lauds Tebow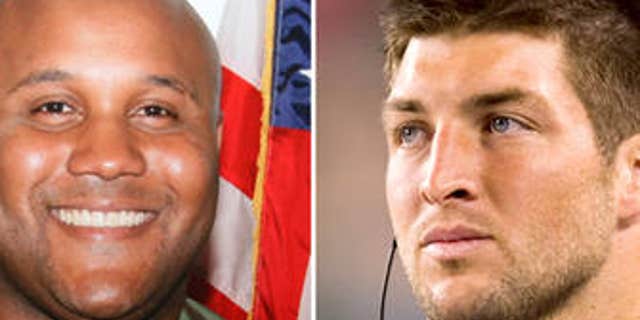 A former LAPD officer at the center of a manhunt in California and suspected of killing three people, one of them a police officer, mentioned several athletes in a bizarre, rambling manifesto he allegedly posted online earlier this week -- most notably Tim Tebow, to whom he offered career advice.
Christopher Jordan Dorner, 33, is suspected of shooting three police officers early Thursday morning in Riverside County in Southern California, killing a 34-year-old member of the Riverside Police Department. The shootings led to a manhunt that continued into Thursday night, spanning from Las Vegas to Mexico, and encompassing desert, mountain and ocean terrains.
Police announced Wednesday night that Dorner was the suspect in the Sunday morning shootings that killed Cal State-Fullerton women's basketball assistant coach Monica Quan, 28, and her fiance, 27-year-old Keith Lawrence, in the Southern California city of Irvine. Police said that a big key to identifying Dorner was a manifesto they claim he posted to Facebook.
In it, Dorner allegedly blamed police, identifying several authorities by name, for his firing from the LAPD in 2008. Among those identified in the manifesto was former LAPD captain Robert Quan, Monica's father, who represented Dorner at a hearing prior to his firing.
Near the end of the manifesto, however, several celebrities, athletes and politicians are named, most of them complimented with thanks for the influence they allegedly had on Dorner. One paragraph specifically points out Tebow, the New York Jets backup quarterback who has fought the perception that he is not an NFL-caliber quarterback since entering the league in 2010. It states:
"Tebow, I really wanted to see you take charge of an offense again and the game. You are not a good QB by today's standards, but you are a great football player who knows how to lead a team and WIN. You will be 'Tebowing' when you reach your next team. I have faith in you. Get out of that circus they call the Jets and away from the reality TV star, Rex Ryan, and Mark . . . Sanchez."
Ryan is the Jets' head coach and Sanchez, the starting QB, was named in the manifesto with a phony middle name that implied he committed a crime.
The manifesto also identified numerous athletes among a list of, "THE MOST beautiful women on this planet, period." They are: tennis star Serena Williams, basketball player Diana Taurasi, Team USA women's water polo player Brenda Villa and former MMA star Gina Carano.