FOX Sports North Midweek Stock Report for April 27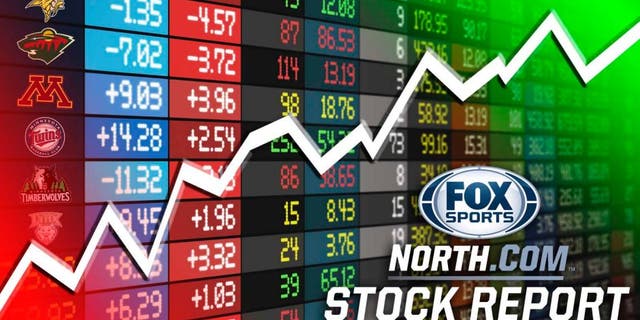 NEWYou can now listen to Fox News articles!
Every Wednesday, FOX Sports North takes a look at which athletes' stock is trending up and whose is trending down.
In other words, who is making a big impact (like walk-off hero Oswaldo Arcia), and who is quickly plummeting.
With that in mind, let's "take stock" of the current sports scene in Minnesota.
Glen Taylor, Timberwolves owner
Glen Taylor is all-in this time. The Wolves owner opened up his checkbook to sign the top coaching candidate on the market in former Chicago Bulls boss Tom Thibodeau, while also landing Spurs assistant GM Scott Layden. It's one of the most significant power plays in franchise history, and one that could set a squad that Thibodeau is calling "the best young team in the NBA" up for the long haul.
Oswaldo Arcia, Twins outfielder
With hitting coach Tom Burnansky shouting at him to settle down Arcia delivered the biggest hit of his Twins career on Monday night, blasting a walk-off homer to power Minnesota to a 4-3 win over the Cleveland Indians. Slugger Miguel Sano responded by attempting to pass his 2015 Twins MPV trophy on to Arcia, a fair assessment of his play so far.
Jason Pominville, Wild forward
His struggles during the regular season evaporated in the playoffs, as "Pommer" became a critical part of the Wild's offense alongside Nino Niederreiter and Erik Haula on the third line. Pominville scored in a Game 4 loss to the Stars, before putting the Wild within striking distance in Game 6, cutting the deficit to 5-4 with less than five minutes to play after Alex Goligoski appeared to wrap things up for the Stars with a late goal.
Mikko Koivu, Wild forward
The Wild needed someone to step up towards the end of a crazy third period in Game 5, and their captain delivered. Koivu's game-tying goal with less than four minutes remaining sent the game to overtime, before his game-winning deflection ended it in overtime and sent the series back to Minnesota for Game 6.
The Minnesota Lynx
The Lynx are going to be well-represented in the upcoming summer Olympics. Seimone Augustus, Sylvia Fowles, Maya Moore and Lindsay Whalen were among the 12 players selected to represent the U.S. in Rio, as they look to add a few more medals to an already-expansive Lynx trophy case.
Kyle Gibson, Twins pitcher
It's been a rough week for the Twins' starting rotation. Gibson was placed on the 15-day disabled list on Tuesday alongside fellow starter Ervin Santana, but his struggles extend well beyond the injury report. Gibson allowed seven hits and seven runs through just three innings in a loss to the Nationals on Friday.
John Torchetti, Wild coach
Was Sunday's playoff loss Torchetti's last game behind the bench in Minnesota? The gruff Wild boss is reportedly well-liked in the locker room, but his stint as head coach was a roller coaster from start to finish. The Torchetti era began with four straight wins, followed by a three-game losing streak, then four more wins, four more losses, a 1-3-1 stretch, six more wins and finally a five-game losing streak to close out the regular season. Whew. General manager Chuck Fletcher isn't tipping his hand just yet, but with plenty of big-name coaching candidates on the market there's a real chance that Torchetti's first playoff run with the Wild could be his last, at least for now.