Foul on LeBron James prompts Cavs coach to rip NBA Finals refs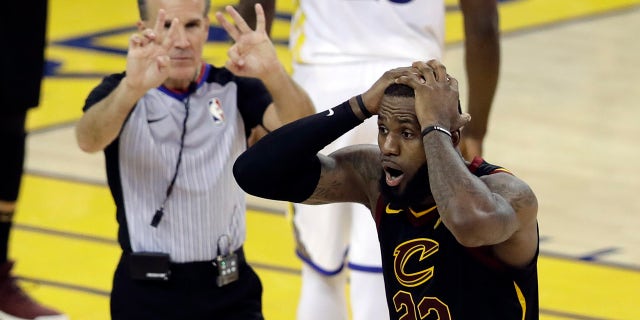 Cleveland Cavaliers head coach Tyronn Lue ripped the officiating after a block-charge call was overturned in his team's Game 1 overtime loss to the Golden State Warriors in the NBA Finals on Thursday night.
With the Cavs up by two points with less than a minute left in regulation time, Warriors forward Kevin Durant received the ball and drove down the lane with a full head of steam. It appeared at first that Durant ran right through LeBron James, who set himself up perfectly to draw a charging foul.
An offensive foul would have given the Cavaliers the ball with the lead and just 36 seconds to play. However, the Warriors appealed and the referees went to the monitor and overturned the call -- ruling that James wasn't set when Durant ran into him.
Durant sunk two free throws to tie the game.
The NBA Official Twitter account explained the call, saying the referees were checking on two things.
"if LeBron James was in the restricted area, as well as in legal guarding position, after he drew an offensive foul on Kevin Durant in Q4 of #CLEatGSW. Ruling: Overturned to blocking foul, James was not in legal guarding position," the account explained.
During a postgame news conference, Lue ripped the call, saying he believed James was outside the restricted area.
"They called a charge, right? And LeBron was clearly four feet outside the restricted area," Lue said. "So it doesn't make sense to go review something if -- the review is if he's on the line or if he's close to the charge circle, that's the review. He wasn't close.
"For our team to come out and play their hearts out and compete the way we did, man, I mean, it's bad. It's never been done before where you know he's outside the restricted, and then you go there and overturn the call and say it's a block...It ain't right."
But the call alone didn't cost the Cavaliers the game.
George Hill missed a free throw that would have put the Cavaliers up one point in the closing seconds, while J.R. Smith dribbled the ball out appearing to forget how much time was left on the clock.
The Warriors ended up defeating the Cavaliers 124-114 in overtime.