Former Yankee star Bernie Williams battling to make 'major league' of music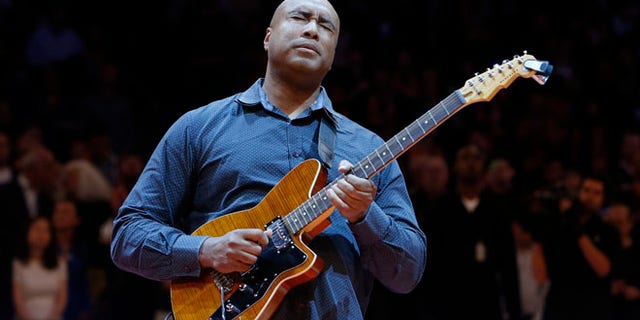 WASHINGTON (AP) – Bernie Williams stopped being a baseball player in 2006. Being a musician, however, is his lifelong endeavor.
Williams' father brought a guitar back from a trip to Spain when Williams was 7, and he fell in love with music after the first few chords.
"I thought I was gonna be a musician," Williams said. "This whole thing with the Yankees sort of came along, and I couldn't pass up the opportunity."
Williams won an American League batting title and four World Series in 16 seasons as an outfielder for the New York Yankees. He kept playing the guitar along the way and after leaving the game transitioned to becoming a professional jazz musician, releasing two albums and earning a Latin Grammy nomination.
But he's still at the minor-league level of musicianship in his mind.
"I am certainly not anything (like I was) as a baseball player right now," he said. "I am kind of making my way into making myself a musician good enough that I can do studio work, that I can kind of collaborate with different people and have a professional-grade level of musicality, so I can play with anybody anywhere."
In mid-May, Williams graduated from the Manhattan School of Music and now is in the midst of the next stage of his musical life.
"Even though there's a lot of people who do baseball for the rest of their lives and they're involved in the game one way or another, I think of those terms when I think of music," Williams said Monday at Friendship Tech Prep Academy, where he was part of a musical education day run by the National Association of Music Merchants. "There's no ceiling, there's no limit on how much you can learn and how many different directions you can take what you know, whether it's teaching or performing or doing anything with music impacting lives."
Being part of the Yankees' dynasty will always mean something to Williams, but he takes pride in trying to succeed in a totally different realm.
"To have the opportunity to reinvent yourself and do something seemingly completely different is certainly a challenge that a lot of people sort of lack in my line of business when they retire from the game (and are) trying to find things to do and how to invest their time," Williams said. "If you're like in your mid- to late 30s retiring, you still have a big chunk of your life ahead of you, so what do you do with all that time?"
Williams also stumps for increased funding of arts education. The school he visited Monday just instituted a music program in the fall, and Williams is lobbying on Capitol Hill to make sure other children receive the same benefits.
Now 47, Williams said as a baseball player he used to think the world revolved around him but he found perspective as he got older. During three years at the Manhattan School of Music, Williams studied theory, history and political and social impacts and the question, "Why do you play music?"
He found his answer.
"It's not about the World Series championships, it's not about the numbers," Williams said. "It's about how much better you can make the world after you live in it. I think that's why music is such an important thing in my life right now."
Williams attended Escuela Libre de Musica, a performing arts high school in his native Puerto Rico, but that wasn't enough of an education for the son of a teacher. He went to classes like any other student at the Manhattan School of Music, which President James Gandre called an inspiration to the musical world.
"When someone comes from another genre of life and then suddenly does something like this, it brings such attention to music," Gandre said by phone. "Bernie doing this brings an importance to this kind of music, which no musician who's been a great musician for all their life can."
Williams looks at Beethoven and Mozart and jazz greats like Duke Ellington and Louis Armstrong the way he used to admire Roberto Clemente and other Puerto Rican baseball players. Learning the history of music gave him an appreciation for the enormity of the task of creating it, but he was prepared for the pressures of the industry thanks to baseball.
"I think it has come full circle," Williams said. "My exposure to music at an early age, I was able to develop the discipline and the work ethic and everything I had to do with learning this, and then I was able to apply it into my training becoming a baseball player. And then everything that I learned from performing in the professional area as a professional baseball player, I was able to utilize into my experience playing on stage."
Like us on Facebook
Follow us on Twitter & Instagram