Former NY Knicks star Oakley arrested after Madison Square Garden altercation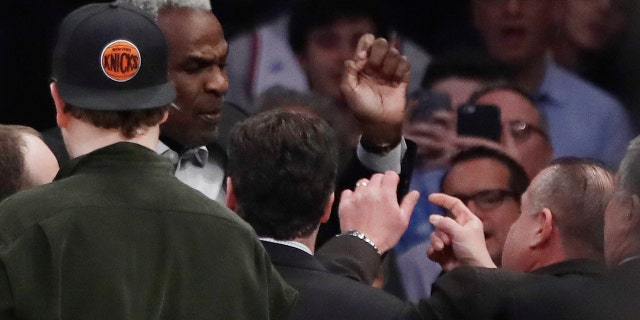 Former New York Knicks star Charles Oakley was ejected from his seat at Madison Square Garden and arrested after an altercation with security near team owner James Dolan.
Oakley shoved two guards before they pulled him away from his seat behind the baseline during the first quarter of the Knicks' game against the Los Angeles Clippers on Wednesday night. Fans chanted "Oakley! Oakley!" in support of the popular power forward.
At one point, the New York Post reported, Knicks president Phil Jackson tried to calm Oakley down.
"Dolan did this!" Oakley yelled. "That's some bull[expletive]!"
The 53-year-old Oakley played for the Knicks from 1988-98, helping them reach the NBA Finals, but has a poor relationship with the team because of his criticisms of Dolan, the Madison Square Garden chairman.
"I didn't do anything!" Oakley shouted as he was dragged away, according to the Post.
"Charles Oakley came to the game tonight and behaved in a highly inappropriate and completely abusive manner," the Knicks wrote in a statement on Twitter. "He has been ejected and is currently being arrested by the New York City Police Department. He was a great Knick and we hope he gets some help soon."
The NYPD said Oakley was arrested on three counts of assault, all third degree. He was being processed for a desk appearance and will be issued a summons to report back to court.

The altercation took place just a few rows behind the court during a stoppage in play, and players from both teams turned to watch.
Oakley was handcuffed near an arena exit as he waited for police to arrive.

The 6-foot-8 Oakley was a rugged enforcer, playing alongside Patrick Ewing on the Knicks teams of the 1990s and has kept his tough-guy persona long after retirement, trading barbs with former rival Charles Barkley recently.
The Associated Press contributed to this report.