Former Bucs QB reportedly admits modifying footballs ahead of Super Bowl victory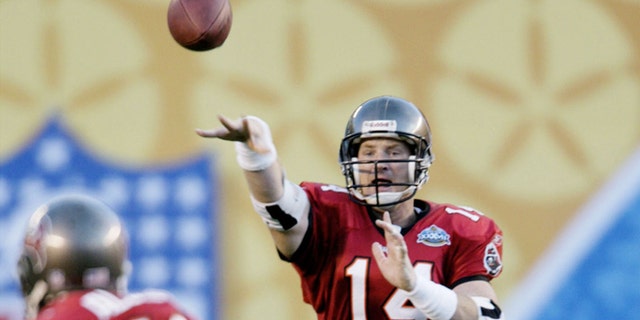 NEWYou can now listen to Fox News articles!
Former Tampa Bay Buccaneers quarterback Brad Johnson paid people off to modify footballs ahead of his teams' 48-21 trouncing of the Oakland Raiders in Super Bowl XXXVII, according to a report.
Johnson had trouble gripping wet, cold or out-of-the-box footballs, but he made sure before the game that the 100 footballs that the NFL set aside were scuffed, the Tampa Bay Times reports.
"I paid some guys off to get the balls right," Johnson said. "I went and got all 100 footballs, and they took care of all of them."
Johnson admitted that he spent $7,500 to have the balls altered. A week before, during the NFC Championship game in Philadelphia – where it was a freezing 26 degrees at kickoff – Johnson was forced to use a glove to grip the footballs.
In Super Bowl XXXVII, Johnson completed 18 for 34 passes for 215 yards, with two touchdowns and an interception, while his opponent, Raiders quarterback Rich Gannon, struggled with five interceptions.
The Tampa Bay Times said Johnson admitted he altered the footballs years ago, prior to the 10-year reunion of the Bucs' Super Bowl-winning team.
The revelation is prominent again as the NFL investigates the New England Patriots for alleged use of deflated footballs in their 45-7 blowout victory against the Colts in Sunday's AFC Championship game.