Former Ace Pedro Martinez To Analyze Baseball Postseason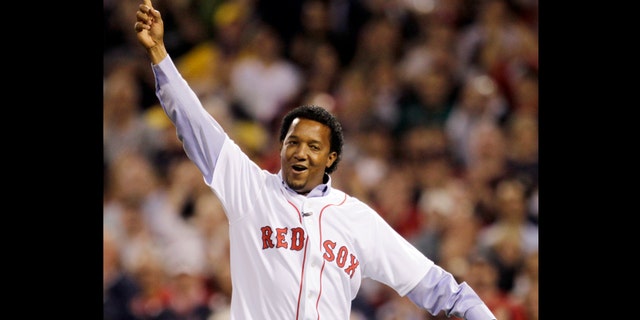 Pedro Martinez is a man of many hats. He has endured and savored a little of everything in the pressure of the postseason – tussling with Don Zimmer; blowing a big lead on the cusp of the World Series; winning a city's first championship in 86 years.
Now that the three-time Cy Young Award winner will be talking about the game from the calm of the studio, he wants to remember that tension. Martinez will join TBS's playoff coverage as an analyst next month.
"Some of us, when we go up to the booth and look at the game down on the field, sometimes we tend to forget how difficult the game is and how uncomfortable it is to execute under pressure," he said Monday in a phone interview.
Martinez was never shy in front of a microphone in his 18-year major league career, most memorably with the Red Sox. From "Wake up the damn Bambino ... maybe I'll drill him in the ass," to "Just tip my hat and call the Yankees my daddy," the words were blunt and bountiful.
Now, he keeps using the word "professional" in discussing how he plans to commentate on TBS, where Martinez will join host Keith Olbermann — someone plenty inflammatory in the past himself. That promise will probably disappoint some fans and relieve others.
Martinez has worked with current Red Sox players as a special assistant and pronounces himself proud of the revival of this year's team, about which he'll be tasked to analyze during the playoffs. Their chemistry reminds him of Boston's 2004 World Series champs.
And even on other clubs, Martinez has quite a few friends and former teammates.
"As a baseball player, I always recognized when I didn't do something right," Martinez said. "I didn't have a problem with anybody saying, 'He didn't execute.'"
Still, he emphasizes that he considers himself a "positive person" and makes clear he'd prefer to delve into his insights as a former player about on-field activity than, say, whether players penalized under the sport's drug policy should suit up in the postseason.
Martinez and Olbermann will be joined by Tom Verducci on the studio show for TBS, which broadcasts the wild-card games, division series and NL championship series.
The 41-year-old Martinez last pitched in the 2009 World Series for the Phillies. He has done some local media appearances in Boston — sorting out, as many recently retired athletes must do, how to fill his newly discovered free time.
Martinez saw other ex-players thriving on TV and figured he might fit in there, too.
"I'm so used to being aggressive, the competiveness," he said.
Based on reporting by The Associated Press.
Follow us on twitter.com/foxnewslatino
Like us at facebook.com/foxnewslatino