Forget 'Clemsoning'; Tigers just became the ACC's best playoff hope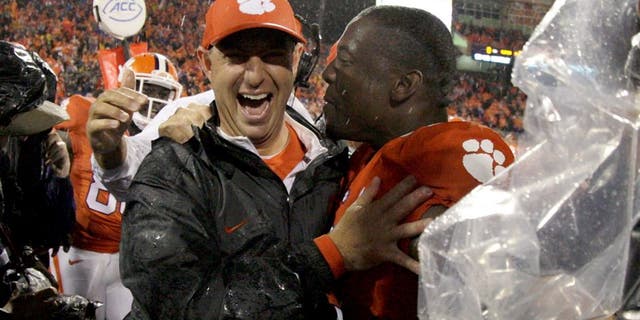 NEWYou can now listen to Fox News articles!
Clemson wins big football games now. Get used to it, America.
The team whose penchant for choke jobs once spawned a snarky phrase in its honor ("Clemsoning") now routinely beats high-profile programs. Its latest conquest came Saturday night, a 24-22 win over sixth-ranked Notre Dame that established the Tigers as the ACC's most viable College Football Playoff contender.
Of course, 11th-ranked Clemson almost did let this one slip away. Up 21-3 entering the fourth quarter, having completely stifled Notre Dame's previously powerful rushing attack, Clemson wound up needing to stop a last-second two-point conversion to survive. But nobody should get hung up on style points on a day when four AP Top 10 teams -- No. 3 Ole Miss, No. 6 Notre Dame, No. 7 UCLA, No. 8 Georgia -- all went down, a couple in embarrassing fashion.
Heck, even No. 1 Ohio State (against Indiana) and No. 2 Michigan State (against Purdue) endured last-minute scares Saturday. The 2015 playoff race seems more muddled now than it did before teams began playing games. But one widespread early-season sentiment -- that the ACC will be the power conference that gets left out -- should at least be declared premature.
Make no mistake, the ACC has struggled mightily out of conference, going 3-10 against the other Power 5 leagues and 3-4 against the American and Mountain West. But all it takes is one contender, and with all due respect to 4-0 but largely unimpressive Florida State, Clemson is that team.
The Tigers' big question mark coming into the season was a defense that lost nine starters from last season's No. 1-ranked unit. But that defense is still stocked with talent, especially up front, and it showed Saturday. Defensive ends Shaq Lawson (3.5 tackles for loss) and Kevin Dodd (3.5 TFLs), linebacker Ben Boulware (10 tackles) and safety Jayron Kearse (one clutch forced fumble) helped hold Notre Dame running back C.J. Prosise -- who came in averaging 150 yards per game -- to 50 yards on 15 carries.
Clemson turned Notre Dame one-dimensional, putting the onus on redshirt freshman quarterback DeShone Kizer. After struggling much of the night, Kizer (19-of-34, 321 yards, two TDs, one INT) led quite an admirable fourth-quarter comeback, including three fourth-quarter touchdown drives. Clemson's own offensive struggles most of the last three quarters helped open the door.
But Kizer came up one miracle short. Coach Brian Kelly called for a quarterback keeper on the Irish's last-second two-point conversion attempt. Clemson stopped it.
Clemson's own quarterback, Deshaun Watson, broke a 38-yard run on the game's first play and led the Tigers to touchdowns on their first two possessions. But Notre Dame's defense largely silenced him the rest of the way. Clemson gained just 296 yards on the night, which won't quell season-long concerns about a surprisingly underwhelming Tigers offense.
But have you looked at the rest of Clemson's ACC schedule? There aren't many teams on there it will need to outscore. Its next two games are against 2-3 Georgia Tech and 3-2 Boston College, the latter of which fell 9-7 to Duke on Saturday and previously lost 14-0 to Florida State.
The 'Noles once again loom as Clemson's primary ACC threat. They've won the past three meetings between the two and, not coincidentally, won the Atlantic Division three straight years. But 4-0 FSU has been far from impressive. Much could change before Nov. 7, but as of now Clemson figures to go in the favorite.
But the Tigers won't have much room for error. While no one loss automatically eliminates anyone in the playoff era (see Virginia Tech Ohio State last year), the lack of respect for most of the ACC means nearly any game Clemson loses will be considered a bad loss. And there won't be many opportunities for quality wins.
Clemson has enjoyed a tremendous run these past few years under Dabo Swinney, going 36-7 since 2012. Along the way the Tigers have beaten the likes of Ohio State, LSU and Georgia. But you could tell from Swinney's emotional postgame reaction/televised sermon just how much beating Notre Dame meant. This one could put the Tigers in position for an even bigger prize later this year.
Stewart Mandel is a senior college sports columnist for FOXSports.com. He covered college football and basketball for 15 years at Sports Illustrated. You can follow him on Twitter @slmandel and Facebook. Send emails and Mailbag questions to Stewart.Mandel@fox.com.