Flyers' Giroux, Voracek showcase football, soccer skills (VIDEO)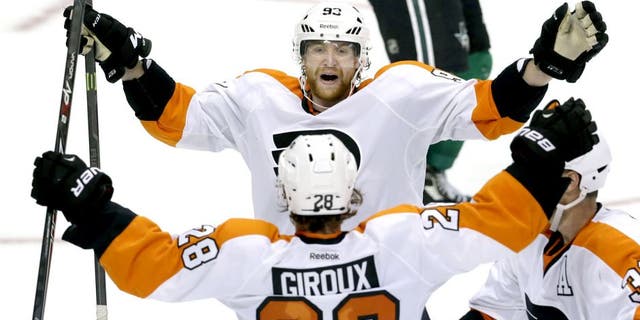 Philadelphia Flyers captain Claude Giroux and fellow forward Jakub Voracek showed they can do more than just play hockey during the team's three-game road trip in California.
Giroux reeled in a long pass for an apparent touchdown as the Flyers put their football skills to the test. Since this wasn't an NFL game, the scoring play was not reviewed to see if Giroux had both feet in the field of play.
Speaking of football - or futbol - Voracek and his mates met on the pitch where the offensive star played the role of a goalkeeper. With this solid two-handed save, perhaps Voracek might be worth a look by the Philadelphia Union of Major League Soccer.
While the Flyers were a hit in these two sports, their road trip hasn't gone as well. Philadelphia (15-14-7) looks to salvage the finale of its three-game trek when it faces the Pacific Division-leading Los Angeles Kings on Saturday.