Flyers felt they had their chances in opening loss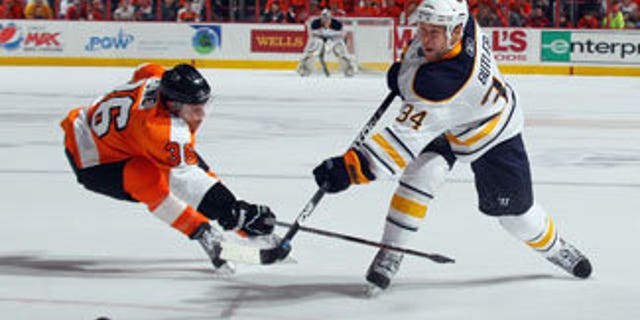 VOORHEES, N.J. -- One day after losing Game 1 of their Eastern Conference quarterfinal series to the Buffalo Sabres, the Philadelphia Flyers went over the videotape of the game and felt like it was something they had seen before.
"It just felt like we were playing Boston last year," forward Claude Giroux said. "We were playing good, just the bounces weren't there."
Giroux wasn't the only player Friday who said they saw a number of similarities in Thursday's 1-0 loss to the Sabres to last year's conference semifinal series against the Boston Bruins.
The Flyers opened that series with a one-goal loss en route to falling behind 3-0. However, they never felt out of that series and were able to mount their historic comeback.
"You think of last year, how we started the (series) against Boston," forward Scott Hartnell told NHL.com. "We were playing so well, we weren't getting results. I think (against the Sabres) our forecheck was good, our defensive zone was good. They didn't have too many opportunities. Our penalty killers did a great job. Our power play obviously needs to step it up, we need to get pucks to the net, bury some rebounds. Keep playing that way, a little bit better, little bit more desperate, we'll be right there."
They were able to raise their desperation level as the series wore on against the Bruins, winning Game 4 in overtime, and then winning one-goal games in Games 6 and 7.
The confidence that was there against Boston last year remains in the locker room now despite Thursday's loss.
"I don't think it's the game we have a problem with, it's the score. But that's an issue," coach Peter Laviolette said. "You're on limited time in the playoffs and you only get so much of it to make your mark, and if you don't make your mark you don't get to go on and continue. We'll look to try and be better. We can be better defensively and we can be better offensively. There's other things we can do better."
One of those things certainly is the power play. The Flyers had five chances, including a 38-second 5-on-3 advantage in the second period, but came away empty on 11 shots; they had just one shot on the two-man advantage.
The power play was an issue during the regular season, finishing 19th at 16.6 percent. It was worse down the stretch, going just 10-for-72 (13.9 percent) in the final 23 games.
"You can tweak a little bit there," said defenseman Kimmo Timonen, whose shot from the point was the only one the Flyers registered on the two-man advantage. "We can do better. We can shoot the puck more and get to the net. That's, I think, key for any power play. If you want to make your power play better, it has to start form the top and that's what we have to do (Saturday)."
Hartnell said he believes the extra-man units have gotten too fancy and need to just get the puck to the net.
"You pass the puck around and not get it to the net, that's a good way to give them a shutout," he said. "It needs to start winning us some hockey games. First and second period, the 5-on-3, a couple other times, we've got to do a better job getting in the zone, getting set up. One time (Buffalo's Paul) Gaustad lost his stick, (we) had a couple great chances, just weren't getting them through to the net. Their desperation level was high (Thursday) and we need to match that (Saturday)."
Playoff games only become must-win contests when one team is facing elimination. The Flyers certainly faced enough of those last year against Boston. To avoid reaching that same place, the players are approaching Game 2 like it's a must-win game.
"It's not like it's, you have to win," Hartnell said, "but definitely it's a must-win for us. We need to have that attitude and go out there and fight for every inch. Get around that net and start putting them home."
Bob's all good -- Sergei Bobrovsky played well enough to win his first Stanley Cup Playoff game, stopping 24 of 25 shots.
"He looked solid in there," Hartnell said. "Playing the puck, stopping the puck for the defensemen, making it easier for them. He was making the first save and that's all you can ask in the playoffs. He went save for save with (Buffalo's Ryan) Miller. They got a lucky bounce off his pad and in the net, and we need to fight harder for our spots on Miller."
Timonen said that if Bobrovsky puts forth the same effort in Game 2, the Flyers will be just fine.
"He wasn't the reason why we lost," the veteran defenseman said. "If he can play that level throughout the playoffs, we'll be fine."
Offensive confidence -- Thursday's loss was the first time the Flyers had been shut out in a playoff game since Game 5 of the 2008 Eastern Conference Finals, on May 18, 2008, when they were eliminated by the Pittsburgh Penguins.
On a team with seven 20-goal scorers and one that was third in the League in scoring at 3.12 goals per game, there's no crisis of confidence.
"It's not that we didn't generate," Laviolette said of a team that threw 35 shots on Miller. "What we didn't do is get it past the (goal) line. And that's the problem. I think there's a lot of confidence in our group and a lot of confidence in our team that we'll score goals. We scored a lot of goals this year, we were one of the top scoring teams in the League. It just didn't happen (Thursday)."
Contact Adam Kimelman at akimelman@nhl.com. Follow him on Twitter: @NHLAdamK