Florida plummets to No. 22, FSU drops to 20 in AP poll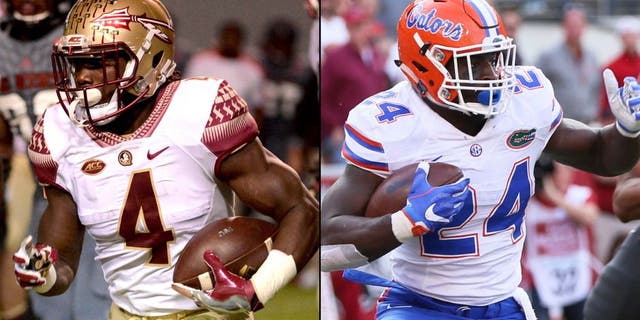 Alabama won 10-0 at LSU on Saturday for its 13th straight victory over a Top 25 team, which represents the third-longest such streak in history. Southern California won 16 straight games over ranked opponents from 2002-05 and Oklahoma beat 15 straight Top 25 foes from 1973-76.
Alabama has won 21 straight games overall since falling 43-37 to No. 15 Mississippi on Sept. 19, 2015.
Florida fell out of the top 10 after a road loss to unranked Arkansas, coming in at No. 22. Florida State, which rallied past NC State in the final minutes, dropped one spot to No. 20.
The Crimson Tide received 60 of a possible 61 first-place votes in the poll released Sunday . The other first-place vote went to No. 2 Michigan, a 59-3 winner over Maryland on Saturday. The rest of the top six includes No. 3 Clemson, No. 4 Washington, No. 5 Louisville and No. 6 Ohio State. Wisconsin moved up from eighth to seventh.
LSU fell from 15th to 19th following its loss to Alabama.
POLL POINTS
Ohio State's 62-3 blowout of No. 9 Nebraska matched the second-most lopsided loss ever by a top-10 team. No. 1 Army blasted No. 6 Penn 61-0 in 1945. A top-ranked Army team also trounced No. 2 Notre Dame 59-0 in 1944.
The 59-point setback was the worst loss ever for a team ranked ninth. Nebraska was on the other end of the previous record, as the second-ranked Cornhuskers whipped No. 9 Washington 55-7 in 1998.
Nebraska fell from No. 9 to No. 21 in this week's poll.
UP
-- No. 8 Auburn rose three spots after edging Vanderbilt 23-16.
-- No. 9 Oklahoma moved up three slots after a 34-24 triumph at Iowa State. The Big 12 had been left out of the Top 10 last week.
-- No. 12 Penn State soared eight spots after its 41-14 rout of Iowa.
-- No. 14 Western Michigan moved up three spots after a 52-20 win at Ball State. That's the highest ranking for any Mid-American Conference team since Ball State was 12th on Nov. 30, 2008.
-- No. 16 Colorado moved up five spots after its 20-10 triumph over UCLA. This marks the Buffaloes' highest ranking since December 2002.
-- No. 17 Oklahoma State rose five spots after winning 43-37 at Kansas State.
-- No. 18 Virginia Tech moved up five spots after winning 24-21 at Duke.
DOWN
-- No. 20 Florida State moved down a spot despite winning 24-20 at North Carolina State.
-- No. 22 Florida slid 12 spots after its 31-10 loss at Arkansas.
-- No. 25 Baylor fell 12 spots after losing 62-22 against TCU
IN AND OUT
-- There were no new teams in this week's Top 25, as nobody fell out of last week's rankings.
CONFERENCE CALL
ACC -- 5
Big Ten -- 5
SEC -- 5
Big 12 -- 4
Pac-12 -- 4
MAC -- 1
Mountain West -- 1
RANKED vs. RANKED
No. 9 Oklahoma hosts No. 25 Baylor. The Sooners try to remain unbeaten in Big 12 competition.