Flashback: Don Larsen pitches perfect game in World Series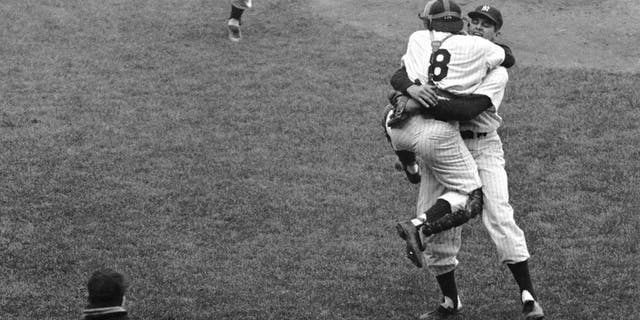 NEWYou can now listen to Fox News articles!
Once. It has been done once.
On Oct. 8, 1956, New York Yankees right-hander Don Larsen threw the only perfect game in postseason history. And the stakes were about as high as they could be, as it was Game 5 of the World Series against the Brooklyn Dodgers. Larsen struck out seven, including pinch hitter Dale Mitchell to end it.
Your browser does not support iframes.
Not surprisingly, Larsen was named MVP of that World Series, which the Yankees won in seven games.
In his 14-season major-league career, Larsen was 81-91 with a 3.78 ERA. After spending 1955 through 1959 with the Yankees, he played for six other franchises between 1960 and 1967. His postseason heroics weren't enough to boost his Hall of Fame chances, as he peaked at 12.3 percent of the vote during his time on the writers' ballot.
Only one other pitcher in major-league history has pitched a no-hitter in the postseason: Philadelphia Phillies right-hander Roy Halladay in 2010. But Halladay wasn't perfect.