Federer excited by his own form, eager to reclaim top spot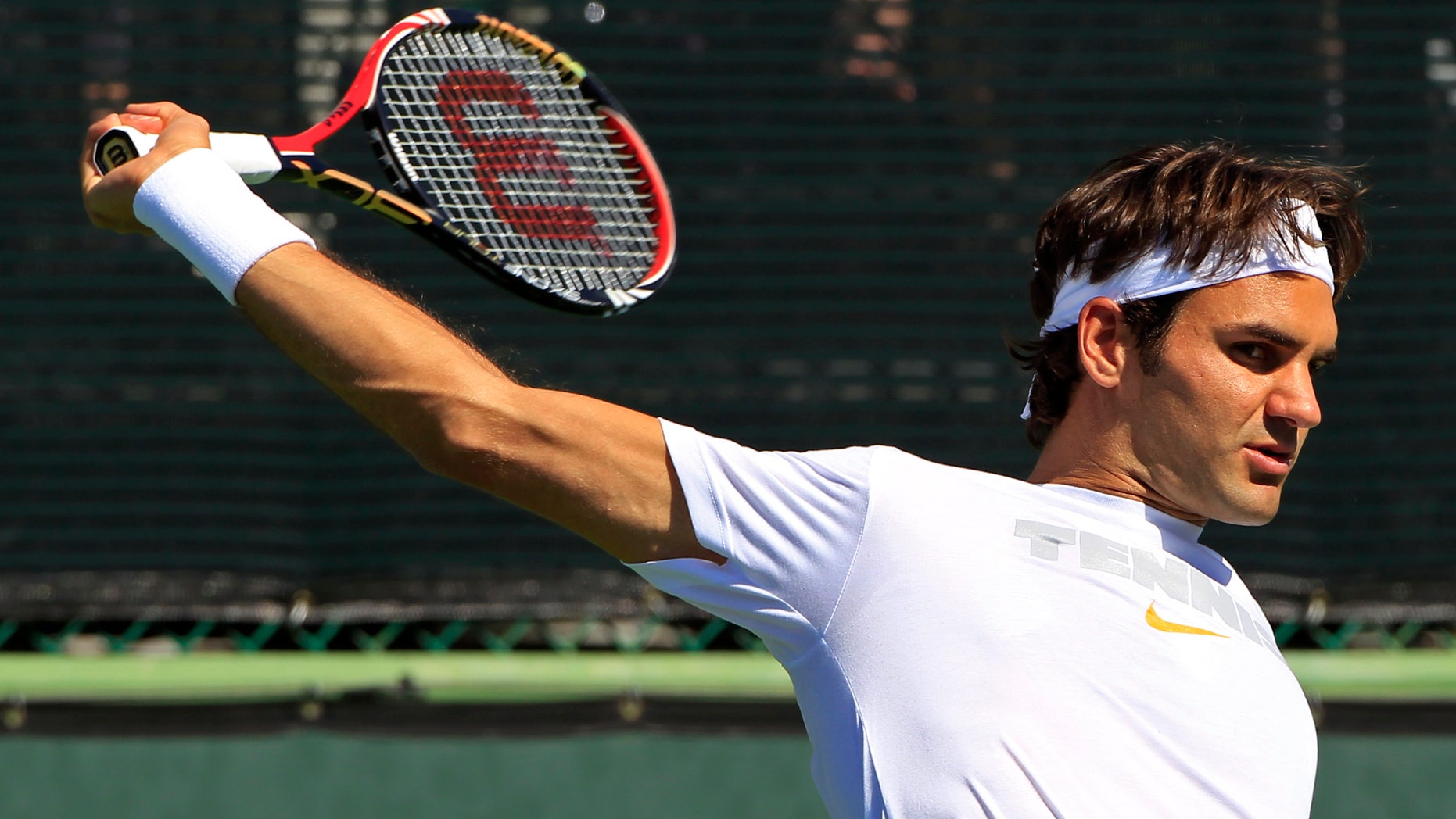 By Mark Lamport-Stokes
The Swiss master has been the sport's dominant figure for the last eight years but could slip to third in the rankings, behind Serb Novak Djokovic, after the Indian Wells tournament starting this week.
Federer has compiled a respectable win-loss record of 14-2 this season, with both defeats coming at the hands of Djokovic, and has made a return to the top of the rankings one of his priorities for this year.
"I am feeling well on the practice court and I am excited that my form is good," Federer, 29, told reporters while preparing for his opening match at the imposing, state-of-the-art Indian Wells Tennis Garden.
"My mental state is really good too. I am confident, I don't have any niggling injuries, I am fresh and that is how I want to feel."
The 16-times grand slam champion has played in just three tournaments this year, winning in Doha, losing to Djokovic in the last four at the Australian Open and again succumbing to the Serb in the final of last month's Dubai championships.
"It's been a good, solid start," said Federer, who lifted the most recent of his grand slam crowns at the 2010 Australian Open. "I played well in Qatar, I played well in Australia and I played okay in Dubai.
"I was happy about Dubai in the big picture. I won four matches in a row and then didn't play the best match against Novak. Losses don't rattle me much. They are just part of our game. It's important to analyze them and ... move on"
NUMBER ONE DRIVE
Asked how much he was still driven to be world number one, Federer replied: "In a big way. It's part of my big goals for this year, to try to get back to world number one.
"I like being world number one, (more) than two," he added with a flashing smile.
Federer said he gained inspiration when rivals such as Spanish world number one Rafa Nadal and third-ranked Djokovic won the game's big events at his own expense.
"That shows me what they are doing good and I can learn a few things from what they are doing," the Swiss added. "I always look for new ways to improve. I've done that in the best of times and that's what kept me at the top for so long.
"Clearly you can't always play at the highest of levels but I think I have done really well over the last eight years since I have been in the conversation for world number one."
"I've had some really good years here," he said of the desert venue which has established itself as a popular retirement community. "I've always enjoyed my time here, even though in the beginning I thought it was a bit slow.
"As a teen-ager, I thought I needed a bit more of a New York, London, Miami kind of atmosphere. But I started to really enjoy the pace over here, I would play some golf and my family and my parents would come and join me here sometimes.
"It's nice to get a bit of a calm tournament before Europe comes around and so forth."
(Editing by Frank Pingue)