Fan runs onto field to take free kick during West Ham-Tottenham game in Premier League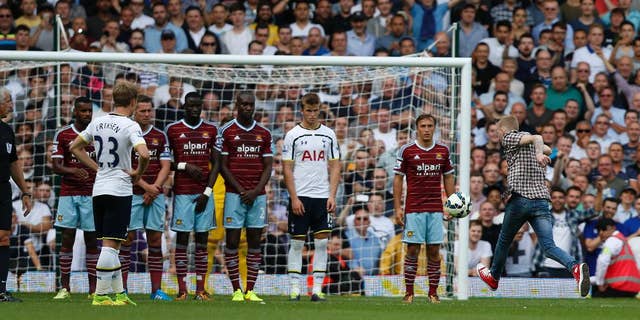 LONDON – A fan ran onto the field during Saturday's Premier League game between West Ham and Tottenham and took a free kick before being chased away by a steward.
The fan ran across the field during the second half as Tottenham's Christian Eriksen was preparing to take a free kick just outside the West Ham area. He ran up to the ball and lofted a shot that went over the wall and was heading into the net before goalkeeper Adrian comfortably plucked it out of the air.
The fan kept running, leaving the field with a steward chasing close behind.
It turns out his effort was actually better than Eriksen's, who sent his shot over the bar.
Tottenham won 1-0 after an injury time goal by Eric Dier.