Family Feud: Ravens and 49ers square off in Super Bowl XLVII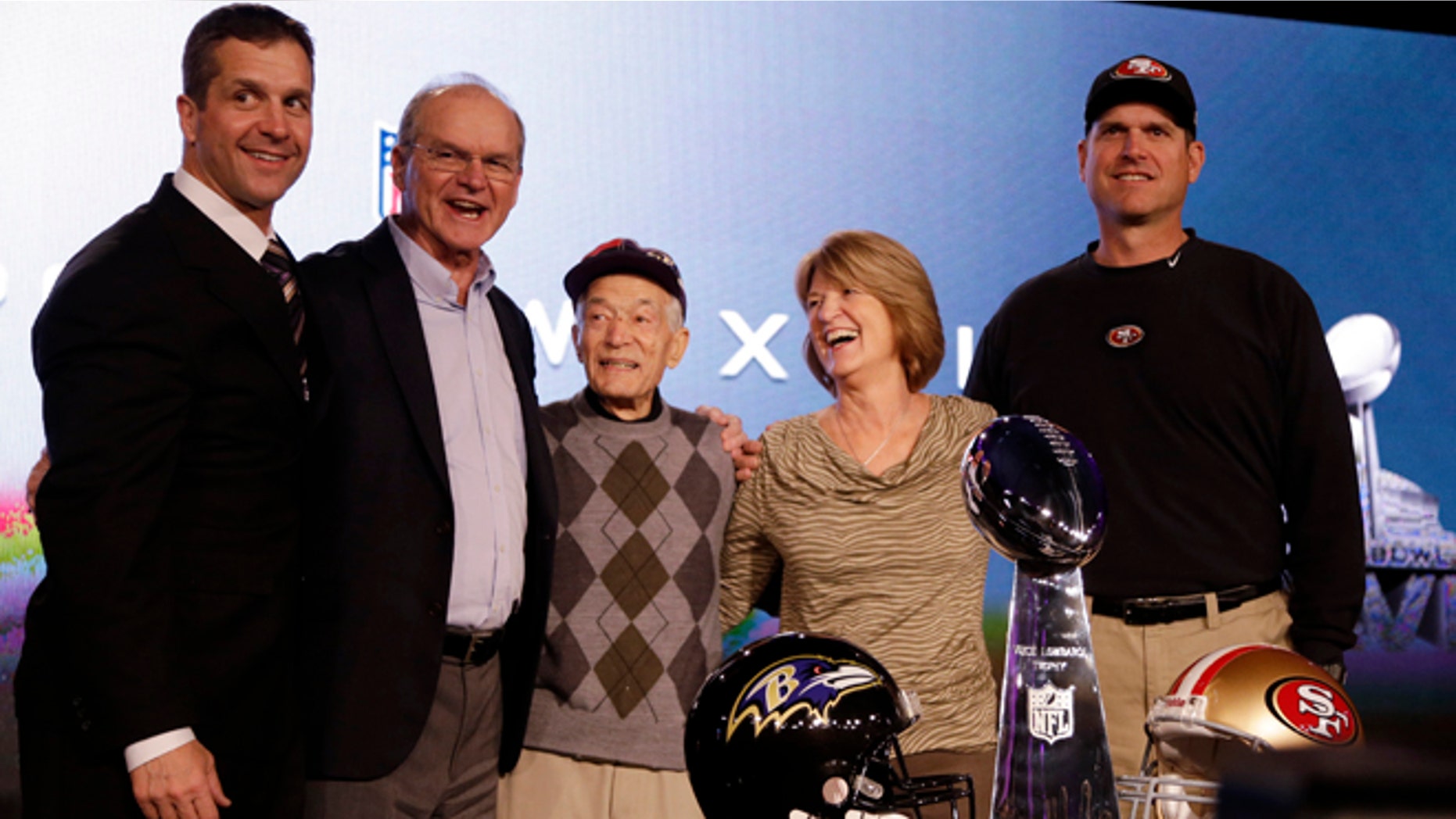 New Orleans, LA – The Brothers Harbaugh are getting ready for the culmination of one of the biggest sibling rivalries of all-time in Super Bowl XLVII when John's Baltimore Ravens take on Jim's San Francisco 49ers at the New Orleans Superdome.
But, this isn't Peter and Bobby Brady splitting the room down the middle with some masking tape. This is a good-natured clash between two brothers who have grown into a pair of the best football coaches in the world.
The game will mark the first time in any of the four major North American professional sports that brothers will match up against one another as head coaches in a postseason game.
"I guess it's pretty neat," said John Harbaugh, who has eight postseason wins in his five seasons with the Ravens, a number which matches former Raiders mentor Tom Flores for the most since the 1970 NFL-AFL merger.
"It's pretty cool. But it's really about the team. It's about the players. That's what it's about. It's about those guys. The more we focus on those guys, the better it is for everybody."
Perhaps, but the focus remains on the Harbaughs.
Maybe the upcoming Harbowl is so intriguing to the American people because we lack leadership on many levels. Real leaders make tough decisions, popular or not, and respect is earned when they show the courage of their convictions.
Both Jim and John Harbaugh have proven themselves as leaders in the 2012 NFL season.
Neither the Niners nor the Ravens would be getting ready for the Super Bowl in the Bayou unless each Harbaugh brother didn't pull the trigger on an extremely difficult and controversial season-altering decision.
In Jim Harbaugh's case, he made the high-profile move from game manager Alex Smith to the dynamic Colin Kaepernick at the quarterback position, not exactly a no-brainer since Smith took the 49ers to the NFC title game after the 2011 season and had San Francisco at 7-2-1 with one of the best touchdown-to- interception ratios in the game before suffering a concussion against the St. Louis Rams in Week 10 of the 2012 campaign.
Harbaugh, who sees Smith and Kaepernick on a daily basis, far more than the rest of us, felt the second-year pro from Nevada gave him the best chance to win the big game and after Colin rallied San Francisco from a 17-point deficit in Atlanta during the NFC Championship Game -- something the far-less explosive Smith could have never done -- it's hard to argue with the Niners mentor.
Although not as captivating, Jim's older brother had his own season-defining moment with the Ravens.
Despite his team's 9-4 record and spot atop the AFC North, John Harbaugh fired his offensive coordinator, Cam Cameron, and elevated quarterbacks coach Jim Caldwell, the former head man in Indianapolis, to the position after Week 14.
From the outside looking in, it seemed like a panic move and not the type of thing you do to a first-place club, but Cameron had been roundly criticized for his handing of quarterback Joe Flacco and running back Ray Rice.
The change looked suspect early.
Caldwell replaced Cameron before a Week 15 contest in Denver, a game in which the Ravens struggled mightily, especially early with five straight three-and- outs en route to a 34-17 shellacking at the hands of the Broncos.
Since then, though, the Ravens offense has turned it on, first putting up 533 yards against the New York Giants in Week 16. After resting players in the regular season finale at Cincinnati, Baltimore rung up a franchise postseason record 441 yards in the first round of the playoffs against the Colts.
The Ravens then won the sequel in Denver by hanging up 38 points the Broncos before destroying New England in the second half during a 28-13 win in the AFC Championship Game at Foxboro.
"We haven't changed a lot," Baltimore's Harbaugh said. "It's still the same system that we had in place. We call things the same way. Everybody puts their imprint on it, and Jim's done a great job with that. We have grown a lot in the last month. There's been some growth, and it has shown up in stats and things like that, and that's a credit to all of our guys, not the least of which, obviously, is coach Caldwell."
The 49ers (5-0) and Ravens (1-0) are a combined 6-0 in the Super Bowl. San Francisco won Super Bowls XVI, XIX, XXIII, XXIV and XXIX while Baltimore took Super Bowl XXXV.
This marks the 49ers' first big game appearance since the 1994 season and the Ravens' first return trip since the 2000 season.
"It's an unbelievable feeling to be in the Super Bowl," said 49ers Pro Bowl linebacker Patrick Willis, who leads his team with 19 tackles in the postseason. "I'm really grateful for this."
The Ravens are 3-1 all-tine versus the Niners and John is 1-0 against Jim, winning the first Harbowl, 16-6 on Thanksgiving Day in 2011.
That one marked the first time head coaching brothers battled each other in the NFL. Flacco connected with tight end Dennis Pitta for a game-winning TD in the fourth quarter while the Baltimore defense limited the 49ers to 170 total yards to get John the win over Jim.
The sequel will take place in front of 100 million or so of the Harbaughs' closest friends.
"Anybody who has a brother, especially one that's close in age, gets it," John said. "You just grow up fighting for everything. You fight for the extra hotdog. You fight for girls. You fight for everything. We both got our girls, but we both want a victory this week."
QUARTERBACKS: The underrated Flacco has thrown eight touchdown passes and no interceptions with a 114.7 passer rating so far in this postseason. The only signal-callers in NFL history to finish a full postseason with at least nine touchdown passes and no interceptions are both former 49ers, Steve Young after the 1994 season, and Joe Montana, who threw 11 touchdown passes and no interceptions in the playoffs after the 1989 season.
Flacco also set a single-season career high in passing yards with 3,817 yards during the regular season, while connecting on 40 completions of 25-or-more yards, which set a Ravens' season record and led the NFL.
The win in the AFC Championship Game at New England marked Flacco's sixth road playoff victory, the most in NFL history. His eight postseason wins overall are tied with Ben Roethlisberger for the second-most in a quarterback's first five NFL seasons, trailing only Tom Brady (nine).
Under Caldwell, who agreed to come back as Baltimore' offensive coordinator for the 2013 season, the Ravens have stitched together a Daryle Lamonica- or Jim Plunkett-type Raiders offense designed to stretch the field and get vertical during a dink-and-dunk era.
"This is just one of those things you dream of when you are a little kid," said Flacco about advancing to the Super Bowl. "You watch Joe Montana and those guys in the Super Bowl. So to be here at this point is pretty special."
Kaepernick, meanwhile, has compiled a passer rating near 100.0 while amassing a 7-2 mark as the 49ers starter since taking over for Smith. In the postseason, he has a a 105.9 passer rating and has rushed for 202 yards. No player has ever posted a 100-plus passer rating and rushed for at least 200 yards in a single postseason.
For the opposition it's all about forcing the strong-armed Kaepernick to read the defense and make the proper progressions in the passing game. He's most dangerous when the running game is hitting on all cylinders, opening up easy play-action reads.
"When I first started starting, I was just trying to do well and make sure we were winning games," Kaepernick said. "Things have gone right while we have been playing. We're here."
Smith, if his mind is right, would have to be regarded as the best caddy in the business. Baltimore's backup, Tyrod Taylor, is largely untested.
ADVANTAGE: RAVENS
RUNNING BACKS: A strong running game opens up that play-action for Flacco, who throws one of the best deep balls in the NFL. Rice is the bell cow, totaling 1,621 yards from scrimmage, the NFL's ninth most. He was one of three players to post 1,000 rushing yards and 400 receiving yards.
Rice ranked second in the NFL in catches by a RB (61) and fourth in receiving yards (478), marking his fourth straight season with at least 1,600 yards from scrimmage. Dating back to 2009, Rice owns an NFL-high 7,506 total yards from scrimmage (5,066 rushing & 2,440 receiving), including a league-best 39 games where he's gained 100-or-more total yards.
Rice has also got help this time around with rookie Bernard Pierce, who ran for 532 yards as a team-leading 4.9 yards per carry, giving the Ravens a nice compliment.
"It all comes down to execution, and that's what it's going to be all about on Sunday," Rice said. "Whatever the team executes, whoever goes out there and plays a more physical game and executes at a high level (is going to win)."
Over the course of his eight-year career, Frank Gore has been the go-to guy in the backfield for the 49ers. Gore has been more than productive after being selected in the third round of the 2005 NFL Draft and his productivity since that time has allowed him to become the franchise's all-time leading rusher. In 2012 Gore ran for over 1,200 yards and is getting more comfortable with the read-option after struggling at first when Kaepernick took over.
The Niners were lacking a compliment to Gore after Kendall Hunter went down with an ankle injury but the small and speedy LaMmichael James, who is well- versed in the read-option attack from his time in college at Oregon, is now a much bigger threat with Kaepernick playing in the pistol. In fact, James' speed makes things much tougher on the edge for the opposition.
"They have a physical defense, but we also have a physical offense," Gore said. "We're just going to keep chipping away, do whatever it takes, like we did all year to get where we're at. (We have to) take those three to four to five (opportunities) -- when we get opportunities to make big plays, we're going to make them."
At fullback both have good ones. Baltimore's Vonta Leach is the best lead- isolation guy in the business, while the Niners' Bruce Miller is a capable lead blocker and a little more nifty with his feet.
ADVANTAGE: RAVENS
WIDE RECEIVERS: Anquan Boldin has been a beast in the postseason for the Ravens, snaring 16 catches for 276 yards and three TDs, averaging 17.3 yards per catch and 92.0 yards per game. Since becoming a Raven in 2010, Boldin has totaled the NFL's most playoff receiving yards (512) and is deadlocked with Niners tight end Vernon Davis for the most receiving TDs (five) over the last three years of postseason play.
Meanwhile, Torrey Smith is one of the top vertical threats in the league, ranking fourth in the NFL with a 17.4 yards per catch average, posting a career-high 855 yards on 49 receptions. Fleet-footed return specialist Jacoby Jones is the third option for Flacco and another big play threat, albeit far less consistent.
For Frisco Randy Moss is just a bit player these days and the veteran will want to take advantage of what is probably his last opportunity to win a Super Bowl. Moss was ever so close in Minnesota in 1998 and New England in 2007 but ultimately came up short. Hall of Fame numbers like 155 career receiving touchdowns and 76 receptions of 40 yards-plus turned into 28 catches and just two scores in the Bay Area this season but the rangy receiver is still a threat, especially in the red zone.
"Randy is going to be a Hall-of-Fame player, and he is someone who deserves a Super Bowl ring," Kaepernick said. "We want to send him out the right way."
Michael Crabtree is the No.1 outside the numbers threat for Kaepernick and he will be playing with a clear mind on Sunday after prosecutors announced that criminal charges won't be filed against Crabtree after an alleged sexual assault in a hotel after the team's playoff victory over the Packers earlier this postseason. Crabtree was never detained or arrested in the matter, and he cooperated fully with their investigation but it had to be weighing on him.
Crabtree became a greater focal point of the offense following Kaepernick's ascension to the starting QB position, and recorded a career-high 85 receptions for 1,105 yards and nine TDs in 2012
Depth is sorely lacking without the injured Kyle Williams (torn ACL). Ted Ginn is just a return guy at this point and A.J. Jenkins and Chad Hall are not going to scare anyone.
ADVANTAGE: RAVENS
TIGHT ENDS: Pitta posted career highs of 61 catches and 669 receiving yards and seven TDs and has a knack for finding the soft spot in a zone. He isn't the best blocker in the world, however, leaving that for Ed Dickson, who is basically just an outlet receiver in the passing game. Veteran Billy Bajema is also around to move the pile in the running game.
"Ed and I work well together," Pitta said. "I think we both have important roles on this team. It's fun to play with him and to have been here these last few years with him."
The one position which seemed to take a step back for the Niners after Kaepernick took over seemed to be tight end. That all changed in the NFC Championship Game, however, when Colin rediscovered Vernon Davis, who tortured the Falcons in the middle of the field. Perhaps the most athletic tight end in the game, linebackers are far too slow to deal with Davis and safeties get engulfed by his massive frame. Backup Delanie Walker gets open often in the flats but is prone to drops.
ADVANTAGE: 49ERS
OFFENSIVE LINE: The offensive line shift in Baltimore has fueled things. Bryant McKinnie was once a Pro Bowler in Minnesota and although he's seen his better days and lives an undisciplined lifestyle, he's a natural left tackle, enabling Michael Oher to move back to where he's far more comfortable -- the right side. Rookie Kelechi Osemele also kicked over to left guard where his size and strength makes a big impact, especially in the running game.
Veteran pivot Matt Birk, a six-time Pro Bowl selection, could join Ray Lewis in retirement after the Super Bowl. Like Lewis, he's a natural leader who makes all the right protection calls on the line of scrimmage. The other starter is right guard Marshal Yanda, Baltimore's best offensive lineman. Yanda is a road-grader in the running game and mirrors in pass protection well.
"I think it's a pretty solid group that we have up there right now," Flacco said. "Bryant (McKinnie) is fresh and playing quick and moving well, and obviously, with his stature out there, he's a big strong guy. So, I think that allowed us to put Mike (Oher) on the right side, bring K.O. over to the left guard. He's a great young player. It gives us five really good talents up there, and they've been playing really well together, so you've got to give the credit to those guys."
The 49ers' offensive line is the best unit in the NFL. In the playoffs, the Packers front seven played the role of speed bump against San Francisco while in Atlanta, Gore could have driven a Humvee through some of the holes he was given.
The stalwarts are on the left side with both tackle Joe Staley and guard Mike Iupati were honored as Pro bowl starters. Center Jonathan Goodwin, right guard Alex Boone and right tackle Anthony Davis round out the impressive group.
"We feel special man. In football, the front sets the tempo and we always have that," Iupati said. "It's true in every phase of football. The offensive line starts the game and sets the tempo. If we can protect the quarterback then everything is good. The receivers will be wide open and give them a little time."
ADVANTAGE: 49ERS
DEFENSIVE LINE: The Baltimore and San Francisco defenses are similar. Both use a 3-4 scheme with one stalwart on the defensive line and a linebacking corps filled with playmakers. For the Ravens the big dog on the line is Haloti Ngata, a tremendously strong player who engulfs blockers. Ngata teams with nose tackle Terrence Cody, a difference maker with limited snaps, and Pernell McPhee, a solid if unspectacular edge player. Ma'ake Kemoeatu also gets significant repetitions inside and is just a tad behind Cody as a run stuffer.
"We are really pretty young, expect for those two guys," defensive coordinator Dean Pees said when discussing Ngata and Kemoeatu. "One thing they bring is in the classroom is the experience of how to be a pro, how to study, how to watch film, how to do all those things, plus that -- Then you add onto that their physical ability. They're two big guys that can kind of hold forth in there. They have done a great job. I'd say it is a combination of both of those things."
The headliner of San Francisco's 3-4 front is veteran Justin Smith, a high- motored four-time Pro Bowl selection who is still dealing with a triceps injury suffered in Week 15. Smith is still plenty banged-up but his presence and leadership can't be emphasized enough, although his main attribute, prodigious strength, has certainly been curtailed.
"I think it's getting better every week," Smith said when talking about his arm. "I can do more stuff every week. It heals up the more time goes by. It's feeling better. I'm getting used to wearing the brace a little bit better. I know how many more games I have left now, so it's just four more quarters."
Isaac Sopoaga's job at nose tackle is to tie up multiple blockers in order to help Willis and NaVorro Bowman flow to the ball. The 6-foot-2, 330-pound product generally does a nice job keeping opposing offensive linemen get to the second level. Ray McDonald rounds out the unit and is a nice 3-4 end, stout enough to occupy blockers and athletic enough to occasionally get upfield.
"It all comes down to if you prepare during the week, and you work hard and you go out there and make plays you're going to win ball games," McDonald said.
ADVANTAGE: RAVENS
LINEBACKERS: Lewis, who will be calling it a career after this game, belongs on the Mount Rushmore of linebackers. Although not the player he once was, the leadership he brings to the field had been sorely lacking from the Baltimore defense. His running mate inside is the underrated Dannell Ellerbe, who was second on the team in tackles this season and can create havoc with his penetration skills.
Terrell Suggs is the 2011 NFL Defensive Player of the Year, who missed the first six games of the season after tearing his Achilles in the offseason and has also struggled with a biceps injury, He's not the same explosive guy who has 84 1/2 sacks since entering the NFL in 2003 but Suggs is still more than capable of contributing, although his biceps could make it difficult to hold the edge, especially in the read-option.
Rookie Courtney Upshaw brings youth and explosion to the unit while Paul Kruger has developed into a more than solid situational pass rusher, amassing a career-best and team-high nine sacks, 7 1/2 of which came in the Ravens' final eight games.
The 49ers, however, possess the best linebacking unit in all of football. Aldon Smith will likely finish third in the NFC Defensive Player of the Year voting after piling up a team-record 19.5 sacks.
"He's setting records left and right, so I think anytime anybody does that it's surprising," Justin Smith said. "Just his transition into the NFL and how easy he's made it look, that's what the great ones do -- they make it look easy."
Bowman and Willis are both All-Pros and if anything Bowman has actually surpassed his more high-profile colleague as an all-around player. Willis, though, is the unquestioned leader described by head coach Jim Harbaugh as "getting the job done kind of guy and not taking credit kind of guy."
"I've always had high expectations for myself," Willis said. "Any time I'm able to make a play or do something that most (people) don't think I could do or can do. For me, in my mind, I've already seen it or felt like I could do it. So I don't get overly excited about anything because in my mind I'm just doing my job."
Ahmad Brooks, meanwhile, would be the best 'backer on a lot of clubs and he's the fourth best for Niners defensive coordinator Vic Fangio.
ADVANTAGE: 49ERS
CORNERBACKS: It took quite awhile before Baltimore recovered from the loss of its best corner Lardarius Webb to injury (ACL). Former first round pick Jimmy Smith simply hasn't developed but the unheralded duo of Corey Graham and Cary Williams have combined to settle things down on the outside. Neither player is going to conjure up visions of a shutdown corner but they've done their part.
"One unit. Through all our ups and down, we've stuck together," Pees said when talking about his corners. "We always believed, and we kept our eyes on the prize, and that's what we just kept doing."
The 49ers haven't recorded a ton of interceptions but regulars Carlos Rogers and Tarell Brown have down a solid if unspectacular job while nickel back Chris Culliver brings some size and big play ability to the defensive backfield.
Rogers went to the Pro Bowl in 2011 but Brown has been San Francisco's top corner in 2012, amassing 13 passes defended. Rogers still carries the reputation, however, and teams tend to look elsewhere. When things are spread out and Culliver is on the field, the opposition will take its shots at him but the South Carolina product was second on San Francisco with two interceptions and led the club with 15 passes broken up.
"I think it's going to be very competitive out there," Brown said. "(The Ravens are) definitely going to take their shots, they're definitely going to come after us, but we look forward to it. I think we'll stand up to the challenge. Let the best man win."
ADVANTAGE: 49ERS
SAFETIES: Ed Reed, a Louisiana native and the eight-time All-Pro, would love to garner his first Super Bowl crown in the Bayou. Reed has 61 career picks in his 11 pro seasons, including 4 thefts for 78 return yards and a TD during the 2012 campaign.
"Going home. I'm speechless when it comes to talking about going home for this Super Bowl," Reed said. "It's amazing to me. I just give everything to God on that one. This is just amazing. Everybody doesn't get this chance to even play in the Super Bowl, win the Super Bowl. It's just amazing to me. I'm just soaking it up, just really enjoying it -- ever minute, every second."
Reed doesn't have the wheels he once had but still has the football smarts to make things happen. Matching up with Davis could be a problem, however.
"He's a receiver to me," Reed said. "(He's a) 4.3-4.4 (40-yard dash) guy. That size -- He's definitely a threat that you've got to know where he is at all times. So, you've got to watch the guy at all times. He might not have been as much as a threat with [Colin] Kaepernick in there, but he's always a threat."
Reed's running mate, Bernard Pollard, is a big hitter and intimidator. The AFC Championship Game swung dramatically in Baltimore's favor when Pollard blew up Pats running back Stevan Ridley with a vicious helmet-to-helmet hit that knocked Ridley cold before he hit the ground, causing a fumble. Like most safeties who bring the wood, however, Pollard struggles in man-to-man coverage.
It's not like Ronnie Lott is manning the back end for the 49ers but dual Pro Bowl selections Dashon Goldson and Donte Whitner provide an intimidation factor for Frisco, at least one as big as you can have in today's watered down, overly regulated product.
Both are big hitters, wrap up well and limit yards after the catch. Goldson is probably the better of the two in pass defense but neither are spectacular when matched up in man-to-man coverage.
"There is a lot of want to. Guys want to make plays, we want to make our tackles, we want to win, and we want to compete," Goldson said when talking about the 49ers' defensive backfield. "There is a lot of want to in our secondary."
ADVANTAGE: 49ERS
PLACEKICKERS: Rookie Justin Tucker recorded 132 points in his rookie season, the third most in Ravens history. Tucker made 30-of-33 field goal attempts overall in the regular season for a 90.9 percent success rate, the second-best mark in team lore and also second by a rookie kicker in NFL history behind Minnesota's Blair Walsh, who was 35-of-38 in 2012. Tucker hasn't had many chances in the postseason, converting the a 47-yard game-winner at Mile High in the second overtime against Denver and his only other chance, an easy 23- yard attempt, making him a gaudy 32-of-35 overall in his first year as pro
If it weren't for Walsh's own extraordinary rookie season in Minnesota Tucker probably would have made a number of All-Pro teams.
Tucker's mirror in Super Bowl XLVII, San Francisco's David Akers, has the experience edge and the more impressive resume but the six-time All-Pro hasn't been nearly as effective as Tucker this season, something Ravens special teams coordinator Jerry Rosburg has downplayed.
"Every kick has a life of its own. So, you go face that next kick, that's what you do," the coach said when talking about the struggling Akers, who missed an NFL-high 14 field goal attempts in 2012, just one year after banging through an NFL record 44.
That said, Tucker's season as a whole and his approach to his craft has to have Rosburg feeling good, especially if the Super Bowl comes down to one kick.
"The most important confidence that Justin Tucker brings to the kicking game is confidence in himself," Rosburg said. "He can kick, and he knows he can kick, and his teammates know he can kick. So it just keeps growing that way, and we're happy we have him."
ADVANTAGE: RAVENS
PUNTER: Baltimore's Sam Koch is looking forward to matching his skills against one of the best in the NFL, San Francisco's three-time Pro Bowl punter Andy Lee. Koch recorded a career-high and franchise-record 47.1 gross punting average this season and also set a team record by producing a 40.8 net average.
A three-time Pro Bowler, the monster-legged Lee has already set the 49ers franchise record for most punting yards and also ranks first in team history with a 45.9 yard gross average. During his 2012 season, Lee led the NFL with a 43.2 net average, ranked third with 36 punts inside the 20 and made a few All- Pro teams. He's one of the best.
ADVANTAGE: 49ERS
LONG-SNAPPER: Don't underestimate Morgan Cox's steadiness as a long snapper when it comes to Tucker's and Koch's success for the Ravens. Cox, an undrafted free agent out of the University of Tennessee, has been a big upgrade since replacing veteran Matt Katula in 2010.
Veteran 49ers long-snapper Brian Jennings is a two-time Pro Bowl selection and has even developed a program on the art and science of long snapping. Generally when a placekicker struggles, some of it has to do with inconsistent snapping or holding but that hasn't been the case in San Francisco.
ADVANTAGE: EVEN
RETURN GAME: The Ravens usually use Pro Bowl kick returner Jacoby Jones on both punts and kicks. Jones ranked first in the NFL by posting a Ravens' franchise-record 30.7-yard kickoff return average and 9.2 on punts, including three returned for TDs -- two kickoff returns (108 yards and 105 yards) and a punt (63 yards). Jones has generally been bottled up on kickoffs in the postseason, netting 17.3 per return but he's upped his production on punts, averaging 13.7 on six returns. Backup receiver Tandon Doss and veteran safety Ed Reed also take the occasional punt for John Harbaugh's club.
"(David) Akers has got a really strong leg. He can kick out of the end zone and that punter (Andy lee), he's a climber too. So you've got to be patient and wait on your opportunities," Jones said.
Williams was the goat in the 2011 NFC Championship Game, muffing a pair of punts which enabled the New York Giants to move on en route to a Super Bowl crown. Ginn, who was injured last reason, returned in 2012 and did a steady if unspectacular job, averaging 10.2 yards per return with a long of 38. Ginn has returned three kickoffs and three punts in his career for TDs but has lost some of that great long speed which made him so dangerous in the past.
Ginn and James have each gotten their fair share of kickoff returns with Ginn averaging 23.0 a pop and James up at 29.8 with a long of 62. Clearly James has more juice than Ginn at this stage but ball security will be paramount in this game and Ginn is considered the more secure option.
ADVANTAGE: RAVENS
SPECIAL TEAMS DEFENSE: During the offseason, the Ravens signed Graham, who earned special teams Pro Bowl honors with Chicago during the 2011 campaign. In addition to Graham, Baltimore also boasts another Pro Bowl special teamer in linebacker Brendon Ayanbadejo, who has made three trips to the NFL's All-Star game. Ayanbadejo (187) and Graham (110) have combined to post 297 special teams tackles during their careers. In 2012, Ayanbadejo posted 14 special teams stops (most on the team), Graham, who started the final eight games at cornerback, totaled six while second-year special teams standout RB Anthony Allen had 12 special teams tackles. After allowing 7.8 yards per punt return and 23.2 on kickoffs in the regular season, Baltimore's coverage units have been shaky in the postseason, allowing 20.9 on punts with a TD and 32.5 on kickoffs with another score. Both returns TDs were by Denver's Trindon Holliday.
The 49ers coverage corps was great during the regular season on punt coverage and less so with the longer field on kickoffs, limiting teams to 6.9 yards per punt return and 26.9 on kickoffs. Backup cornerback Tramaine Brock, reserve linebacker Michael Wilhoite and veteran safety C.J. Spillman are the keys to San Francisco's coverage units.
ADVANTAGE: 49ERS
COACHING: A lot of people are rooting for John Harbaugh, the perceived "underdog" who rose up through the NFL ranks the hard way. The Ravens head coach wasn't a star quarterback at a football factory like Michigan, wasn't a first round pick by a marquee franchise like the Chicago Bears, didn't spend 14 years in the NFL as a player, and wasn't the flavor of the month as a coaching candidate after a stellar stay at Stanford -- that's Jim's resume, a big man on campus-type background.
John spent his college years as a defensive back at Miami-Ohio, and was perhaps best known as the roommate of Brian Pillman, who went on to become a huge wrestling star with both Ted Turner's World Championship Wrestling franchise and Vice McMahon's World Wrestling Entertainment empire.
The older Harbaugh brother didn't play a down in the NFL and spent 13 years toiling the college ranks as an assistant at places like Western Michigan, Pitt, Morehead State, Cincinnati and Indiana before Ray Rhodes and Andy Reid gave him a shot as the Philadelphia Eagles special teams coach.
John tutored the Birds special teamers for nine years before getting promoted to defensive backs coach and most were stunned when the Ravens took a flyer on him and made him their head coach in 2008.
Hindsight says Baltimore was right. Under John, the Ravens have recorded at least 10 wins in four of five regular seasons, and own the NFL's second-most wins (62, including playoffs) since his arrival in the Charm City. One more victory in the Super Bowl and Baltimore would match New England, who has amassed 63 wins since '08.
Jim, on the other hand, is 27-8-1 through two years as the Niners coach with two NFC Championship Games and a Super Bowl appearance but had "admitted" John is the better coach.
"He's just trying to soften me up," John said. "I know how he operates, I've heard that before. He's a great coach. I'm proud of Jim, I'm proud of what he's doing. Proud of their accomplishments, I'm very impressed by their team. It's not surprising. It's the same way that he's played and coached or whatever he's done his whole life."
ADVATAGE: EVEN
SUPER BOWL BANTER
-Super Bowl XLVII will be the second (Super Bowl XXX between Dallas and Pittsburgh) in which each team lost its conference title game the previous year. In 2011, the 49ers lost to the New York Giants in the NFC Championship game and the Ravens were defeated by the New England Patriots in the AFC title tilt.
-During the championship games, the Ravens and 49ers became the first set of road teams to win conference titles since 1997 (Denver and Green Bay). In the second halves of their games, the Ravens (21-0) and 49ers (14-0) outscored their opponents 35-0.
-The AFC (47.7 million viewers) and NFC (42.0 million viewers) Championship Games ranked as TV's most-watched programs since Super Bowl XLVI.
-Kaepernick will be the fourth quarterback in the Super Bowl era to start the Super Bowl in the same season as his first career NFL start, joining Tom Brady (Patriots), Kurt Warner (St. Louis Rams) and Vince Ferragamo (Los Angeles Rams).
-Kaepernick's seven career regular-season starts are the third-fewest for a starting quarterback in the Super Bowl, trailing only Jeff Hostetler (Giants, four) and Ferragamo (five).
OVERALL ANALYSIS: San Francisco is certainly the more talented team but Baltimore has the experience advantage and any intangible edge Lewis' last run may provide.
"The 49ers will win if we play to the highest level of our potential." Davis said.
That's probably true but the Ravens seem to have taken on a team of destiny look. Meanwhile, Flacco already has eight postseason wins under his belt while Kaepernick has just nine NFL starts.
Expect Baltimore to get it done with a late Tucker field goal.
Sports Network Predicted Outcome: Ravens 23, 49ers 20