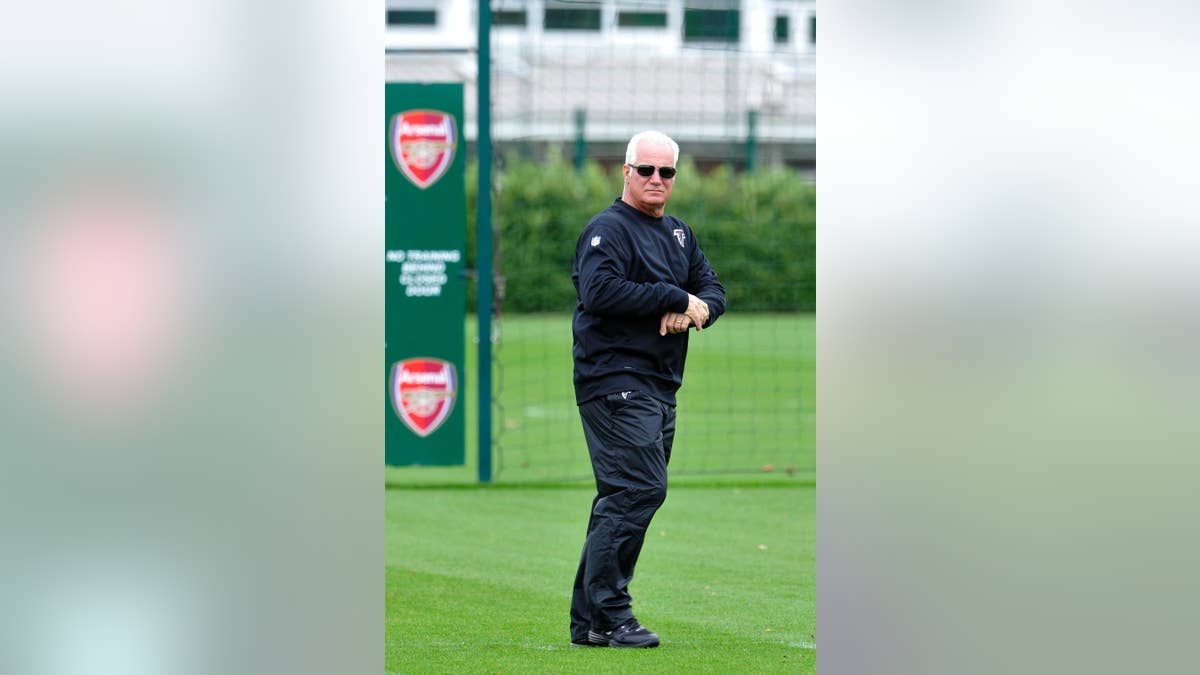 LONDON – They're on a four-game losing streak and banged-up on both sides of the line. Frankly, the Falcons as a team are looking questionable for Sunday's London showpiece game against the Detroit Lions.
To score an upset and jump back into the thick of the NFC South race, Falcons players say they'll need to run the ball with authority — something they've rarely managed in a 2-5 season. And they must provide quarterback Matt Ryan a mix of short-range, quick targets designed to keep "Matty Ice" from becoming "Crushed Ice."
"We've got to get the ball out a little quicker because of our offensive line situation," said receiver Roddy White, referring to a unit that has lost four starters to season-ending injuries. This year's top-draft-pick, left tackle Jake Matthews, is nursing a sprained ankle, and Atlanta is starting an undrafted rookie at center Sunday.
"The last three weeks, our third-down percentage has been horrible," said White, who is struggling through a subpar season with five drops to go with his 28 catches for 353 yards and three touchdowns. "We've got to get ahead of the chains and execute. It's unacceptable for us to go three-and-out, three-and-out. It puts a lot of pressure on our defense."
That defense is likely to be without starting tackle Jonathan Babineaux, who normally provides much of the pocket-collapsing push up the middle. He has not practiced this week in London and is listed as questionable. Rookie lineman Ra'Shede Hageman has looked unimpressive in relief.
One bright spot on the injury front could be slot receiver Harry Douglas, who has missed the past four games with an injured foot. He resumed limited practice Thursday and coach Mike Smith said he could be a game-time decision. His return would give Ryan his full complement of perimeter targets, including Julio Jones and Devin Hester, since the Falcons' last win: a 56-14 home thrashing of the Tampa Bay Buccaneers on Sept. 18.
During daily drills since Wednesday at the suburban training grounds of London's Arsenal soccer club, the Falcons have spent extra time working on special-teams blocking. The hope is that Hester, the team's primary punt and kickoff returner, can take one to the end zone for the first time since the demolition of the Bucs. Anticipated windy, damp conditions Sunday make short kickoffs inside London's soft-turf Wembley Stadium a possibility.
"We've been working on our returns this week to try to get Devin loose," White said. "We know if we can get him a little crease out there, then he can make things happen for us."
Smith did something unusual to get his whole squad loose at the end of Friday's practice: trying their hand at Arsenal-style football.
As Arsenal coach Arsene Wenger watched from behind the goal, London-born defensive end Osi Umenyiora, 6-foot-8 tight end Levine Toilolo, punter Matt Bosher, and White took turns making soccer strikes in a penalty shootout. Falcons assistant equipment manager Kenny Osuwah proved too much for them in goal, saving several shots; Umenyiora's bounced off the right post.
Then a teenager from Arsenal's youth academy, who had been practicing on a nearby field, stepped forward and effortlessly side-footed the ball into the net past a diving Osuwah. The rest of the Falcons roared in laughter.
"We felt like we wanted to do some English football," Smith said with a smile. "We found out our guys aren't really good at it."
___
AP NFL website: www.pro32.ap.org and www.twitter.com/AP_NFL