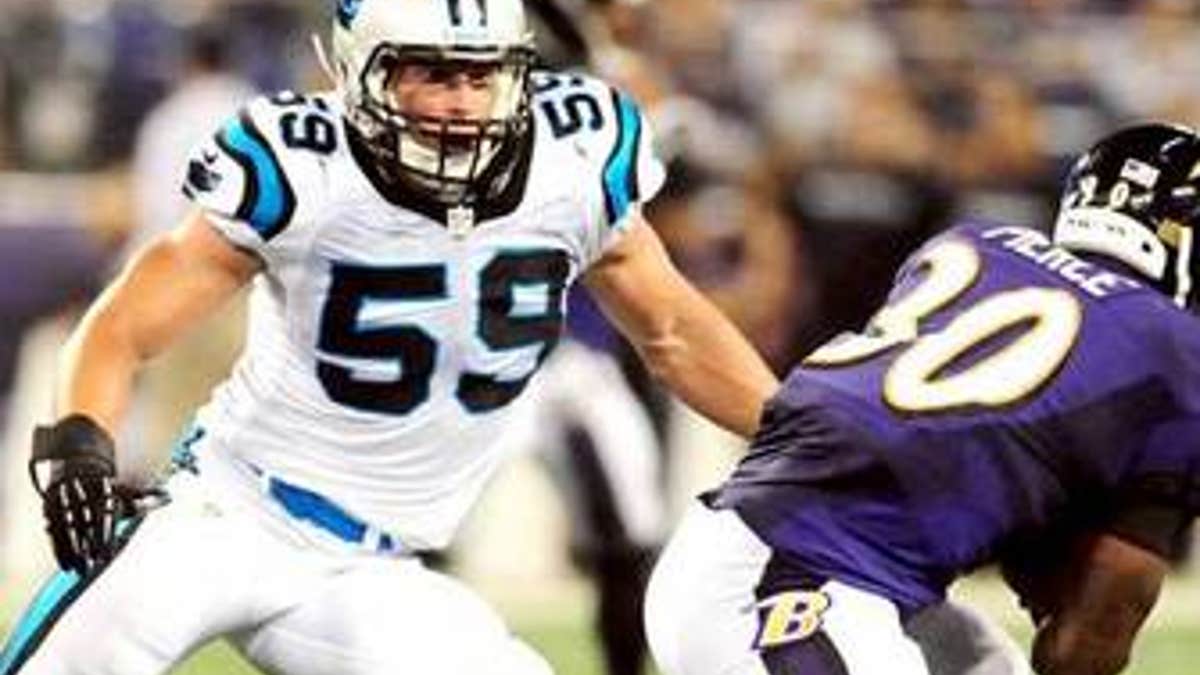 BALTIMORE – Jon Beason had seen it before from Luke Kuechly -- a seemingly bogus penalty called on him followed by a huge play.
Though Beason has misremembered some of the details, the gist of the story remains the same, and it's that you do not want to tick off his fellow Carolina Panthers linebacker.
Last season, in a Week 16 game against the Oakland Raiders, Kuechly snapped his head around and got a great pass-drop to tackle Darrius Heyward-Bey as he caught the ball. The only problem was he was somehow flagged for unnecessary roughness despite one of the cleanest hits a linebacker could make on a defenseless receiver. Two plays later, Kuechly shot the gap to level Darren McFadden in the hole. Kuechly got right up and pointed at the injured Beason, who had told him from the sideline to not let the penalty throw him off his game.
Thursday night, in a preseason game against the Baltimore Ravens, the 22-year-old Kuechly did it again. He was flagged for a personal foul. It was a slightly less egregious call because, much as he separated Aaron Mellette from the ball, he made contact with a defenseless receiver's head, and that's a no-no.
Sure enough, two plays later, he baited Ravens quarterback Joe Flacco into throwing the hook to tight end Visanthe Shiancoe. Kuechly jumped the route and picked it off.
"He doesn't get mad often," Beason said in a conversation with FOX Sports after the Panthers' 34-27 victory, "but when he does, good things seem to happen."
Good things happen even when Kuechly isn't angry.
The ninth overall pick last year, the defensive Rookie of the Year was all over the field in 2012 and was credited with 164 tackles. If Thursday night was any indication, he's going to do all of that again and add even more impact plays.
Against the Ravens, Kuechly had seven tackles, an interception, a forced fumble that was returned for a touchdown, a pass defensed and what was briefly a deflection that was an interception before the officials ruled it a personal foul because of the contact to Mellette's head.
Not bad production, considering he didn't play a full game.
"I'm a big fan of 'Luuuuuuuke' Kuechly," said Panthers quarterback Cam Newton, who rued the offense's putting up only six points while the defense and special teams posted 28. "He's just a person that holds himself to a standard that failure is not an option for him.
"For him to not get the favor of the call . . . (and) to come back and get an interception, that's just a testament of who Luke is."
So is the way he handles himself in the media. To be frank, a player who is a blast to watch on the field is boring with a microphone in front of him. His postgame quotes were filled with dull statements about how he must "keep playing fast" after a penalty, "forget about it" and "just make a play."
As composed as he is there, it's not hard to see why he maintains his composure on the field.
"The kid's phenomenal. He never ceases to amaze me," said Beason, a three-time Pro Bowl selection. "It's like he's always got something new up his sleeve. He's a great kid, but all that's a tribute to the time, the effort, the preparation he puts in and makes him go out and make big plays."
Linebackers coach Al Holcomb is a position coach for the first time in his career after spending four seasons as the New York Giants defensive quality control coach and defensive assistant. Holcomb's transition to the new gig has been rather easy, at least when it comes to Kuechly. With Kuechly's natural ability and instincts a strength, Holcomb tries not to "over-coach" the budding star. Instead, he teaches the basics of the defense and then lets Kuechly loose.
It's a wise approach, as Kuechly showed what he's capable of doing on instinct when he was the fastest moving thing on the field early in the second quarter on a run by Bernard Pierce to the defense's left. Told he ducked his shoulder to avoid just a bit of traffic, Kuechly didn't even realize he made such a move.
Instinct.
Kuechly just saw Pierce and an opening. He shot the gap, knocked the ball out, spun around Pierce, stayed on his feet and nearly got to the ball before Thomas Davis did.
At some point, somebody had to have told Kuechly he should save some of this for the regular season, no?
"No way, no way, no way," said Beason, playing in his first game since Week 4 of last year following microfracture surgery. "That was the goal going in for everybody -- if you're out there playing football, play football. Do what you can."
Kuechly can do more than others. And he probably will all of this season and beyond, such as when he baited the Super Bowl MVP into making a poor decision on that interception right after the questionable penalty that might've taken a mentally weak player out of his game.
"It was just an unbelievable play by Luke," Newton said. "But that's just Luke being Luke. We've all been wowed by his capabilities. That's just the tip of the iceberg."