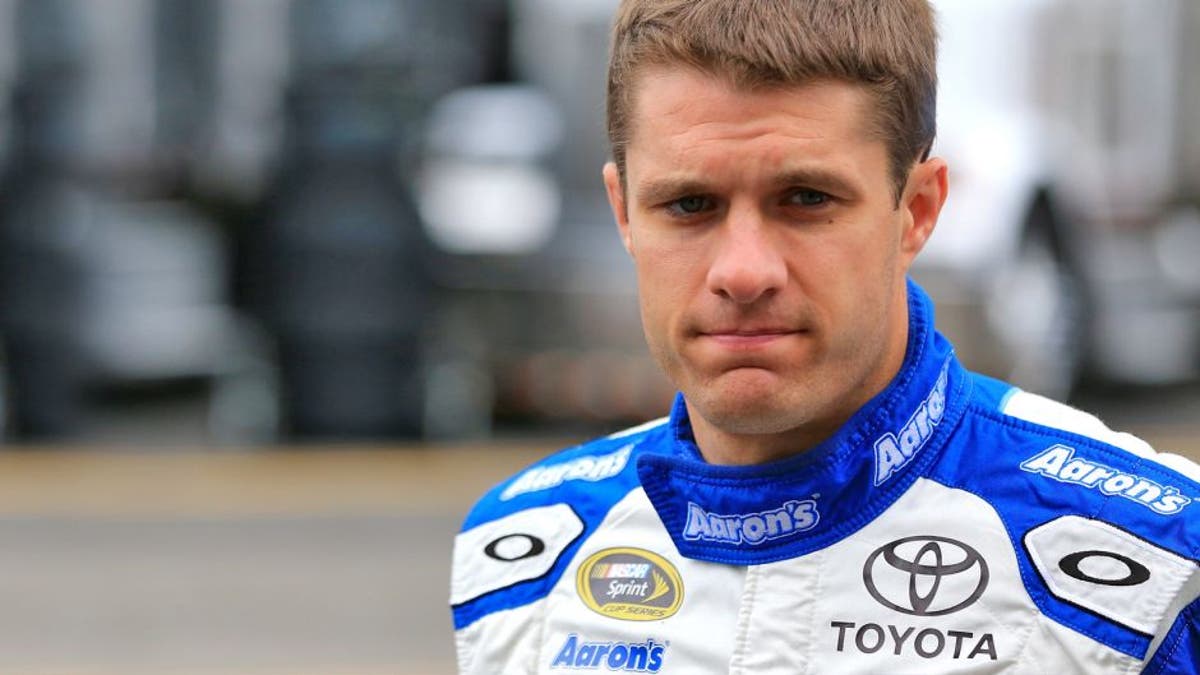 The past week has been a tumultuous one for Michael Waltrip Racing, as news broke the team's co-owner Rob Kauffman purchased an interest in Chip Ganassi Racing with Felix Sabates.
There are more unknowns than anything surrounding the deal, one that continues to unfold behind the scenes between team owners, sponsors and manufacturers. Yet for the team's drivers, crew members and employees, the saga surrounding the future of MWR hits very close to home.
David Ragan, driver of the No. 55 Aaron's Toyota for MWR, called the news of Kauffman's buy-in at Ganassi "a small distraction" for the team during last weekend's event at Pocono Raceway.
This is not the first time Ragan has gone through the rigors of Silly Season and he says it is something "you get accustomed to" in NASCAR.
"All I can do is to focus on driving the race car the best I can and give the best feedback I can and be a good representative for Aaron's and Toyota on and off the racetrack," Ragan told FOXSports.com. "That's really it. I've got to trust the owner, general manager and the management staff of the team I drive for that they're making the best decisions that would benefit us in a good way. You've got to be tough and stay focused."
While the shock of the news took many inside MWR by surprise last week, Ragan said it has "been all business" since then, as the team focuses on trying to make the Chase for the Sprint Cup.
"There are a lot of moving parts and pieces, and a lot more questions than answers," he said. "The only ones that know that are Rob and Michael. They're the owners and the ones that deal with our manufacturers and sponsors. For us, we can ask a few questions to see what their ideas are, but they're really the ones working on it and that are in meetings."
Ragan pointed out that much like him, the employees at MWR have been through situations like this before, and know how to handle it while also focusing on the task at hand.
"I think you talk about it for a day or two, but then you just realize there's nothing you can do about it personally other than to do your job and look forward," he said.
With Felix Sabates saying in a statement in which he called their organization "a three-car team," there is speculation at least one of the MWR cars could move over to Ganassi. If that is the case, Ragan believes it will be difficult for MWR to continue in a competitive form as a single-car organization.
"I don't think any team can survive as a single-car operation today," he said. "You can't consider Furniture Row a single-car operation. That just isn't real. Wood Brothers Racing isn't a single-car operation. Any single-car team they have some affiliation. You can certainly be a single-car team and hang in there in this sport and just maintain mediocrity.
"If you're going to be a winner or going to be a Chase contending team you're going to have to have some affiliating with a larger team, you've got to have some manufacturer support and you've got to have an owner that's going to bankroll $20 to $30 million a year in order to go race. ... Whatever goes forward with Rob and Michael, we'll have to be associated with a larger team."
Ragan's 2015 Sprint Cup Series campaign has been quite unique. The 29-year-old started the season in the Daytona 500 in the No. 34 Front Row Motorsports Ford, but served as Kyle Busch's replacement in the No. 18 Joe Gibbs Racing Toyota from the second race of the season in Atlanta until Talladega Superspeedway in early May. Since the 11th race of the year at Kanas Speedway, Ragan has piloted the No. 55 Toyota for MWR.
With so many unknowns facing MWR, Ragan understands that when it comes down to it, he has to do what is best for his career and future in the sport.
"One thing I learned a long time ago is that it's never too early to talk about other opportunities in the garage," he said. "I think there are some guys that show up for the Daytona 500 one year that are already trying to figure out what they're going to do for the next. In a sport where we don't have any long-term guaranteed contracts and any unions that guarantee where you're going to be at five years down the road, you're always looking at options moving forward."
However, for the time being Ragan feels at home at MWR and believes the team is making strides and beginning to improve their overall performance. Describing himself as a "glass half full" type of personality, Ragan feels he has worked well within the MWR organization, especially with teammate Clint Bowyer.
"I like the guys at MWR," he said. "I've enjoyed working with Aaron's and I think Brian Pattie is one of the smartest crew chiefs that I've worked with. We've gotten our race cars better over the last couple of months. We've still got a long way to go, but I'd love to be back with these guys next year in whatever capacity or whatever race shop these cars are raced out of, but that's not all my decision. I just try to fit in as best I can and do the best job that I can and hopefully they keep me in the loop -- whether it's good or bad information."
Turning 30 years old on Dec. 24 of this year, Ragan understands that age is not on his side with a fresh crop of 18-to-20-year-olds making stride in NASCAR each week. Yet the Georgia native believes he is a smarter and more well-rounded driver than he has ever been, something he hopes will go a long way in keeping him in the Sprint Cup Series for quite some time.
VIDEO: MWR co-owner Rob Kauffman purchases stake in Chip Ganassi Racing with Felix Sabates