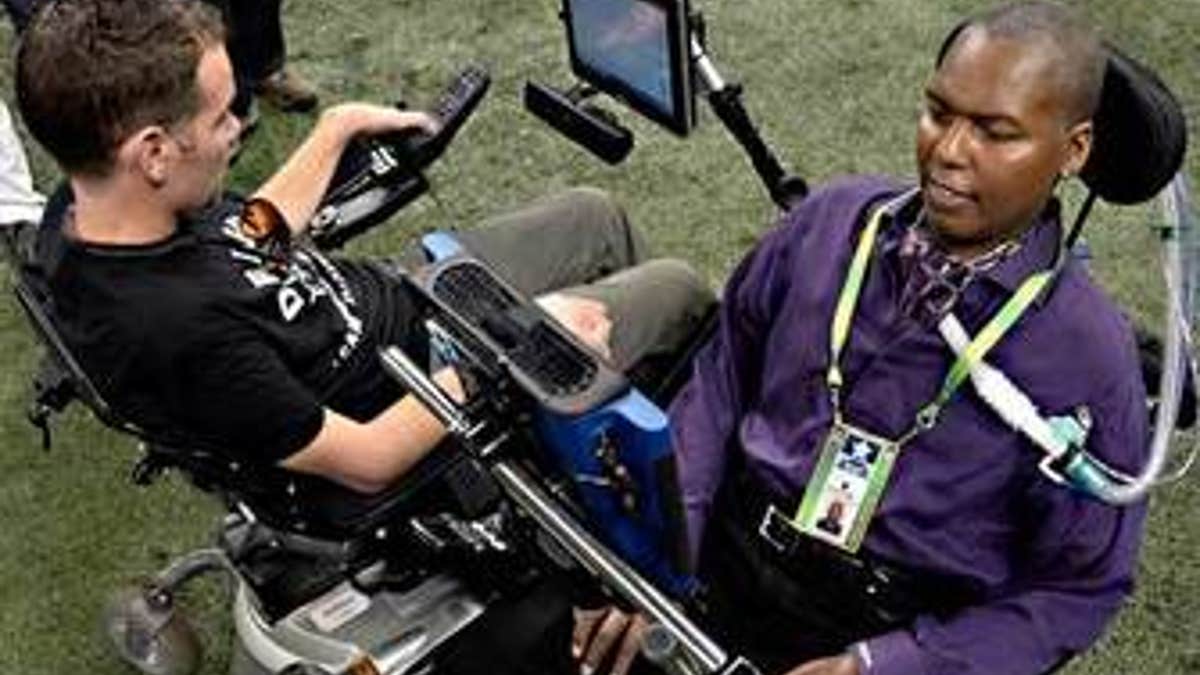 My favorite Super Bowl moment of all-time didn't involve anything that happened in an actual game. David Tyree's catch, Ben Roethlisberger's perfect pass to Santonio Holmes, and all of Adam Vinatieri's clutch kicks take a back seat to a scene I witnessed prior to kickoff last year at Super Bowl XLVII in New Orleans.
Minutes before the Ravens and 49ers went at it for the right to hoist the Lombardi Trophy, I stood on the Baltimore sideline and watched O.J. Brigance have a conversation with Steve Gleason.
Two former special teams stars, they'd never met before. Though they'd been emailing back and forth for a little over a year, this was their very first in-person encounter.
O.J. asked Steve how his wife and son were doing. Steve asked O.J. if he had any trips planned in the coming months. They both agreed to keep in touch. At the end of the chat, one of Steve's buddies gave O.J. a t-shirt that read, "No White Flags". The shirt was draped over O.J.'s shoulder.
O.J.'s wife, Chanda, in turn, gave Steve a "Brigance Brigade" t-shirt. They both donned the other's gift, bid farewell, and went their own ways.
It was a mere five minute conversation but it was monumental.
Neither O.J. Brigance nor Steve Gleason can speak.
They can't walk or touch or eat on their own, either. Suffering from ALS, also known as Lou Gehrig's Disease, both players are fighting for their lives every single day. They're bound by motorized chairs, but they're two of the greatest communicators I've ever met.
They're two of the strongest men anyone will ever meet.
So, how'd this conversation happen? How'd two men who can't talk or move have a five minute discussion? Through incredible will and spirit, and with the help of an innovative technology called an augmentative communication device, the two can communicate. Using their eyeballs, Steve and O.J. can type out words, sentences, and paragraphs. The technology includes a machine mounted to both of their motorized chairs that serves as a computer screen, a voicebox, and a remote control. By flashing their eyeballs almost as laser pointers, they can string together sentences with a robotic voice registering and relaying their messages.
O.J. uses his augmentative technology device to speak to you, to write you emails, and to DVR his favorite television shows. He likes the program "The Good Wife, and when the show's star, Baltimore Ravens fan Josh Charles found this bit of information out, the two struck up an immediate friendship over email. They talk all the time.
Charles isn't the only one who wants that connection to O.J. It's emails like those that keep Brigance in constant communication with the Baltimore Ravens players and staffers. A Super Bowl hero for the team back in 2000 and a front office member since 2004, Brigance has been with the organization just about as long as anyone in the building. When he was diagnosed with ALS in 2007 at the age of thirty-seven, he was given two to three years to live and told there was a chance he wouldn't make it to his fortieth birthday.
Three weeks ago, I made the trip from New York City to Baltimore to celebrate O.J.'s 44th birthday. Ray Lewis was there. He took a red eye flight to make it. "I wouldn't miss it for the world," he told me. So was Ray Rice, just two days after playing in a game in which he was injured. Stephanie Rawlings-Blake, the mayor of Baltimore, was there, too. Ozzie Newsome, Marshal Yanda, and countless other Ravens players made the trip.
For O.J., everyone comes. Everyone steps up. It's because he's always been there for them.
I spent the off-season co-writing O.J. Brigance's book and I couldn't be prouder to call the man a co-author and friend.
Of course, he's more than that to the Ravens. He's their lifeblood; their inspiration. He's their constant reminder to keep on going.
Prior to Super Bowl XLVII, Brigance gave a speech in the team hotel. Forty-eight hours earlier, he was in the hospital suffering from a major setback. He made it to New Orleans, though. There was no way he wouldn't make it. His face, the sound of his machine entering the banquet hall that day, and his words lifted the Ravens to new heights. I hope I captured the moment well in the book, but I probably didn't do it justice. How could you? Imagine being in that room. To the fifty-three men who were, it's a moment they'll never forget.
NFL types aren't the easiest guys to get a hold of during their time off, but for O.J., there was never a question of availability. Joe Flacco's wife was pregnant and in her third trimester, but Flacco asked me when and where and gave me as much time as I needed. Jimmy Johnson was fishing in Florida, but hopped on the phone to talk about one of his former special teams stars and team captains the second I asked for him. Ray Lewis wrote the book's Foreword in between preparing for his new ESPN job and his son's high school graduation. Ozzie Newsome was re-building a Super Bowl champion, but let me ask anything I had on my mind about O.J. On and on, the list goes on. Everyone wanted to talk about this man. No time was inconvenient, no conversation was too invasive.
I'm proud of the book we put together. It's called "Strength of a Champion" and it comes out on Tuesday. That awesome moment with Gleason, O.J.' s many motivational speeches written with his eyes, and his incredible perspective on life are all captured in the pages.
Gleason tweeted at O.J. last Friday and told him he was his hero. O.J. tweeted right back, "It takes a hero to know a hero! Thx SG!"
I'm fortunate to know two.
I hope everyone gets that opportunity.
*****
Here's an excerpt from "Strength of a Champion":
In life, you get a few special moments that you never want to forget. They're the times when you wish you could take a photograph that captures everything, eternalizing the entire scene, feeling, and essence of the experience. These moments rarely come along, but when they do, you have to seize them. You have to recognize them for what they are and savor every last second.
I had one of these special moments around eleven fifteen p.m. on Sunday, February 3, 2013. As purple, gold, and black confetti fell from the Mercedes-Benz Superdome rafters and covered me from head to toe, I wanted the moment to last forever.
The Baltimore Ravens, the NFL team that I'd spent the bulk of the last fifteen years either playing or working for in some capacity, had just completed one of the unlikeliest play-off runs in NFL history, rattling off four straight postseason victories after losing four of their final five regular season games.
After a dramatic 34-31 victory over the San Francisco 49ers, the Ravens passed the Lombardi Trophy from player to player, as kings of the football world. This remarkable group of men-- considered long shots to win it all by just about everyone--was now on the very top of the mountain. They were Super Bowl XLVII champions, an honor that nobody could take away from them for the rest of their lives.
As I sat in the end zone of the confetti-covered Superdome field with my wife, Chanda, I tried my best to take it all in, to remember everything. Seemingly every player and member of the Ravens organization came over and either hugged me or gave me a kiss on my head. One by one, I shared a glance, a smile, or an embrace with someone I loved. The mutual respect and admiration were real; the pulse of the team's collective heartbeat was palpable.
A former Ravens player and a member of the team's front-office staff since 2004, I have seen each and every one of these men come through the organization at one point or another. I've watched many of them battle adversity, on the field and off, as well as enjoy great successes. The 2012 Ravens, a group I often refer to as My Mighty Men, had just completed an incredible journey--both as individuals and as a collective unit.
For me, the Super Bowl victory marked a significant mile¬stone in my life, one very few people thought I'd ever reach.
Five and a half years earlier, I was diagnosed with amyo¬trophic lateral sclerosis, or ALS.
I was just thirty-seven years old at the time.
A professional football player for twelve seasons and a Super Bowl champion with the Ravens in 2000, I'd battled adversity my entire career. Nothing I achieved in this life came without great struggle. I was born to teenage parents. With big dreams of playing in the NFL, I was lightly recruited out of high school. I was undrafted out of college. I played several seasons in the Canadian Football League before ever getting a shot with an NFL team. I overcame a back injury that was supposed to end my career.
I've been battling my entire life.
Though I didn't realize it at the time, all of those battles would serve as the foundation for my greatest bout yet.
I was diagnosed with ALS and forced to ask, "What now?"
Chanda, my college sweetheart and my Queen B, cried in my arms when we received the news. I cried with her. The weight of the diagnosis and possible outcome was hard for us to accept.
There were tears, frustration, and great pain.
Initially, I asked several questions. I wondered why and how this could happen to me--a strong, proud man who lived his life the right way.
It wasn't easy coming to terms with the reality of my situa¬tion. But each stage in life serves as a stepping-stone for the next. There are never mistakes in life, but learning opportuni¬ties. I came to realize that adversity is not only unavoidable, but necessary. Overcoming each obstacle strengthens us for new challenges ahead.
Our faith in Jesus Christ has enabled Chanda and me to keep a singular focus, no matter what comes our way. One of our favorite sayings is, "Life is a lot like school; there is never promotion without testing."
We've been tested.
We were told that most ALS patients live two to five more years after being diagnosed. They said there was a chance I wouldn't make it to my fortieth birthday.
But here I was in New Orleans, at the age of forty-three, getting showered by Super Bowl championship confetti and the collective love of the men and women around me.
I was a champion yet again.
I marveled at the moment, doing my best to savor every last image, every last laugh, and every last glance. I tried my best to take mental snapshots of the smiles, the joy, and that intoxicating taste of triumph. The road was by no means easy, but both the Ravens and I found a way to overcome adversity and reach our desired destination. Every day, we faced challenges--both as a team and as individuals--and we fought to rise above them.
Though ALS has robbed me of the use of my arms, my legs, and now my voice--I'm still here. I'm still fighting every day.
I can't walk, touch, or speak like I once did, but I believe that I am stronger now than I ever was before. As an ALS advocate, I am impacting lives more now than I did during my seven sea¬sons as an NFL player. I still go to work every day. I still feel the rush of competition and see the fruits of teamwork and prepara¬tion. Both in football and in life, I see the goodness of man and the power of God every morning when I get out of bed. Through the Brigance Brigade, the foundation Chanda and I launched in 2008, we have raised close to one million dollars for ALS research and have affected the lives of thousands of individuals diagnosed with the disease.
I'm now six years into my bout with ALS, and I'm still making a difference in the lives of others. I'm still getting the very most out of all life has to offer.
I'm still here.
The original article can be found at FOXSports.com: Excerpt from "Strength of a champion".