Ex-Microsoft CEO Steve Ballmer brings cheer, competitiveness to Clippers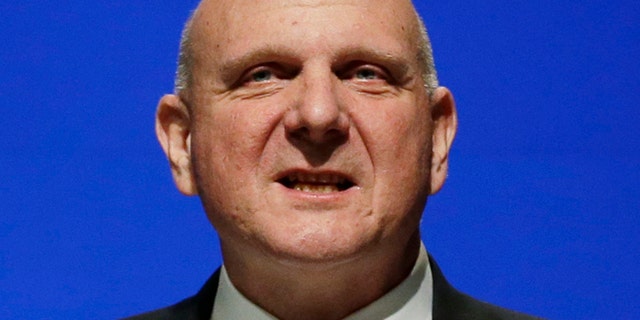 LOS ANGELES – For decades, former Microsoft CEO Steve Ballmer was the technology giant's biggest cheerleader. His booming voice and energetic high-fives are famous around Seattle. Now that he's agreed to buy the Los Angeles Clippers for $2 billion, Ballmer is expected to bring that boosterism to the hardwood down south.
Ballmer's days of sports fandom go back to childhood. An avid pick-up basketball player who lacked the athleticism to excel at it, he channeled his passion into being team manager at the Country Day high school in his hometown of Detroit.
There, he supported players and was a perfectionist with stats. He made sure towels and balls were in order, and that water bottles were ready when the players stepped off the court. "And, of course, he cheered," then coach John Hansen told author Fredric Alan Maxwell for his 2002 book "Bad Boy Ballmer."
He didn't have a hoop in his backyard, but neighborhood kids knew from his bellows when he wanted a game.
"He'd be so loud, calling out to see if anyone wanted to play," childhood friend Rob Mason told the author. In the game, he was no less determined. "You could see how Steve ended up where he did. He just kept driving toward the basket. He was hugely competitive."
That kind of background makes Ballmer, 58, the "perfect owner" for the Clippers, says author Maxwell.
Ballmer is a huge basketball fan, but is organized and analytical enough to manage a large organization.
"He knows how to hire talent. He won't get in the way of that," said Maxwell.
But just wait for the courtside excitement, he said.
"When they play the Lakers, (Jack) Nicholson will be sitting down and Ballmer will be jumping all over the place," he said. "That's the maniacal side of him."
Apart from the flamboyant rah-rah displays of emotion Ballmer was known for at Microsoft, his career credentials are significant.
He helped build Microsoft into a software juggernaut after dropping out of Stanford's MBA program to help his college friend Bill Gates. He joined as the company's 30th employee in June 1980. Since Microsoft's initial public offering in 1986, the company's stock has climbed some 41,000 percent, helping build Ballmer's vast fortune, which Forbes estimates is roughly $21 billion.
Ballmer stepped down from the chief executive post in February as investors grew impatient with the company's slow progress adapting to a new era of mobile computing dominated by tablets and smartphones. One of Microsoft's key businesses --selling its still dominant Windows operating systems-- is buffeted by a slowdown in demand for personal computers, even as the business and cloud services are gaining strength.
Ballmer has a reputation for being intensely competitive and persistent. That could help a team that just finished the second deepest playoff run of its 44-year history.
As for persistence, this isn't the first time Ballmer tried to buy a team.
Last year, he and partner Chris Hansen failed in their bid to buy the Sacramento Kings from the Maloof family and bring them to Seattle, a city that hasn't had an NBA team since the SuperSonics left in 2008 to become the Oklahoma City Thunder. Microsoft's headquarters are in the Seattle suburb of Redmond.
Ballmer has also reportedly made similar bids to buy the Hornets, now in Charlotte, in 2010, and the Bucks in Milwaukee as recently as last month.
And to whet his competitive appetite, Ballmer's former colleague and friend, Microsoft co-founder Paul Allen, not only owns NBA's Portland Trail Blazers, but his Seattle Seahawks just won the Super Bowl this year. Both men are multibillionaires through Microsoft stock.
"I encouraged him to consider acquiring an NBA team because of his strong passion for the game," Allen said in a statement released over the weekend, along with a photo of the two men chatting about sports at this year's Super Bowl. "Once the deal is finalized, I look forward to welcoming him to the league."
George Maloof Jr., who backed Ballmer's offer for the Kings, described Ballmer as a "true gentleman" throughout the six-month sale process. The team was ultimately sold to a group led by TIBCO Software chairman Vivek Ranadive.
Maloof said he's not surprised Ballmer kept trying.
"He's a competitive guy and a good guy," Maloof said in an interview. "You couldn't pick a better guy to own the team."
Ballmer's winning bid for the Clippers -- which still needs to be approved by the NBA -- comes after team owner Donald Sterling made racist statements that were made public.
Black athletes -- including Magic Johnson, the subject of some of Sterling's remarks -- have come out in support of Ballmer's ownership.
Johnson played for Michigan State -- and Ballmer followed his career closely growing up. The NBA Hall of Famer tweeted congratulations to "my friend," telling fans "you'll love Steve Ballmer as your owner!"
Former NBA star Kevin Johnson, who as Sacramento mayor helped thwart Ballmer's bid for the Kings, said in a statement that news of the retired CEO's successful bid was "great news of the city of Los Angeles and the entire NBA."
Ballmer said in a statement he doesn't intend to move the team, and instead vowed to ensure the Clippers "continue to win -- and win big -- in Los Angeles." He didn't reply to requests for an interview.
Dan Jiggetts, a former lineman for the Chicago Bears, remembers Ballmer from when he managed Harvard's football team in 1975, Jiggetts' senior year as captain. That year, Harvard won its first Ivy League championship.
Ballmer "was as excited as anybody was," Jiggetts said.
He said it's interesting that Ballmer is buying the Clippers. Not only was the team eliminated this year by the Thunder -- the team that left Seattle -- but they are "two or three decisions away from being a championship ball club."
"That would be wonderful to see that in Los Angeles," Jiggetts said. "I'll be rooting for him, that's for sure."