ESPN awards ESPYs to victims of Larry Nassar, hero coaches from Parkland, Fla.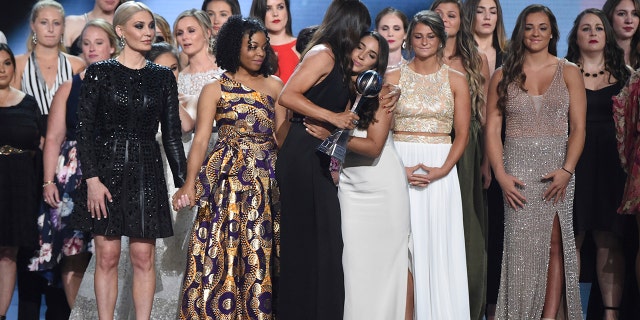 NEWYou can now listen to Fox News articles!
ESPN gave out its annual ESPY awards Wednesday, with recipients including more than 140 victims of sexual abuse linked to disgraced former doctor Larry Nassar and three hero coaches who died while saving students during the massacre at Parkland, Fla., last February.
The 141 sexual abuse survivors — including gymnasts Aly Raisman and Sarah Klein — joined hands onstage as actress Jennifer Garner presented them with the Arthur Ashe Courage Award and spoke out against the abuse of Nassar.
"Perhaps the greatest tragedy of this nightmare is that it could have been avoided," Raisman said. "Whether you act or do nothing, you are shaping the world that we live in. Impacting others. All we needed was one adult to have the integrity stand between us and Larry Nassar."

"If just one adult had listened, believed and acted, the people standing before you on this stage would have never have met him," Raisman said.
Klein chided USA Gymnastics and Michigan State Univeristy, where Nassar served as a team doctor and found his victims, for putting "money and medals above the safety of child athletes."
"We must start caring about children's safety more than we care about adults' reputations," said Klein, who was first abused by Nassar three decades ago. "If we can just give one person the courage to use their voice, this is worth it."
While the powerful, solemn speech closed the show, the ceremony had earlier given posthumous honors to three Marjory Stoneman Douglas High School coaches who died while heroically saving the lives of their students.
The coach of the year award went to Aaron Feis, 37, an assistant football coach; geography teacher and cross country coach Scott Beigel, 35; and Chris Hixon, 49, the school's athletic director and wrestling coach.
"Scott, Aaron and Chris were heroes and they were coaches," said fellow Stoneman Douglas coach Elliot Bonner. "But they were also husbands, fathers and sons."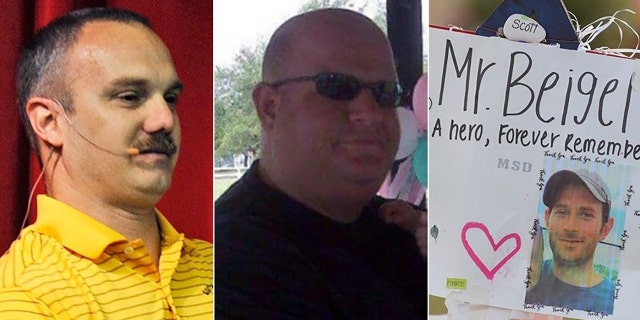 Feis, who was also a husband and security guard at the school, had used his body to shield students as a gunman fired an AR-15 semi-automatic rifle, according to witnesses.
Beigel, who had a fiancée, was killed by a bullet while ushering students into his classroom to hide from the shooter. Several surviving students said they don't think they would be alive without Beigel's help.
Hixon, a married father of two, died running toward gunfire to help fleeing students.
Bonner accepted the award -- traditionally given to coaches for on-field heroics -- on behalf of the three men's off-field heroism, while their surviving family members proudly took the stage behind him.
The Associated Press contributed to this report.