Encarnacion hits 3 HRs, has 9 RBI as Blue Jays rout Tigers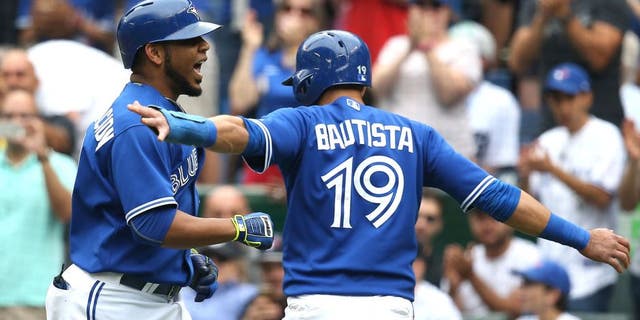 Edwin Encarnacion hit three home runs and tied a Toronto record with nine RBI as the high-scoring Blue Jays routed the Detroit Tigers 15-1 on Saturday.
Encarnacion extended his hitting streak to 24 games, the longest in the majors this season, with a three-run homer off Buck Farmer (0-3) in the first inning.
Encarnacion hit a two-run shot off Guido Knudson in the sixth, then connected for a grand slam against Alex Wilson in the seventh as the AL East leaders battered away.
The game was paused briefly after Encarnacion's slam when dozens of fans tossed caps onto the outfield to honor his homer hat trick.
Encarnacion was left on deck for the final out in the eighth, costing him a chance to match the major-league mark for home runs in a game.
Roy Howell was the last Blue Jays player with nine RBI in a game, doing it against the New York Yankees on Sept. 10, 1977, Toronto's debut season.
Encarnacion hit his third slam of the season, matching the club record shared by Carlos Delgado and Darrin Fletcher.
This was Encarnacion's fourth multihomer game this year and the 21st of his career. He finished 3 for 5 and scored four times, and boosted his season totals to 29 homers and 90 RBI.
Encarnacion's hitting streak is the longest in the majors since Colorado's Nolan Arenado had a 28-game run last year. The Toronto slugger is batting 36 for 90 (.400) with 10 homers and 34 RBI over the streak.
Russell Martin added a two-run homer for the high-scoring Blue Jays. Josh Donaldson doubled, singled twice and drove in two runs, giving him a major league-leading 104 RBI.
Donaldson wound up with a sacrifice fly when Ryan Goins scored from second base on a routine play. Center fielder Anthony Gose caught Donaldson's one-out fly and jogged along the warning track, thinking the inning was over, while Goins kept running.
The Blue Jays have scored 10 or more runs in 21 games this year. They have totaled 709 runs this season -- the Yankees began the day second in the majors with 604.
Ben Revere had four hits and Justin Smoak reached base four times as Toronto won for the seventh time in eight games and improved to 20-5 in August.
The Tigers have lost eight of nine.
Drew Hutchison (13-2) won his fourth straight start. He recently was optioned to Triple-A Buffalo as the Blue Jays took advantage of three off-days to go with a four-man starting rotation during their an eight-game road trip.
Recalled Friday, he allowed one run and six hits in seven innings, improving to 11-1 with an 2.46 ERA in 14 home starts.
TRAINER'S ROOM
Tigers: OF J.D. Martinez got the day off, while Miguel Cabrera started at DH.
UP NEXT
Tigers: RHP Alfredo Simon (11-8, 4.89 ERA) gave up a season-high eight runs on nine hits, four walks and three run-scoring wild pitches against the Angels in his latest start.
Blue Jays: LHP Mark Buehrle (13-6, 3.60 ERA) has allowed nine runs and 14 hits, including three home runs, over 10 innings in his past two starts after winning his four previous decisions.