Edelman won't say he made Revis better: 'I'm just a measly little guy'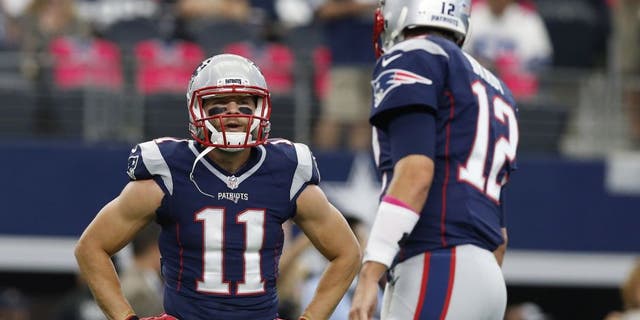 NEWYou can now listen to Fox News articles!
Julian Edelman may be short, but he's not an easy guy to cover. Matthew Emmons USA TODAY Sports
For the first time since the week of the Super Bowl, New England Patriots wide receivers will get the chance to line up against Darrelle Revis. Of course, back then, they were doing so in practice. Now, it'll be on game day as Revis has since joined the Jets.
Revis' move south to New York has been a hot topic surrounding Sunday's matchup, with several Patriots being asked about his talent. Edelman was one of those guys that got to visit Revis Island in practice, and he's happy he got the chance to do so.
"Revis made me a better player," Edelman said via WEEI. "He's an elite corner. I'd say he's probably one of the best in the league. Going against him definitely made me a better receiver. It was good to have him."
It's clear Edelman believes Revis made him a better player, but he wasn't as quick to say he did the same for Revis.
"I don't know, man. He's seen a lot of guys. He's seen a lot of star receivers that are studs," he said with a laugh. "I don't know. I'm just a measly little guy."
Measly little guy or not, Edelman is one of the top receivers in the league. He's already caught 40 passes this season for 449 yards and four touchdowns, which rivals several wideouts in the NFL today. He's not 6-foot-4 like Revis' new practice opponent, Brandon Marshall, but he's certainly no backup.
It's unclear if Edelman will be shadowed by Revis on Sunday, but regardless of who covers him, it will be a tough test. The Jets lead the league in total defense and have been dominant thus far.
MORE NEWS: Want stories delivered to you? Sign up for our NFL newsletters.