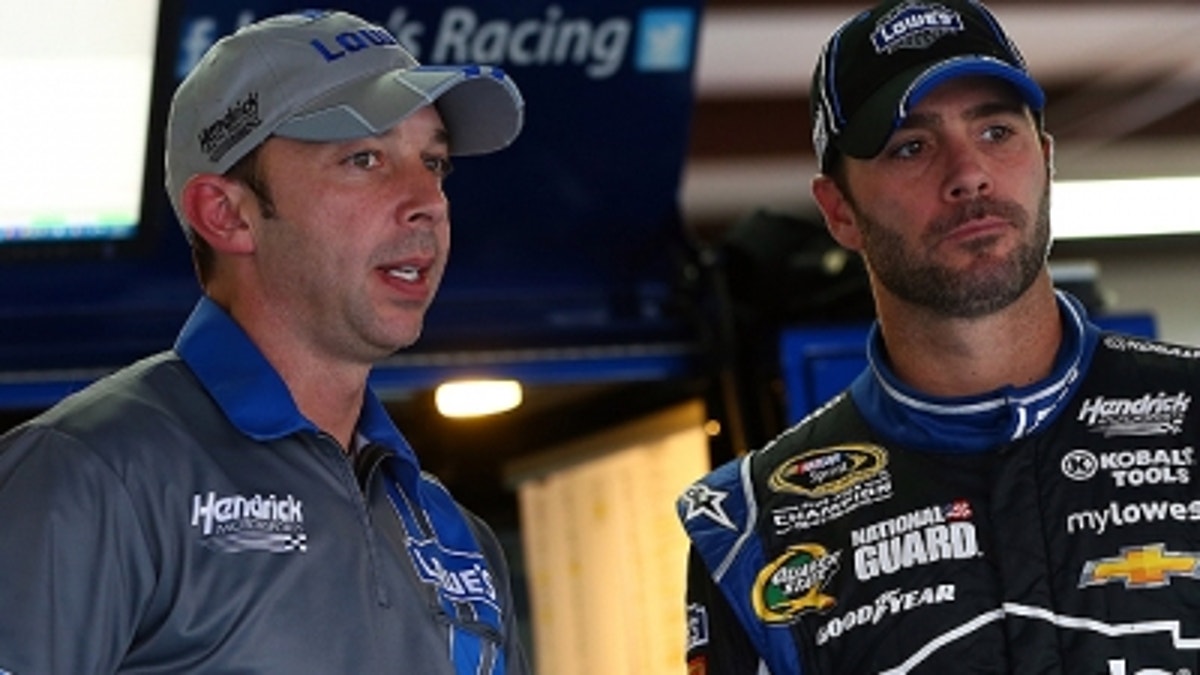 document.write($AllStarArticleAdContent);
Well they did it again. Jimmie Johnson, Chad Knaus and the No. 48 Lowe's team made history Saturday night in the NASCAR Sprint All-Star Race.
I really think they surprised a lot of people Saturday night by rewriting the record books and winning their fourth Sprint All-Star Race. I might add that the win came in typical Jimmie Johnson and Chad Knaus fashion.
With the new qualifying format last Friday evening, Jimmie made a rare mistake by sliding through his pit box and was relegated to an 18th starting spot for Saturday night. I talked to Jimmie after that and he told me and anyone who would listen that he "had to redeem himself" for that mistake when it came time for the race.
I think he redeemed himself quite nicely, thank you very much.
Actually I suspect the mistake on Friday night in qualifying was a huge part of the motivation to do what he did Saturday night. Even though he started back in the pack, like always, he just methodically worked his way to the front.
He really didn't have that great of a first segment, but once he and the team got that No. 48 Lowe's car dialed in, here he came and had top-five finishes in the last three segments. That gave him an average finish of 6.5, which brought him to pit road in fourth position.
Now let me stop and explain that for everyone because there was confusion when he came to pit road in fourth. How you came into the pits for the final pit stop for the mandatory four-tire stop was determined by your average four-segment finishing position.
Unfortunately, our statistics folks at SPEED made a mistake in the averages. The graphic that was put on the television screen actually showed him in 11th and that was simply wrong.
In reality, both Kurt and Kyle Busch tied for the lead with an average finish of 2.0. Kurt got the nod to come in first because he had won the fourth segment. So you had Kurt first, Kyle second, then came Kasey Kahne third with an average finish of 4.75 and then as mentioned, Jimmie was fourth with a 6.5 average finish. Unfortunately, our folks weren't able to get that corrected in time and it certainly caused a lot of confusion for the folks at home.
The bottom line, however, is Jimmie did nothing wrong and came into the pits in the correct position. There was no mistake in what happened next, though. His newly revamped pit crew ripped off a blazing 11-second pit stop which got him back on the track in second, behind Kasey Kahne.
When they dropped the green flag for that final 10-lap shootout, Jimmie forged his way into the lead and into the NASCAR record books yet again. He won another $1 million Sprint All-Star Race purse, plus broke the three-way tie in wins there with him, Dale Earnhardt Sr. and Jeff Gordon.
Jimmie Johnson now stands alone as the only four-time winner of the Sprint All-Star Race.
The thing that continually impresses me week in and week out, year in and year out, is the top-level performance and consistency of that No. 48 team. It doesn't matter what track we go to, Jimmie Johnson is always on the list of drivers that you have to watch. Every weekend to get to Victory Lane, you are going to have to contend with that No. 48 car. If you beat Jimmie Johnson on the track, then you are probably going to win the race.
I'm a big fan of Jimmie Johnson's. One of the things that really impresses me is how he has zero problems sharing the limelight with his crew chief and his team. There is a select group of people that still want to believe that it's Chad Knaus and the car that make Jimmie win easily. It's some misguided belief that Jimmie's job is really easy and anyone could do it if they had Chad and that team behind them.
I preach this over and over again. The last time I checked there still is only one person behind the wheel of that race car and, luckily for everyone at Lowe's and Hendrick Motorsports, that one person is Jimmie Johnson.
I struggle trying to understand those folks who don't see that it's the sum of all the parts. It's your two and my two equaling five. You combine the resources of Hendrick Motorsports with the brilliance of Chad Knaus and his team plus perhaps the greatest race car driver our sport has ever seen and that's why you have a five-time NASCAR Sprint Cup Champion and now a four-time Sprint All-Star champion.
Jimmie is a really intelligent driver. He knows you have to be there at the end for a chance to win, so he drives smart all race long. Anyone can have a fast car, but you have to be there at the end to contend for the win. That's what Jimmie excels at.
You know why else Jimmie is smart? He knows he has the perfect setup. He's not looking to go somewhere else. He's not looking for the next better "deal." Jimmie Johnson is very comfortable right where he is because he knows what he has.
He's driving for Rick Hendrick, who is the greatest car owner in our sport today. He's working with, if not the best, then one of the most intelligent and brilliant crew chiefs in the history of NASCAR. You combine that all together and that's why you have the success you have. Again, it's simply not one thing. It's a combination of things.
Like I said earlier, it's the sum of all the parts.
They have the success they have year in and year out because everyone is smart enough to realize that if they just stay together that the sky is the limit. I think that is something that Jimmie learned a long time ago from Jeff Gordon. Jeff has only driven for Rick Hendrick in the NASCAR Sprint Cup Series. He has four championships and is third on NASCAR's all-time win list.
If Jimmie is as smart as I think he is, he'll do what Jeff did and stay right there at Hendrick Motorsports. Now, if Chad is as smart as I think he is, he won't do what Jeff Gordon's crew chief, Ray Evernham, did and leave to go do his own deal. I think both Jimmie and Chad have great examples to refer to when it comes to looking at what they need to do for their futures.
I'll say it right here that if these two stay together, they will be greater than Richard Petty and Dale Inman. Richard and Dale, in my book - and most would agree - are one of the best, if not the best, driver/crew chief combinations of all time.
I am always impressed with Jimmie. He's an excellent ambassador for our sport. He's a humble family man who doesn't take what this sport has given him for granted. He gives back to the community and our sport.
Jimmie is the type of athlete that rises to the occasion. When it comes time to win the big races, whether it's the Daytona 500 or a million-dollar All-Star event, Jimmie is the one that consistently gets it done.
I'm a big believer and fan of Jimmie Johnson. I know there's a section of fans out there that are sick of his success. You know what? Don't hate Jimmie. Don't be mad at Chad Knaus and Rick Hendrick. Be mad at your favorite driver. Be mad at your guy for not getting the job done.
Go ask those other drivers why they can't beat him. Go ask Kyle Busch, Carl Edwards, Brad Keselowski and the other top-tier drivers, yes, including Jimmie's three teammates, why they can't beat him.
Jimmie is the gold standard.
Like the old saying goes, if you want to be The Man, well you have to beat The Man. You know what I say about that? Good luck trying!