Duke basketball's latest signing instantly makes them the 2017 title favorites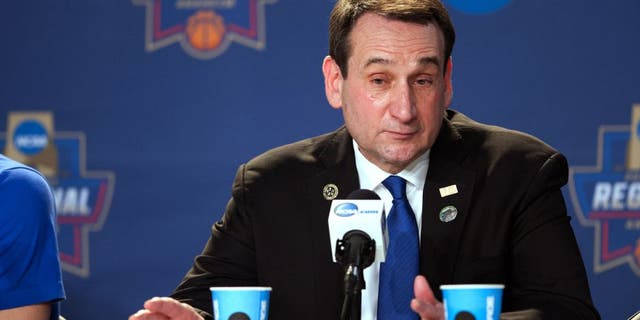 NEWYou can now listen to Fox News articles!
The last big-name recruit in a historically great college basketball recruiting class made his college announcement Thursday afternoon when Marques Bolden, a 6'11 center from Texas, told the world that he was headed to "The University of Duke."
The fact that Bolden botched his new school's name was a fitting ending to what was one of the truly wildest recruitments in recent college hoops memory. Even after Bolden narrowed his choice of schools down to Kentucky and Duke months ago, there were several times where it seemed he was going to commit but didn't. The fact that he wore a TCU t-shirt to his press conference added an extra weird twist to a totally bizarre process.
Now that the dust is settled and Bolden is headed to Duke, we now have a much more clear-cut vision of what the 2016-2017 college basketball season will look like. And that vision is this: It's Duke against the world. Duke was already favorites in Vegas before Thursday, and the addition of a 6'11" future lottery pick to an already loaded roster only separates the Blue Devils from the rest of the pack. Kentucky will be really good next year, and so too will Villanova, Oregon and a few others. But in the end, it's Duke vs. everybody else in college basketball right.
For the Blue Devils, as good as their freshmen class is, it really does start with the upperclassmen. Lost in all the one-and-done hoopla over the last few years is that the best freshmen-led title teams had seniors to help them out along the way. Kentucky had Darius Miller in 2012, Duke had Quinn Cook in 2015, and next year it will be the same in Durham.

It's the upperclassmen which separate Duke from their biggest challenge next year in Kentucky. The Blue Devils basically bring back everyone not named "Brandon Ingram" while the Wildcats still wait to find out if Isaiah Briscoe and Marcus Lee are coming back.
The most notable of those veterans is Grayson Allen, who, lost in all the great tripping debates of 2016, was actually really good last year. The All-ACC selection averaged 21 points per game last year and was actually the Blue Devils' best player, even if Brandon Ingram did get all the hype. Beyond him, Luke Kennard (11 points per game last year) and Matt Jones (10 points per game) will add shooting depth while Amile Jefferson provides a big, experienced body low.
Despite all that returning talent, it's the freshmen which will be the difference in 2017. In a historically great high school class --- which could produce somewhere in the neighborhood of 15 first round picks next year --- Duke has four guys who could one day be lottery selections.
Without getting too uber-nerdy with basketball recruiting, here's what you need to know about the Duke recruiting class: They have the guy that most people consider to be the best player in the class and the potential No. 1 overall pick in the 2017 draft in Harry Giles. Giles is coming off a knee injury, but at 6'10" will likely start the season at power forward for the Blue Devils, and will almost assuredly be starting for your favorite, lousy NBA team two years after that (yes, we're talking to you, Lakers fans). Jayson Tatum is the wing player who will replace Ingram and his long-term NBA upside might be better than the man whose shoes he'll fill while Frank Jackson is an explosive guard, who will handle the ball for the Blue Devils.
Then there's the kid who just committed: Bolden. Lost in all hoopla surrounding his recruitment is that he's a really good player, the kind of back-to-the-basket low post player that we just don't generally see anymore. He's a true center in every sense of the word, and adding him to a front-court with Giles and Tatum means that Duke should be able to overwhelm teams with size and athleticism next year, and really pretty much trot out just about any kind of lineup they want, to matchup with any kind of lineup they face.
It also means that whether America is ready for it or not, the 2017 NCAA Championship opens up as Duke's to lose. Sure they have holes (no true point guard), and sure there are other teams that are really good (again, if Kentucky's upperclassmen return, they could be nearly as good).
But right now it's Duke and everyone else in college basketball.
Aaron Torres is a contributor for FOXSports.com. Follow him on Twitter @Aaron_Torres or Facebook. E-mail him at ATorres00@gmail.com.