Duffy, Royals to face Angels veteran making first big-league start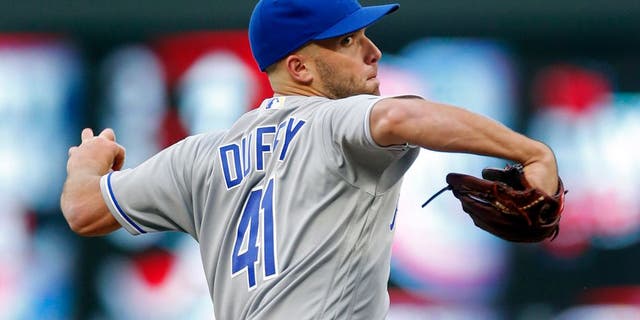 NEWYou can now listen to Fox News articles!
AfterDanny Duffy pitches for the Kansas City Royals in the top of the first inning Friday night, his counterpart with the Los Angeles Angels, JC Ramirez, will take the mound entering uncharted waters.
After 111 career relief appearances, Ramirez will be making his first major league start. The right-handerhas made 18 relief appearances for Philadelphia, 12 for Arizona, eight for Seattle, 27 for Cincinnati and 46 for the Angels.
But this will be the first time he has thrown a first pitch in a big-league game. The last time he started a game was in 2011 with Double-A Reading.
The 28-year-old Nicaraguan is replacing Garrett Richards in the rotation. Richards is out with a strained biceps muscle. Ramirez did make four starts in spring training.
"JC has enough length in him," Angels manager Mike Scioscia said. "We feel that it's an opportunity to test what we tried to do in the spring starting. He had some flashes of brilliance. It will be a good opportunity for him."
Ramirez is 2-0 with a 1.80 ERA in three relief appearances this season. He has made four career appearances against the Royals and has a 2.45 ERA.
"JC has such a great arm that he has always maintained his stuff through some higher pitch counts that everyone thought he was a candidate to do this," Scioscia said.
He did not label it a spot start, playing a wait-and-see approach.
"The opportunity for JC to pitch is there, and hopefully, he'll take advantage of it," Scioscia said. "Right now there is no time frame on how long he'll be in our rotation. It could be the whole year."
The Royals will counter with Duffy, who is 1-0 with a 2.08 ERA in his first two starts.
Duffy said his game plan is to "try to get outs with three pitches or less."
Duffy beat the Astros 7-3 on Saturday in his previous start, scattering eight hits and two runs over seven innings.
"The last outing they were hacking a lot early," Duffy said. "I was just trying to stick with my guns and keep doing what I'm doing. That's keeping it simple and using my stuff, my best against their best."
Duffy's mentality changed after starting last season in the bullpen.
"I have the kind of stuff that even if I don't have as much as I had at the beginning of the game in the tank, my stuff will still get people out," Duffy said.
Duffy has four career appearances against the Angels, including three starts, and is 1-1 with a 4.26 ERA in those games.
The Royals are off to a 3-6 start after defeating the Oakland Athletics 3-1 on Thursday.
Starting pitching has not been the problem; the Royals' rotation has a 2.89 ERA. The offense, however, has been struggling with a .205 batting average and only 27 runs.
Does Duffy feel any added pressure to keep it a low-scoring affair?
"Maybe if you asked me that a couple of years ago, but I'm just going to go out and do what I know I can do," Duffy said. "At the end of the day, if it's enough, it's enough. If not, I did my best. I know my best is good enough the majority of the time."
The Angels will bring a 6-4 record into Kauffman Stadium after losing their past two games to the Texas Rangers. They beat the Royals in five of six games last year.