Duane Ludwig on FATK: My life changed when I focused on helping others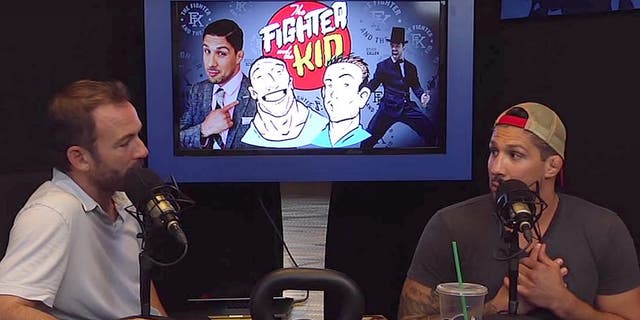 NEWYou can now listen to Fox News articles!
Top MMA coach Duane Ludwig visted his former teammate and pupil Brendan Schaub and co-host Bryan Callen this week on the latest Fighter and the Kid podcast, and it made for a fantastic episode. With all the controversy and allegations swirling around of late between Ludwig and Urijah Faber, the leader of Team Alpha Male where "Bang" once coached, Schaub chimed in and gave his take.
According to "The Hybrid," Ludwig is no bully as Faber as claimed, he is just honest and old school. "It's not bullying. To me, it's leadership...It's not bullying because he was leading by example," Schaub said of Ludwig's style.
"I remember that if I was sparring Duane, you'd better have your sh-t together...I remember if I was sparring [former UFC heavyweight champ] Shane [Carwin] I'd say, great, get Shane out of here. If I saw Duane walking up the stairs, I'd say, 'fu--. Bring Shane back in here.'
To be sure, Schaub said that Ludwig is a perfectionist and obsessive martial arts fanatic that perhaps most won't take to. Those that do, however, like UFC bantamweight champion TJ Dillashaw, see great results.
Ludwig doesn't deny that he's extreme, but said it comes from a place of love. "Just OCD and I'm a fanatic about martial arts," he said.
"I truly love martial arts."
Ludwig's overall strategy for his fighters is simple - analyze yourself, decide where you want to be, and work doggedly each day to get there. "Set the goal, work backwards, and do everything you need to do, to be successful," he said.
Those who may remember Ludwig's own long career as a kickboxer and mixed martial artist understand how remarkable his success with the likes of TJ Dillashaw is. Not only has Dillashaw reached the peak with Ludwig leading the way, but he has done so with a style that is completely different than the straight-ahead Muay Thai style that Ludwig employed himself in the ring.
When Ludwig became a full-time coach, he realized that he couldn't make duplicates of himself, but rather had to tailor his coaching to his students. "My life changed when I accepted the role to help other people develop," he remembered.
"When I no longer focused on myself, and started helping others, I realized that I had to tap into the personalities of 20 or 30 other athletes. So, I had to get a broader base. I had to figure out what's going to pull out his full potential."
So far, Dillashaw's biggest accomplishment has been stopping the previously dominant and former champion Renan Barao, twice. Ludwig explained that Dillashaw came to him with a lot of what he needed to beat the Brazilian, and that the two simply applied a simple approach in order to achieve victory.
"Barao is a monster if he hits you. He's flat-footed and he's right in front of you. So, how about not being in front of him? Let's get angles. It's really not that hard to figure out...you just have to think outside the box," he said.
"When TJ wrestled, he wrestled from a distance. He wasn't a clinch fighter, he shot in from a distance. So, he could already move and he already had set-ups in his brain. So, I just tapped into his full potential."
Listen to the full, fantastic episode above, or at the fine outlets below!
How to listen: