Driving support: Phoenix NASCAR fans support charity while watching testing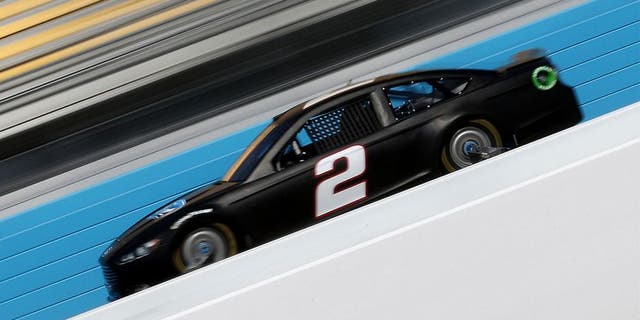 NEWYou can now listen to Fox News articles!
Now here's a great idea: Phoenix International Raceway invited fans out to Wednesday's open NASCAR Sprint Cup Series test, with one proviso: Fans who attended the test were asked to make a $5 donation to Phoenix Raceway Charities.
The mission of Phoenix Raceway Charities, which works through the NASCAR Foundation, is "is to accelerate the development of children in Arizona by supporting education, children and families of our military and military veterans, and life enrichment programs for children and families in our community."
According to track officials, nearly 1,000 race fans showed up at PIR to support the charity and watch Sprint Cup drivers Jeff Gordon, Kurt Busch, Matt Kenseth, Brad Keselowski, Ryan Newman, Martin Truex Jr., Jamie McMurray and Ricky Stenhouse Jr. test at the one-mile oval in the Sonoran Desert.
Gordon was impressed by the fan support.
"I must say I was shocked to see how many people came out here for testing," he said. "We haven't seen that in a long time. I think as a driver, one of the things you look forward to least is testing, although you realize how important and necessary it is. I'm certainly willing to celebrate that this will be my last day testing and I'm glad that the fans came out and enjoyed it as well. The fact that they came out here in this ridiculously hot weather shows their dedication and commitment and avidness and that made me feel good."
On Nov. 15, PIR will host the Quicken Loans Race for Heroes 500, the penultimate race of the Sprint Cup season and the final race in the Eliminator Round of the Chase for the NASCAR Sprint Cup. After the race, four drivers will be eliminated from title contention, while the top four will race for a championship the following weekend at Homestead-Miami Speedway.
"This is an important track," said Keselowski. "That's why we're here. You look at this race last year, of the eight drivers that had a chance of winning a championship, all eight had to run well here to have a shot of going to the next round. So no one was locked in coming here. I would expect that that could happen again. So you're going to need to have a great race here at Phoenix to have a shot to go to Homestead and bid for the championship. That's what were here trying to do – step up our game and we'll see how it all plays out about a month from now."