Draisaitl's dominance part of big spring for German hockey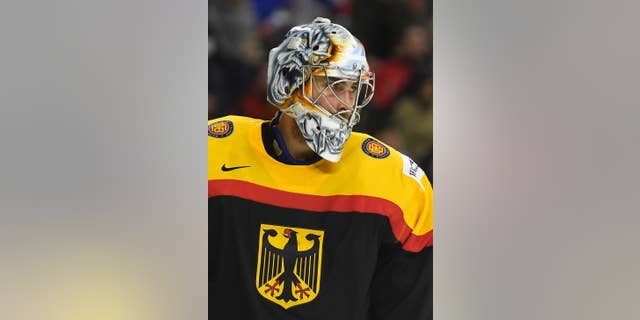 Growing up in Germany where they couldn't see full NHL games, Philipp Grubauer and his friends saved up their money to buy "Don Cherry's Rock'Em Sock'Em Hockey" DVDs just to get a glimpse of the best hockey in the world.
It was far easier for Germans to watch native son Leon Draisaitl record a hat trick and five-point game in these playoffs for the Edmonton Oilers, even if they saw the accomplishment on highlights in the morning. You'd better believe, though, Grubauer was watching live.
"There's not too many times that happens, especially not from a German guy," the 25-year-old Washington Capitals backup goaltender said. "I'm proud of that and it's awesome."
Draisaitl's dominant playoffs and Germany co-hosting the world championships in Cologne have made this quite the spring for a sleeping hockey nation. Soccer is — and will be — the top sport there, but some of the NHL's top German players hope inroads can be made.
"Soccer's No. 1, so it's pretty tough to beat," Grubauer said. "But the more players that come over here, the more we are successful in the world championships back home, adding up with the national team, I think that's a good recipe."
Germany got a nice start to the world championships by upsetting the United States, something Pittsburgh Penguins forward Tom Kuhnhackl said his teammates were talking about at the rink the next morning. One silver lining of Draisaitl's Oilers being eliminated is that he's joining Germany at the worlds in his hometown.
Through two rounds, Draisaitl's 16 points are second in the playoffs behind only Russian-born Penguins star Evgeni Malkin. When Edmonton drafted him third overall in 2014, Draisaitl said he wanted to make as many German kids play hockey as possible.
"I want to be an ambassador, and I want to make them play hockey and get the passion for the sport," Draisaitl said. "I think this might be pretty good for Germany."
He's off to a good start.
Among the 28 German skaters to appear in the NHL, Draisaitl is already seventh with 137 regular-season points, and his 1.23 playoff points a game early in his career has him first. His hat trick was the first by a German-born player in the Stanley Cup playoffs, and he joined Hall of Famers Wayne Gretzky, Jari Kurri, Glenn Anderson and Paul Coffey as the only players in Oilers history to put up five points in a playoff game.
"I really don't want to put myself into that category," Draisaitl said.
Point taken, but Draisaitl, 21, was arguably the Oilers' best player in beating the San Jose Sharks and pushing the Anaheim Ducks to seven games, and Grubauer thinks his countryman's chemistry with Connor McDavid could make them into a duo like Washington's Alex Ovechkin and Nicklas Backstrom or Chicago's Jonathan Toews and Patrick Kane.
"It probably helps that McDavid and him got a good chemistry, and it's a perfect fit," Grubauer said. "He sees the plays so well, he passes the puck. His vision on the ice for other players is unbelievable, he has a great shot, big body, protects the puck pretty well."
Seven Germans — Draisaitl, Kuhnhackl, Grubauer, forward Tobias Reider, defensemen Dennis Seidenberg and Korbinian Holzer and goalie Thomas Greiss — played in the NHL this season. Grubauer lamented that there weren't many Germans left while acknowledging that having himself, Draisaitl, Kuhnhackl and Holzer in the playoffs was good for kids back home to see.
That's important given what Kuhnhackl thinks is an impediment for the development of hockey back home.
"Everybody cares about soccer," Kuhnhackl said. "Hockey, it's always tough to say when you can't really develop the German hockey when every team (in the top league, DEL) has 15 players from Canada, USA, Sweden, Russia — all the imports and stuff. So it's obviously tougher for the Germans to develop."
Grubauer, who Capitals starter and reigning Vezina Trophy winner Braden Holtby believes has the ability to be an elite NHL goaltender, said another piece of that is going home to help out at skills camps set up by the German national team.
"I think the more you can teach people and kids back home, the more I think brings (the level of play) up," Grubauer said.
Grubauer grew up admiring Canadian Felix Potvin and American Mike Richter, and Olie Kolzig not long after gave young Germans a homegrown goalie to look up to. Now Grubauer is on the verge of breaking out and earning a starting job after two years as Holtby's understudy.
"He's a great goalie, he's so quick on his feet, he's so flexible," said Kuhnhackl, who has played with and against Grubauer since they were teenagers. "It's tough being behind Holtby. He's obviously a real good goalie, but I think if he gets his regular games in, I think he could be a starter in this league."
___
Follow Hockey Writer Stephen Whyno on Twitter at http://www.twitter.com/SWhyno
___
More AP NHL: http://apnews.com/tag/NHLhockey