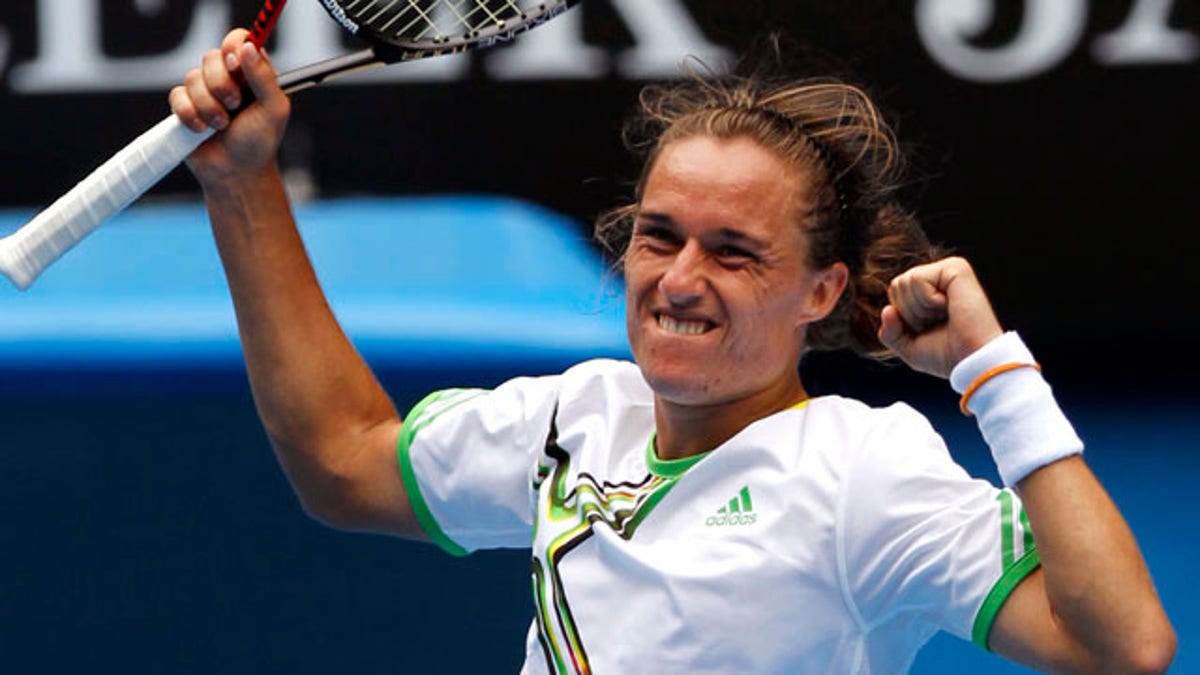 MELBOURNE, Australia – Alexandr Dolgopolov used to knock balls around with some of the top players in the world when he was just a toddler. Even then, the pint-sized kid had some outsized groundstrokes.
At 22, Dolgopolov is again annoying more experienced players with impressive baseline shots and a relaxed air that have sent him to the quarterfinals of the Australian Open on his first try.
The Ukranian beat No. 4 Roger Soderling of Sweden 1-6, 6-3, 6-1, 4-6, 6-2 on Monday in the biggest upset of the tournament, and his second in a row after he defeated No. 13 Jo-Wilfried Tsonga in five sets two days earlier.
The last time someone from Dolgopolov's home country advanced so far in a Grand Slam was in Melbourne in 1995 and the player was Andrei Medvedev, a former world No. 4 who had Dolgopolov's father, Oleksandar, as part of his coaching team.
Young Alexandr tagged along on the tour, and as one of few kids around became a popular diversion for players.
"When Alex was 3 he came onto the tour," Jim Courier, a four-time Grand Slam winner turned television announcer, told the crowd at Rod Laver Arena in a courtside interview with Dolgopolov. "You would come out after we were done with your father or Andrei and you would hit from the service line, and I swear, you never missed. It was really annoying."
Dolgopolov says his memories of the time include hanging around the players' lounge, pretending to sign autographs like a tennis star, and getting court time with the likes Medvedev, former No. 1 Thomas Muster and Olympic gold medalist Marc Rosset.
"For sure I had some good times," Dolgopolov said. "It was fun. It was nice to start a tennis career like that."
Dolgopolov must have picked up a good tip from every top player who took the time to hit against him, then blended them all into an unusual game that can upset players who thrive on rhythm.
Dolgopolov looked loose and lithe against Soderling, cracking deep backhand and forehand winners, serving tight after a shaky first set and leaving the Swedish star to make 51 unforced errors to set up a quarterfinal against No. 5 Andy Murray, last year's runner-up.
"He's a good player," Soderling said. "He has a great backhand and he's moving very well. He's a great counter puncher. He has a good chance to do really well, I think."
Murray has only played Dolgopolov once, and is wary of his game: "Strange to play against, very funky game. Very unorthodox, quite erratic. It'll be a tough match, for sure."
Dolgopolov started getting serious about playing tennis at age 10, after leaving the tour for some time at school and then rejoining his dad on the road. He turned pro in 2006 and his first Davis Cup competition was the first time he played Murray, and lost.
His run in Australia comes in just his fourth Grand Slam, and he's yet to win an ATP title. Still, he won 21 of his 44 matches last year and rose 83 places in the ranking, the second-biggest jump of the year, cracking the top 50 for the first time. Even if he loses to Murray, he's projected to rise to No. 34.
He lists his father as his greatest inspiration, but the pair split as coach and player three years ago after about 10 years because mixing work and family became too hard.
"We got a bit tired of each other because I always see him," Dolgopolov said. "It's pretty tough relationship, like father and coach. So we decided it's better, and everybody's happy now."
His sporting background extends past his father. Mother Elena was a gymnast who won gold and silver medals at the European Championships.
Dolgopolov still shows sign of the little kid from the courts. He helped write the code for a computer game that didn't quite get finished — "It's like an office game. You have your character ... You have fights there" — and says if he wasn't a tennis player he'd be a race car driver.
His greatest strength on court, he said, isn't not taking things too seriously.
"I play relaxed. You know, I enjoy the tennis. I don't get tight too much. I play really freely — sometimes it pays off," he said. "I have fun."