Detroit Tigers closer Francisco Rodriguez reaches 400 saves, only 6th in history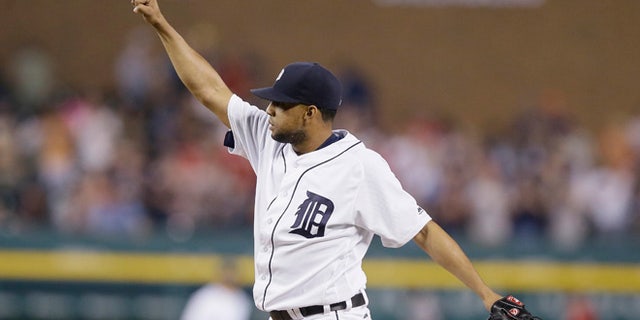 DETROIT (AP) – After joining some impressive company with his 400th save, Francisco Rodriguez felt all sorts of emotions.
"I don't even know if I cried, screamed, laughed," Rodriguez said. "A lot of things on my mind in that moment."
Rodriguez became the sixth pitcher to reach 400 saves when he closed out Justin Verlander's gem Tuesday night in Detroit's 3-1 victory over the Philadelphia Phillies. Miguel Cabrera drove in two runs for the Tigers, and since losing 11 of 12 earlier this month, Detroit has won eight of nine.
Verlander (4-4) struck out 10 in eight scoreless innings. He's allowed only four runs over his last four starts and gave up three hits and two walks in a 108-pitch effort Tuesday.
"Each start's been a little bit different," Verlander said. "Tonight, it was the fastball mainly. Changeup was pretty good when I needed it, had some decent sliders mixed in there."
Cabrera hit an RBI double in the first and a run-scoring groundout in the sixth. Rodriguez allowed a run in the ninth but held on for his 14th save in 15 chances this year.
Rodriguez came to the Tigers in an offseason trade as part of Detroit's latest attempt to solve its bullpen problems. He blew a save April 5 in the team's first game of the season but has converted 14 chances in a row since then.
"I think his command is back," manager Brad Ausmus said. "I think when he first started the season, his command was a little off. He wasn't locating his fastball where he wanted."
Rodriguez joined Mariano Rivera (652), Trevor Hoffman (601), Lee Smith (478), John Franco (424) and Billy Wagner (422) in the 400-save club.
"When I come up to the big leagues, I was just a little kid with a lot of dreams," said Rodriguez, who wore shoes afterward with '400' on them. "Never even crossed my mind, saying 10, 15, 12, 14 years later, you're going to be able to accomplish 400 saves."
Jeremy Hellickson (4-3) allowed three runs and seven hits in seven innings. He walked one and struck out seven.
The Tigers were without Ian Kinsler (flu-like symptoms) and Justin Upton (right quadriceps tightness).
Cabrera had hit five homers in his previous four games, and although the Phillies kept him from adding to that total, his double to left-center field was enough to give the Tigers a 1-0 lead. Detroit added two more runs in the sixth on Cabrera's groundout and an RBI single by Victor Martinez.
After a two-out walk to Odubel Herrera in the third, Verlander retired 11 in a row until Tommy Joseph singled in the seventh. Verlander's last pitch was a 97 mph fastball that sent Herrera down swinging in the eighth.
"He was locating his fastball, and we just weren't catching up to it for some reason," Phillies manager Pete Mackanin said. "That's pretty much it."
Herrera was in the starting lineup after being pulled in the seventh inning the previous night when Mackanin didn't think he ran hard enough after hitting a grounder.
Like us on Facebook
Follow us on Twitter & Instagram