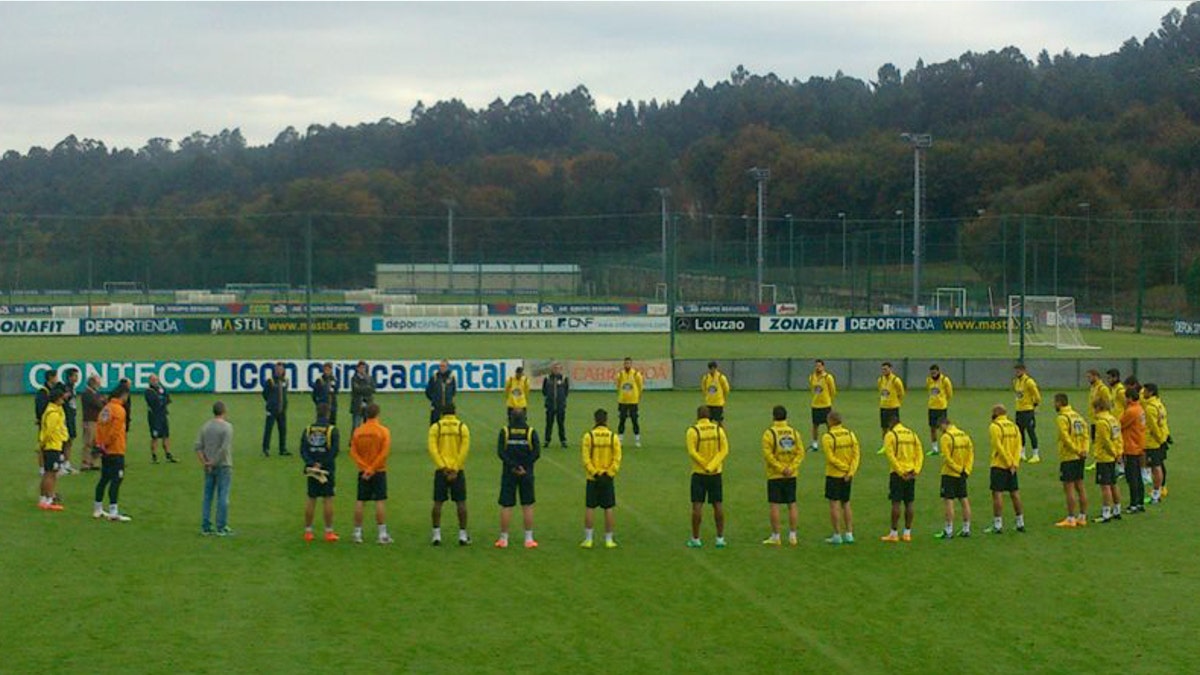 BARCELONA, Spain (AP) – Deportivo La Coruna's players held a minute's silence on Monday for a fan who died in a street clash with Atletico Madrid supporters before their Spanish league match.
Deportivo's players stopped their morning training session and formed a ring on the center circle of the practice field.
The club said the players "held a minute of silence as a sign of mourning and rejection" of the violence that led to the death of a 43-year-old man it identified as Francisco Javier Romero Taboada.
"With the gesture, the players will show their condolences and support for the family of Francisco Javier Romero Taboada," who the club said went by the nickname of "Jimmy."
Spain's sports authorities held an emergency meeting Monday to consider "opportune measures so that this doesn't happen again in the future," according to Miguel Cardenal, president of Spain's Sports Council.
"This date marks a before and after," said Cardenal, who said that authorities are considering several measures, including the closing of sections of stadiums regularly used by radical groups.
Cardenal said both he and Spain's secretary of state for security, Francisco Martinez, would appear before parliament soon.
The fatal fight was condemned by Deportivo and Atletico, the Spanish league and football federation, and other clubs, players and coaches.
"It's a sad day for football because all of us who work for football hope that this never happens," Real Madrid coach Carlo Ancelotti said. "I have the experience of England, which has done many things to eliminate this scourge. England had a terrible experience with hooligans, and thanks to the work of everyone and some very strict rules they have gotten rid of it."
The fight broke out Sunday morning near Atletico's Vicente Calderon Stadium when groups of men battled along the banks of the Manzanares River.
Emergency services rescued Romero from the river and initially resuscitated him before transferring him to the hospital where he died hours later.
Eleven more people received minor injuries in the fight, including one police officer who had a broken finger.
Police made 24 arrests among four radical groups linked to football clubs, naming them as: "Riazor Blues, Atletico Front, Buccaneers, and Alkor Hooligans."
Spaniards recoiled at televised images of men wielding metal poles, hurling chairs and launching flares at one another. The images included one man falling into the water after being surrounded by a group of attackers.
Sports daily Marca ran the headline "You are not needed" across an image of some of the arrested men, while AS went with the headline "The defeat of football."
Atletico board member Miguel Angel Marin said Monday that the incident near his club's stadium was "an embarrassment."
"We are going to listen to the police and authorities and evaluate which steps need to be taken beyond those we have already taken, which are many," Marin said.
In December 1998, a Real Sociedad fan was killed outside Atletico's stadium and a man was sentenced to a 17-year jail term for his murder.
Also Monday, Valencia said it will try to identify and "expel for life" the spectator who hit Lionel Messi on the head with a thrown water bottle during Barcelona's 1-0 victory on Sunday.