Darrell Wallace Jr. on Cup opportunity: 'This is a huge step for NASCAR'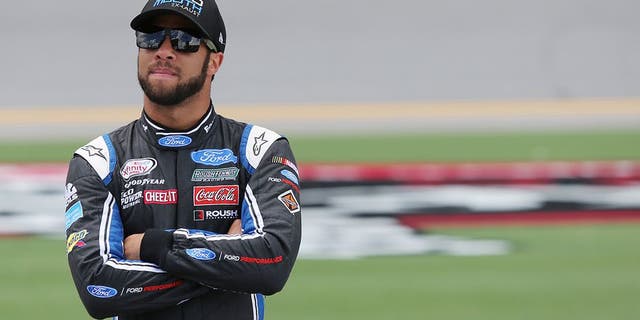 NEWYou can now listen to Fox News articles!
Darrell "Bubba" Wallace Jr. will make his Monster Energy Cup Series debut this Sunday at Pocono Raceway (1:30 p.m. ET on FS1), becoming the first black driver since Bill Lester in June of 2006 to run in NASCAR's top series.
Wallace is stepping in to sub for the injured Aric Almirola in the iconic No. 43 Richard Petty Motorsports Ford.
"This has been a pretty big couple of days for me," Wallace said in a teleconference call Tuesday. "It's an exciting opportunity not only for myself but for my family, first of all, my fans, everybody that's helped me get to this level ever since I started racing when I was nine years old and had dreams of running in a Cup race, making my name present in the sport. So this is the perfect opportunity. I'm very thankful for that."
Wallace had been driving the No. 6 Roush Fenway Racing Ford in the NASCAR XFINITY Series, where he was fourth in the current points standings. But Roush Fenway officials said Monday that unless last-minute sponsorship funding emerges, they will be shutting down the No. 6 XFINITY team after this Saturday's race at Pocono (12:30 p.m. ET on FOX).
Wallace will perform double duty at Pocono, running in both the XFINITY and Cup races. After that, he will remain in the No. 43 until Almirola, who is recovering from a compression back fracture suffered May 13 in a race at Kansas, is healthy enough to return.
Wallace said he hopes the fact that he's able to compete in NASCAR at the highest level, even if it turns out to be for only a handful of races, will encourage more black youth to attempt making it in the sport.
"This is a huge step for NASCAR, the whole sport in general, for bringing diversity to its toptier level of NASCAR," Wallace said. "I'm glad to be leading the forefront of that right now. It just shows that we're trying to bring in a new demographic. We're trying to bring in a new face, get a younger generation, no matter what color, what age. We're trying to get everybody involved to bring NASCAR back.
"It's been a fun journey. But we'll see what happens after we get through Pocono."
Wallace admitted that he faces an uncertain future after Almirola returns.
"Honestly I can't really touch on that, because simple as that, I don't know what's going to happen," he said. "One thing I can touch on is I know I'll go out there and prove to everybody inside the racetrack, outside the racetrack, on the TV, that I belong in the Cup Series. Do the best that I can. Give an extra 200 percent each and every time I climb in the car for Ford, for Richard Petty, for everybody on the team, for Smithfield, to go out there and make the opportunity the greatest it can be."
Wallace owns five career wins in the Camping World Truck Series, including four in 2014 when he finished a career-high third in the points standings. He has never won an XFINITY race, but does own two poles, six top-five and 34 top-10 finishes in 83 career starts in that series.
"I'm getting this opportunity because people believe in me and have seen my talents coming up," Wallace said. "I have to go out there, just back that up, show them I can manage and perform, and that I belong in the series."